Are you a podcast nut? Are you looking for a way to add some new life to your running routine? Instead of just enduring the monotony of hitting the same route every time you go out for a run and having to listen to your own thoughts, why not tune into Ali On The Run Podcast?
Our review will explain why this interview-style running podcast stands out from the rest.
Overview Of Ali On The Run Podcast
The Ali On The Run podcast is an inspiring and informative show hosted by Ali Feller. Through candid conversations with a variety of guests from all walks of life, listeners gain insight into how running has impacted their lives.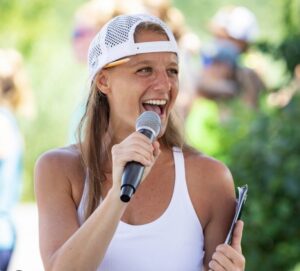 Each episode brings something new to the table with fresh perspectives from professional athletes, everyday runners and many others. Feller dives deep to uncover the motivations, decisions, successes and failures that have shaped her guest's experiences. 
From casual runners to professional marathoners, pilots to archaeologists – no matter what they do or who they are – there's something for everyone on the Ali On The Run Show. Listeners can expect stories full of hope and motivation as well as tips to apply in their own lives. Plus, it never gets dull or boring with new guests bringing fresh perspectives every week! 
The Ali On The Run podcast typically runs between 45 minutes and an hour. 
The show goes beyond talking about running itself. Feller strives to get into her guest's heads so she can learn how their decisions have impacted them both positively and negatively – whether it be through successes or failures. Through these unique stories listeners will gain insight into what drives people, along with applicable life lessons that can be applied in any situation. 
Why You Should Listen To The Podcast
Ali On The Run Podcast is a great podcast for fitness enthusiasts and those looking to get into running. With Ali Feller as the host, she brings a unique and motivating energy to the show. Ali is both an experienced marathon runner and a certified personal trainer, so listeners can trust that she knows what she's talking about. 
She interviews professionals and everyday runners, so listeners can learn from their experiences and gain practical advice to help them on their own running journey. Ali's interviews provide insight into the lives of different runners and their stories can be incredibly motivating for listeners. Everyone has an inspiring story to tell. 
For runners of all levels and abilities who want to be inspired when it comes to their physical health or looking for practical advice and tips on how they can improve their performance. Then this is the perfect podcast for them! With her positive can-do attitude and enthusiasm for life – especially when it comes to running – listening to Ali tell her stories about overcoming obstacles will leave you feeling motivated and encouraged. 
Everyone can take away useful information from her podcasts which could help them make progress towards their goals faster than ever before. 
Overall, Ali On The Run Podcast is an excellent choice for any runner or aspiring runner. It's informative, inspiring, and motivating. It's the perfect podcast for anyone who wants to get into running or wants to improve their running performance.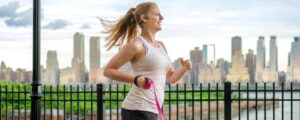 Some Important Takeaways From The Ali On The Run Podcast
Follow Your Passion: Whether it's running, business or something else entirely, they emphasize the importance of pursuing what makes you happy. They also offer strategies for finding and following your true passion.
Take Advantage of Opportunities: They emphasize the importance of being open to new experiences and taking risks to achieve your goals. They also offer advice on making the most of these opportunities.
Be Motivated: Ali talks to ultra-runners, elite athletes, and everyday runners to get advice on staying motivated and running even when the going gets tough. She offers tips and tricks to help you stay focused and motivated to achieve your running goals.
Find Support: Ali On The Run is an inclusive space for runners to find support and encouragement from like-minded individuals. Whether it's a running group, a training partner, or a virtual community, find a supportive running network to help them stay on track and reach their goals.
Get Sweaty: Make sure to make time for physical activity. Go for runs, lift weights, and do yoga to stay fit. Getting sweaty is an integral part of life and helps you stay energized and encouraged. 

What Are The Cons Of The Show?
Many appreciate the show overall. But listeners have noted that the interviewing style can sometimes rub them the wrong way. For instance, it felt intrusive when she recently assumed that one woman didn't have any body issues. 
Additionally, her latest episode about recovering from an injury and the glorification of over-exercising has raised concern. It may be sending the wrong message to her audience. She is a role model to many young women and girls. And it might encourage them to over-exercise, which could be potentially harmful. 
Overall Opinion Of The Ali On The Run Podcast
The Ali On The Run Podcast is an inspiring and uplifting podcast that encourages everyone, from beginners to pros, to stay motivated in their running journey. Host Ali Feller brings on a variety of entertaining guests who share unique perspectives around the world of running and beyond. 
Listening to this show has been a joy due to her enthusiasm and genuine interest in her guests, making it even more enjoyable. Every episode provides something new, whether it be about running or not–you're guaranteed to learn something valuable every time you tune in! It's no surprise that the "Ali On The Run" podcast is among the best fitness podcast. 
If you're looking for some positivity and motivation with a side of fun, then check out the Ali On The Run Podcast ASAP!