Are you a podcast host looking to attract a wider audience by featuring popular guests that your listeners will love? Finding guests for podcast can be a daunting task that requires time and effort. Fortunately, several websites provide a platform for podcast hosts to connect with potential guests easily. In this article, we'll share some of the best websites to help you find the perfect guests for your podcast.
Websites for Finding Podcast Guests
An increasing number of people and experts are turning to podcasts as an informative addition to their daily routine, such as during their commute, workout, or household tasks. However, it can be challenging for marketers to locate podcasts open to guests, even if they believe their clients would be excellent candidates.
To address this issue, let's explore some websites to discover potential podcast guests or opportunities to be featured as a guest on a podcast. 
Radioguestlist.com
Radioguestlist is a platform that assists radio talk show hosts, podcasters, online radio show producers, satellite radio presenters, and TV program bookers in discovering new talk show guests, authors, and experts to interview on their shows. The service is free, and it makes the process of finding guests easier. 
The platform offers talk shows that seek guests daily. You will receive "Guest Request" interview invitations via email without any charge. You can then directly contact the hosts and producers through email to propose yourself as a potential guest for their shows.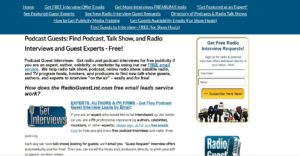 How To Find Podcast Guests
To find interview guests for your talk show, simply submit your guest requests on RadioGuestList.com. They will share your request with their network of over 11,000 guest experts, authors, and PR firms, increasing your chances of finding the perfect guest for your show. 
Additionally, you can browse their 'Featured guest experts' who are available for interviews right away. 
If you prefer, you can also join their email list for Show Hosts & Producers to receive guest recommendations directly to your inbox for free. 
Although their website may not have the most appealing design or user-friendly interface, it is not a cause for concern. Rather, direct your attention towards the excellent quality of their podcasts and explore the options until you find one that suits your preferences. 
PodMatch
PodMatch is a service that facilitates the booking of podcast guests and hosts by automatically matching them based on their preferences and requirements. Since its launch on June 15th, 2020, PodMatch has acquired over 23k members and assisted them in conducting more than 19k high-quality podcast interviews. 
Their sophisticated matching algorithm uses multiple data points from each profile to make informed decisions. Hosts can gain insight into the quality of guests through the platform's internal review system.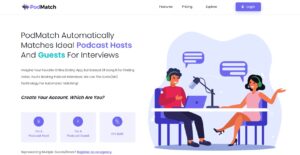 How To Find Podcast Guests
Create A Profile. You can obtain a personalized URL for it, which should provide all the necessary information about you or your program for guests or hosts.

Once you sign up, the PodMatch algorithm will quickly generate personalized recommendations based on your preferences and availability. These recommendations are made in real-time, allowing you to start connecting with your ideal podcast guests or hosts immediately.

You can message and schedule interviews with your matches without the need for email exchange. Your PodMatch dashboard keeps everything organized for you.

Utilize the explore page to search for particular guests or hosts by utilizing various filters to pinpoint your ideal match.

Incorporate your calendar with PodMatch's integrated system to efficiently confirm bookings without your direct involvement. The PodMatch Bot offers recommendations to facilitate the booking and interview process between you and your match.
PodcastGuests.com
PodcastGuests.com is a platform that facilitates the connection between podcasters and a wide range of experts, authors, and fellow podcasters who can serve as guests on their shows. The website serves as an online directory for relevant guests for any podcast. With a network of over 15,000 potential guests, PodcastGuests.com covers various categories, including Health & Fitness, Real Estate, Relationships, Technology, Entertainment, and more. 
The platform sends an email containing a roster of podcasts searching for guests every Monday and Thursday. Upon receiving the email, guests are required to complete a connection form to determine if they are a suitable match. Once confirmed, guests can connect with the podcast to proceed.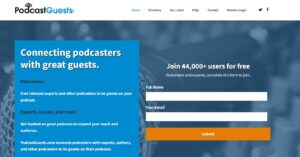 How To Find Podcast Guests
To find guests for your podcast, there are two free options available. 
The first is to submit your podcast to be featured in the weekly emails sent to over 43,000 potential guest experts. You can sign up for free at PodcastGuests.com and receive the link to submit your show.
Identify the type of guest you are looking for.

Podcasters, experts, or individuals with relevant expertise will apply to be on your show.

The hosting platform will compile a list of interested guests, then email the list of potential guests to choose from. 
The second option is to select guests from our directory.
Perfect Podcast Guest
If you're overwhelmed with finding guests for your podcast and want to save time searching all over the internet, then Perfect Podcast Guest is worth considering. This online directory offers a searchable platform that connects podcast producers, hosts, and schedulers with interesting individuals and professionals ideal for podcast interviews.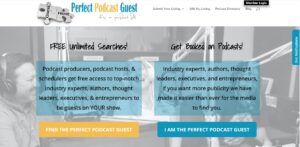 Unlike similar services, Perfect Podcast Guest provides an exceptionally detailed and informative listing in three categories, which can be searched using keywords, location, and more. This directory gives you free access to top-notch industry experts, authors, thought leaders, executives, and entrepreneurs. 
By sharing their contact information, the guest can experience a multitude of benefits such as receiving more interview opportunities, generating higher website traffic, acquiring new clients, boosting sales, and so forth.

MatchMaker.fm
MatchMaker is a matchmaking platform that helps podcasts find suitable guests and vice versa. It has been likened to Tinder for podcasters. By signing up for MatchMaker.fm, users gain access to over 60,000 podcasters and guests eager to collaborate on engaging discussions. Users can browse through potential guests, make connections, and get discovered by experts in their industry. The platform also enables users to book podcast guests.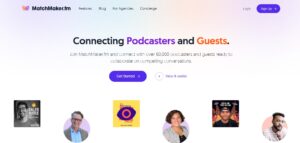 How To Find Podcast Guests
Introduce yourself and your podcast to a vibrant community of 60,000 like-minded individuals seeking to collaborate and grow together.
With over 100 niches, you can easily filter potential guests and podcasts to fit your interests, whether in business, comedy, news, or more.
Connect with other podcasters open to collaborations and promotional swaps, and keep track of your favourite profiles for future reference. Manage your schedule directly within the app, set a date, and get started on your next project seamlessly.
PodBooker
PodBooker is a website that can help you find a suitable podcast to appear on as a guest. They provide a variety of podcasts that you can contact to make an appearance. According to their website, one of every four requests is accepted, implying that success is possible if you play the numbers game.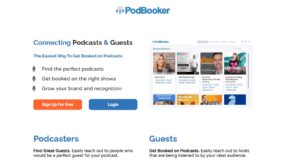 How To Find Podcast Guests
Register at no cost and begin using the service.

Customize your own podcast or guest profile pages with relevant information about yourself or your clients, such as a short bio and a list of topics you can speak on.

Easily locate the ideal podcasts or guests in just a matter of seconds.

Reach out to potential podcast guests directly through the platform.

Keep track of your bookings and remain organized.
LinkedIn
LinkedIn is a platform filled with experts in various industries, making it the perfect place to discover professionals who can cater to your podcast listeners. The site is centred around building connections with individuals you are acquainted with or those you aspire to be acquainted with. With a user base exceeding 500 million across over 200 countries, LinkedIn is the undisputed leader among social media platforms when it comes to networking with knowledgeable professionals.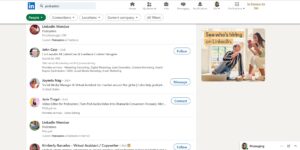 Using LinkedIn, you can browse profiles of potential guests for your podcast, connect with them, and politely inquire about their willingness to share their expertise on your show. You will probably receive a negative response on 8 occasions out of 10. However, the 2 positive responses will bring you great joy.
How To Find Podcast Guests
To establish a network, utilize LinkedIn groups focused on hobbies, alumni associations, and initiatives.

Identify potential podcast guests and their gatekeepers by researching key people in various companies.

Find individuals who write articles on topics of interest to your audience and invite them to be guests on your podcast.
Also Read: How to Book Guests for Your Podcast
Streamline Your Podcast Guests Search with these Top Websites
As a podcaster, you encounter numerous challenges, including searching for suitable podcast guests. However, by effectively communicating your podcast objectives and emphasizing the benefits that the guest will receive (such as backlinks, exposure, collaboration with influential figures, and increased traffic), you can significantly enhance your chances of securing the ideal guest for your show. 
Please share your experience with trying any of the recommendations mentioned above. Feel free to leave your comments and suggestions in the comment section below.