For anyone looking to take their podcasting game to the next level, the Blue Compass Premium Boom Arm is a must-have. This premium boom arm offers superior audio quality and reliable durability that allows you to focus on what really matters – delivering a great podcast. From its adjustable arm length to its reliable construction, Compass Premium Boom Arm is a great option for those looking for the best possible podcasting experience.
Read our review to find out more about how this boom arm can help you elevate your podcast.
About Blue Compass Premium Boom Arm

Blue has now unveiled its own boom arm, the Compass. The Blue Compass is a deluxe broadcast boom arm with integrated springs, a built-in cable management system, and sleek styling. It was specifically designed for use with the Blue Yeti microphone and other podcasting microphones, causing it to become a popular choice for many. 
The Blue Compass is an aesthetically pleasing mic stand that can be conveniently mounted on desktops, making it ideal for broadcasting such as gaming, podcasting, and voice-over. Its internal springs and cables allow easy adjustment and connection without creating an untidy workspace. 
Key Features Of Blue Compass
Designed for Yeti and other professional broadcast mics

Compatible with all standard shockmounts

All-Tube Internal-Spring Design

Hidden-Channel Cable Management

Hand-Tightened Friction Hinges

Compatible with Standard Shockmounts

Design & Performance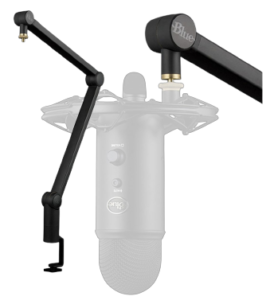 The Blue Compass is designed to be more durable and to hide wiring, with a broader arm than traditional designs. It offers a reach of 32 inches, which may be too short for some, depending on the size and depth of their desk. However, the shorter arm does help to conserve desk space. 
The convenience and sturdiness of the Blue Compass stand make it a great option. Its high-end tube microphone has friction hinges that can be adjusted quickly and quietly, ensuring optimal sound quality. 
Additionally, the Blue Compass Premium mic boom arm is an aesthetically pleasing choice offering various features. It has a concealed cable holder and an "all-tube" spring system, making it an ideal solution for keeping your desk free of cables. Furthermore, its cable management system ensures that you won't have to spend time trying to figure out which cable needs to be plugged in. 
Aside from that, Blue Microphones Compass stands out for its versatility in shock mounts. It features a mount adapter that supports 3/8-inch and 5/8-inch threading, meaning that all standard shock mounts are fully compatible with this microphone boom arm. 
Not only that, but this mic stand is also compatible with most microphones weighing 2.4 pounds and below. Compared to other boom arms, it has a lower maximum weight capacity. However, if you use the Blue microphones or similar, you should not experience any issues. 
The cutting-edge design and adjustable boom arm make Blue Compass perfect for recording podcasts.
Specifications
Base Type:   Broadcast Boom Arm

Desktop Mount:   C-clamp

Rotation: 360 degrees

Max Horizontal Reach: 32" (81cm)

Max Weight Hold: 2.4lbs (1.1 kg)

Cable Management: Hidden-channel cable management

Clamp Range:  2.63″ (6.68cm)

Threading: standard 5/8" threading, adapter for 3/8" threading

Max Desktop Thickness: 2 5/8″

Construction Material:  Aluminum

Manufacturer Part Number:  989-000517
Final Verdict On Blue Compass Premium Boom Arm
| | |
| --- | --- |
| PROS | CONS |
| Silent articulation | High cost |
| Easily adjustable height | Not suitable for microphones weighing more than 2.4 pounds |
| Attractive, modern appearance. | Hard to firmly secure strong springs |
| Simple and easy to manage cables. | |
| Durable construction | |
| Hand-tightenable, friction-based hinges | |
| Compatible with all standard shock mounts. | |
The Blue Compass is a premium mic stand that is well-made, well-designed, and works exactly as it should. It is quiet and looks great on camera, and is the perfect choice for anyone wanting a professional-quality mic stand. The Blue Compass gives you the flexibility to position your microphone to fit your exact needs. While it may come at a premium price, it is worth the investment for its reliability and performance.
---
We'd love to hear your thoughts on our review! Please leave a comment below to let us know what you think.