From singer to podcaster! Dua Lipa interviews today's most inspiring personalities in her podcast, Dua Lipa At Your Service Podcast, to share some advice, recommendations, and inspiring stories about their expertise on various topics. Podcasting has boomed in popularity for the last few years, so, naturally, celebrities will also create their talk show. Besides, society is intrigued by these public figures' way of life.

Listening to your favorite star podcasts is the best way to kill time. Dua Lipa offers listeners heartfelt, compelling conversations between the singer and a list of renowned guests. Deep but with laughter and fun element throughout.
About Dua Lipa At Your Service Podcast
On February 2022, Dua Lipa shared on her social media account, both on Twitter and Instagram, regarding her most anticipated podcast launch.

"DUA LIPA AT YOUR SERVICE: Our service95 podcast is launching on the 11th of February and I am very excited for you all to join me on this journey where I interview some of the most incredible names across fashion,music, literature, global activism and so much more."

https://twitter.com/DUALIPA/status/1489600185059713032
https://www.instagram.com/p/CZjrUKSMpSA

The podcast is a part of her lifestyle newsletter, Service95, where she pens travel tips, lighthearted to thought-provoking stories, and a personal letter from Dua Lipa. The newsletter's first print was published on February 3, 2022.




Dua Lipa At Your Service Podcast features Lipa sitting with various high-profile celebrities and discussing diverse stories surrounding global problems and casual conversations. At the same time,  guests outline their careers, successes, failures, obstacles, and what motivates them not to give up. The singer hopes that listeners learn more about themselves as the show progresses. Lipa wants her platform to be different from the numerous podcast accessible, particularly from the multiple podcasts hosted by other celebrities.
Her Social Media Accounts
The singer has massive followers of, 87.5 million on Instagram and 10.1 million on Twitter. The reason is very apparent – it's where fans see some fantastic behind-the-scenes clips of her songs, tours, and dazzling outfits. We also receive the latest news and happenings from the singer.

But note that the singer does not presently manage the accounts. Her team maintained them after her mental health worsened because of online bullying. But you may still follow her from the link below to receive the freshest news from the singer: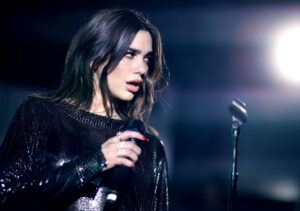 Dua Lipa Twitter: https://twitter.com/DUALIPA
Dua Lipa Instagram: https://www.instagram.com/dualipa
What's Good About Listening To Dua Lipa Podcast?
Dua Lipa At Your Service podcast achieves the goal of being fun and inspirational through eloquent, educational, and exciting conversations with distinguished personae in entertainment, music, fashion, literature, and activism. This show represents Lipa as a lifestyle master instead of a popstar. She fulfills her commitments with her awe-inspiring interview skills and contact list of the finest guests from different areas.

The variety of guests stabilizes the singer's goals by combining what you might believe are evident choices (like Megan Thee Stallion and Elton John) with some that are liberal and equally interesting (like Lisa Taddeo, the US feminist author; Olivier Rousteing, the creative director; and Nobel Laureate Nadia Murad) to make for a captivating listening experience, exploring crucial and mellow topics. We hear these insightful interviews, very different from the pause-filled chattering of some podcasts of celebrities. By all means, curious and well-researched, Dua initiates a serious conversation with each guest about what makes them click and the characters and ethics that mold their lives in every episode.

We hear intimate talks on many of the battles the guests experienced. What makes this podcast a hit to avid podcast listeners is where our favorite celebrities bring up their most recommended. Including places to go, things to do, and cuisines to indulge in. This podcast of Dua Lipa downright balances the absurd difference of the podcast system.

It's clever but dazzling enough and will not make you feel bored while simultaneously tackling everyday topics through a more elaborate perspective.
What's Not Impressive?
There are claims by some critics that the production copied some titles of their episodes from other podcasts that appear to capture the attention of the same demographic and also talk about the same subject matter. This plagiarism indicates their lack of creativity, originality, and integrity. Her guests are given plenty of time to share their stories and willfully answer questions.

The recommendation part is good, which I've mentioned; HOWEVER, the immediate switch of gears is clashing. With more practice and research, Dupa Lipa will get the gist of her own show. Her show is able to transition the flow more smoothly from deep conversations to the lists of their favorite part.
Verdict: One of The Best Podcast By A Celebrity
Dua Lipa At Your Service podcast has composed significant conversations in detail! She does a very good job of putting people at ease. So, if you are looking for a more relaxed podcast to keep away your anxiety, tune in to Dua Lipa At Your Service Podcast!