Gaining better physical and mental health is something that everyone can benefit from, yet sometimes it can seem like a daunting task to stay motivated and keep putting in the effort. If you're feeling stuck and need a push in the right direction, the Hurdle Podcast is here to help.
By providing informative, inspiring, and entertaining content, Hurdle is the perfect companion for anyone looking to get into a healthy lifestyle and stay on track with their fitness goals. In this review, we'll explore why the Hurdle Podcast is the perfect choice for anyone looking to get and stay fit.
What The Hurdle Podcast Is All About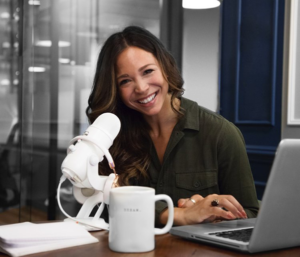 The Hurdle Podcast is a great way to stay motivated and get into the gym. Host Emily Abbate provides inspiring stories about overcoming obstacles and achieving success. This podcast covers topics such as body positivity, cold weather running tips, marathon stories, disordered eating and how to bounce back after injury. 
The length of each episode ranges from 9 minutes up to 60 minutes or more depending on the featured guests interviewed or topic discussed that day. 
The guests come from diverse backgrounds – from people who have used health and fitness as an outlet for stress, anxiety, and other challenges they've faced in life. The goal of this podcast is to provide listeners with motivation and help them find ways to fit their workout in their busy lifestyle. Through candid conversations about personal experiences with fitness and wellness related issues, Emily offers her audience valuable advice on how to make exercise part of their everyday routine. 
The show often dives into various wellness techniques that can be used to push yourself forward, such as mindfulness, exercise, nature exploration and more.  Through these, listeners gain insight into different methods which can be used to better themselves both mentally and physically while also being encouraged by hearing stories of those who have persevered against difficulty. 
With new episodes coming out three times a week, anyone looking for motivation or inspiration will benefit greatly by tuning in! 
Reasons To Tune In
Hurdle podcast is a must-listen fitness podcast for anyone who wants to stay motivated and conquer personal challenges. Host Emily Abbate does an incredible job of providing helpful advice, inspiring stories, and relevant tips for listeners. The show features guests from all walks of life – athletes, entrepreneurs, and health experts. Guests who share their struggles and successes in achieving wellness goals. 
The conversations on Hurdle are never dry or dull. Emily dives deep into topics like the importance of exercise as stress relief, maintaining a positive mindset during tough times, and more. Her passion for helping people make fundamental changes in their lives shines through every episode. Additionally, she provides practical solutions that everyone can use right away. 
Hurdle podcast is not only informative but also incredibly motivating. It pushes you to get out there and take action! Listening to this podcast will give you the mental clarity needed to set realistic goals and achieve them one step at a time. It will help you understand why making small changes over time leads to significant results down the line.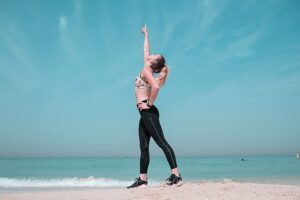 With its mix of expert advice, motivational stories, and practical tips, Hurdle is sure to give everyone what they need to stay on track with their fitness goals! Tune in today if you're ready to find your inner strength and embrace healthier habits! 
Important Takeaways From The Hurdle Podcast
Take Action: Goals are only helpful if we put action behind them. Taking action is the only way to make progress and achieve success. Break your goals down into manageable steps, and take action on each step.
Focus on Progress: Focus on small successes and progress rather than focusing on the bigger picture. Setting small goals and celebrating small wins can motivate you and keep you on track. Additionally, focusing on the positive and keeping an optimistic outlook is vital.
Persevere: Life can be difficult sometimes, but staying focused and pushing forward is meaningful. Success requires dedication and hard work. And it's important to remember that we can achieve our goals if we remain focused and never give up.
Find Balance: Finding a balance between work, family, and play is essential for your overall health and well-being. It is important to ensure that you are taking time for yourself and engaging in activities you enjoy. Additionally, it is vital to ensure that you get enough sleep and rest to be productive during the day.
Embrace Change: Change can be difficult, but it's essential to embrace it. Be open to new ideas, methods, and ways of doing things. Change can be a source of growth and opportunity, and it's momentous to embrace it rather than resist it. 

Shortcomings Of The Podcast
The Hurdle Podcast has been criticized by other listeners for having a lack of authenticity. Some audiences have noted that the reactions and "vulnerable" moments often seem overly rehearsed and contrived, which detracts from the overall experience. Additionally, some even pointed out that the intonation and cadence of the host often sound unnatural and almost like slam poetry. 
These critiques suggest that the podcast lacks a sense of genuine emotion and connection between the host and guests, making it difficult for some listeners to engage with the content. 
Well, everyone has different tastes, and it is impossible to please everyone. 
Final Thoughts On The Hurdle podcast
The Hurdle Podcast is an inspiring and relatable journey that helps us all discover more of ourselves. You can learn from the stories of guests who have faced challenges and come out stronger on the other side. It's an amazing blend of vulnerability, insight, and humor that will leave you feeling empowered and ready to tackle whatever comes your way. 
So, why not take a leap and click that listen button. You won't regret making the decision to do it!