Do you struggle with spending too much on outsourced content or experiencing writer's block as a podcaster? What if there was a solution that could write exceptional content for you? Look no further than Jasper AI, the leading AI writing software. With Jasper, generating the content, including podcast scripts, is effortless and efficient, simplifying your workload. 
This post will explore the extensive range of features offered by Jasper.ai. Can Jasper truly enhance your marketing endeavours? Does it merely alter the content creation process? Moreover, is Jasper capable of producing captivating outputs, or is it simply a matter of prioritizing quantity over quality?
What Is Jasper AI
Jasper AI, formerly known as Jarvis, is an artificial intelligence tool designed to create copy and content quickly. It was founded by Dave Rogenmoser in 2015 in Montreal with the goal of simplifying the content creation process.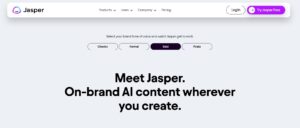 Jasper offers numerous templates to choose from, catering to various scenarios, such as writing a long-form blog post or crafting a suitable response to a review. It not only generates content rapidly but also helps with rewriting paragraphs and correcting grammar. As a result, it eliminates the stress of a blank page and allows podcasters to focus on improving their marketing strategies and overall performance. 
From Jarvis To Jasper
Comprising of entrepreneurs and marketers, the Jasper team is a close-knit group of friends. They are enthusiastic about utilizing cutting-edge technologies, such as AI and machine learning, to assist individuals in overcoming writer's block. 
The company decided to rebrand due to legal reasons. Marvel (Disney) lawyers took notice of the name Jarvis AI and issued a cease and desist because of the use of "Jarvis" in combination with "AI assistant." This was because Tony Stark (aka Iron Man) relied on his AI assistant JARVIS in several Marvel movies. And Disney didn't want any confusion or potential for misleading users. 
Rather than engaging in a lengthy legal battle, the development team made it easy and simply rebranded from Jarvis.ai to Jasper.ai.
How Does Jasper AI Work?
Jasper employs artificial intelligence technology, specifically GPT-3, to generate unique and innovative original and plagiarism-free content. By matching the intent and tone of your writing needs with a vast database of previously written articles and books, Jasper can produce content that accurately reflects your desired message. Jasper's AI system is trained on various templates and can deliver precisely what you need.
With this app, you can create new content by selecting a format, title, and tone. You can also briefly summarize what you want the article to convey. Its system can learn as you use it, adapting to your unique voice to make the content more personal.
As a web-based system, Jasper has access to different sources for gathering information. However, this also means that misinformation can be more prevalent, making distinguishing between fact and fiction essential.
Key Features
Content Generation
Jasper has different plans that determine the number of words it can generate on a given topic.  You can provide the AI with prompts, such as titles or headings, and by clicking a button, see what it can produce. The software is capable of creating blog content, long-form content, and social media captions utilizing AI technology.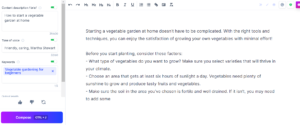 The "rephrase" tool can assist you in making slight adjustments to your content by providing alternative ways to express the same idea. Additionally, there are options to correct grammar and simplify language for a younger audience. 
Content Recipe
On your Jasper dashboard, there is a recipes tab located on the left side. This tool provides a simple framework to follow that enables you to start writing without extensive organization. This is ideal for novice writers seeking to enhance their skills. You can find recipes for creating:
Engaging blog posts

Effective cold emails

Compelling introductions for non-fiction books

Persuasive Facebook ads

Informative product reviews
Integration with Grammarly and other Chrome extensions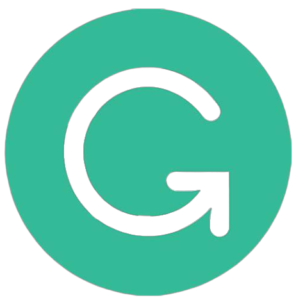 Grammarly
If you struggle with spelling and grammar, Grammarly is an excellent tool to use. However, its cost may not be affordable for everyone. Fortunately, Jasper provides Grammarly Basic for no extra charge when you subscribe. This can assist you in correcting mistakes and enhancing your writing skills.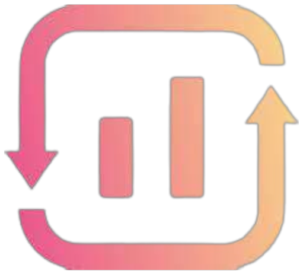 SurferSEO
You can now use Surfer SEO and Jasper AI together to create content. Jasper's editor has a SEO mode that displays Surfer's suggestions for the topic you're writing about on the left side of the screen. To use this integration, you must have a subscription to both Surfer SEO and Jasper AI.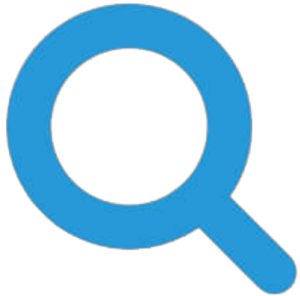 Copyscape
Jasper AI now offers a convenient plagiarism checker as part of its long form assistant. While its GPT-3 database and machine learning algorithm typically produce unique content, there is still a chance that some of the results may unintentionally contain information that closely resembles content found on other websites.
Copyscape is the preferred choice and works seamlessly with the software to ensure that all content generated is completely original. With this software, there's no need to rely on outside services to check for plagiarism.
50+ Short-Form Copywriting Templates
Jasper stands out by providing a vast selection of content templates, exceeding 50 in number, to facilitate the creation of various types of content. These templates encompass social media posts, blog posts, ebooks, and many others. Additionally, you can design templates tailored to their unique requirements. For instance, if you have a particular introduction you use for your blog posts, you can create a template for it.
Templates include:
Text summarizer – Instantly get quality content in summary within seconds, without the extensive research.

Blog post outline – Effectively compile and curate compelling lists for desired content.

Feature to benefit –

Convert product features into benefits to enhance the content.

Blog post conclusion – Provide a compelling conclusion to complete the content.

Creative story – Overcome creative blocks with the help of Jasper AI's creative story templates.

Sentence expander – Get long, engaging content that adds value and quality without simple words.

PAS framework – Resolve arising problems through good copywriting.

Content improver – It can be described as a quick way to instantly improve the quality of your content.

AIDA framework – Improve engagement for social media and blog posts quickly with AIDA.

Blog post topic ideas – Get several sets of prompts to rank at the top, saving time and effort.

Video description – Jasper AI can take care of video copy, making the workflow easier.

Persuasive bullet points – The bullet format of content designed by Jasper AI makes it easy to use. Enhance your content instantly without squeezing your creative juices.
Character Lookback
Jasper AI takes into account up to 3000 prior characters of text when generating new content, which ensures that it doesn't repeat points and flows well with the existing context. Although it references the GPT-3 data, it considers the current content of the document to formulate a new text. 
Multi-user login
The software enables you to engage in collaborative editing, wherein you can invite individuals to edit your content together. This feature can prove beneficial if you're collaborating on a project or if you seek a second opinion before publishing your work. 

Brand Voice Customization
Jasper AI has an impressive feature that allows it to comprehend a tone of voice and emulate it to suit your content creation. It has a broad scope and can identify adjectives and even individuals (including fictional characters in certain instances).
Not many AI writers provide this tone of voice functionality, but it enables you to customize your text to your target readers. You can select if you prefer your writing to be enthusiastic, assured, joyful, or official. 
Image Generation
Jasper AI art has become more advanced, providing individuals with a creative outlet. Previously, individuals may have been limited to using stock photos or capturing their own images for their websites. Still, with the emergence of AI, they can now generate completely unique visuals. This is a significant development from the Website Photography Made Easy course.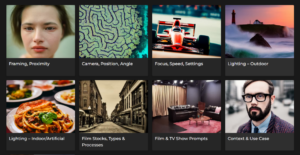 Supports 25+ Languages
With the ability to support more than 25 languages, Jasper is an excellent option for businesses operating on a global scale or those catering to a varied audience in multiple nations.
How To Use Jasper AI
At the beginning of your Jasper experience, your dashboard will appear devoid of content. 
To start, you must opt for a template. 

Once you select a template, you may input details into its system. Provide information by giving keywords and selecting a tone of voice.

Decide on the number of outputs, keeping in mind any limitations on word count.

The calibre of your information will dictate the output quality.

The output will be either imprecise or exact, depending on the specificity of the data entered.

Click the "Generate" button and wait for the software to create them.

Once generated, review the options on the right and select the one that suits your needs. Copy and paste the selected output into your preferred tools, such as Surfer SEO, WordPress, or Google Docs. 
Generate Content VIA AIDA Framework

Log in to your Jasper account.

Go to the Templates section. Then, select the AIDA Framework template.

Add relevant information about your podcast.

Choose your preferred tone and language for the content. And click on the "Generate AI Content" option.

Wait for a few seconds while Jasper AI creates the content for your topic.

Check your History tab to access all the content generated by artificial intelligence.

 

Review and make any necessary edits to the content before publishing it on your website.
How Much Is Jasper.AI
Jasper AI has introduced a new pricing format for its services. 
The Creator Plan now starts at $49 per month for those who opt for monthly payments. This plan includes unlimited words, one brand voice, and access to over 50 AI copy generators. 

The Jasper AI free trial allows you to test the service and decide if it's right for your conditions. By clicking on the provided link, you can access 10,000 free words.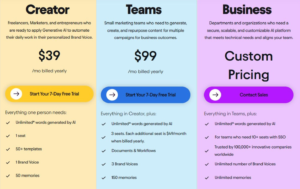 Jasper AI Alternatives
If you are not satisfied with Jasper AI, several other options for AI copywriting software are available. Some of the other AI ad copy and AI copywriting tools that produce exceptional content and are worth exploring are
Copy.ai

Copysmith

Crawlq

Rytr

ShortlyAI

Writesonic
These AI writing tools are competitively priced and have similar features, although Jasper AI stands out with its Jasper art feature. However, most of these tools offer free trials.
| | |
| --- | --- |
| PROS | CONS |
| It's straightforward to operate | Does not demonstrate a strong, distinct personality when writing. |
| Versatile cost plans | Difficult to write about specialized topics. |
| Great assistance in surmounting writer's block | Cannot be used for writing without an internet connection. |
| Perfect for crafting social media posts and short texts | Struggles to effectively convey nuanced ideas. |
| Jasper supports 20 languages |   |
| You can include up to five members |   |
| Over 50 distinct writing templates |   |
Also Read: How ChatGPT Can Be Used For Podcasting
Final Verdict
Jasper is an exceptional AI Novel Writing Software that offers a solid foundation for writing projects, although it may require minor revisions. It is especially beneficial for video creators and podcasters who are averse to staring at a blank screen or require the assistance of AI technology for writing. Using Jasper can improve search engine rankings and increase content production efficiency.