Prepare to elevate your communication game with our in-depth Skype full review. Say goodbye to geographical barriers and say hello to a world of seamless interviews, remote collaborations, and crystal-clear audio. With its powerful features and user-friendly interface, Skype has become an indispensable tool for podcasters seeking to connect with guests and co-hosts across the globe.
Join us as we delve into the ins and outs of Skype, unlocking its potential to take your podcasting adventures to new heights. Get ready to amplify your podcasting prowess with our comprehensive Skype full review!
What Is Skype?
Skype is a telecommunications application that is privately owned by Skype Technologies, a branch of Microsoft. It is mainly used for videoconferencing, voice calls and VoIP-based videotelephony. Thus providing a versatile communication platform for podcasters to take their podcasting journey to the next level.
Niklas Zennström, Janus Friis and four Estonian developers created the app in August 2003. eBay took over the management in September 2005 for $2.6 billion. Silver Lake, Andreessen Horowitz and the Canada Pension Plan Investment Board bought 65% of Skype from eBay in September 2009 for $1.9 billion. They valued Skype at $2.92 billion. Microsoft bought it for $8.5 billion in May 2011 and substituted it for Windows Live Messenger.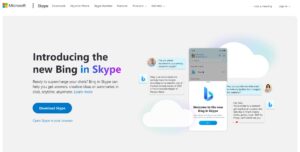 The platform offers a wide range of features specifically designed to meet the unique needs of podcasters. With its user-friendly interface and top-notch audio quality, Skype allows you to effortlessly connect with guests and co-hosts worldwide, ensuring smooth and uninterrupted conversations. Whether you're conducting interviews or collaborating with your podcasting team, Skype equips you with essential tools to produce professional and captivating content.
How Skype App Works
Skype is a software application that facilitates communication by allowing individuals and businesses to engage in video and voice calls, send instant messages, and share files with others on the platform. It offers the flexibility to use it on different devices, including mobile phones, computers, and tablets. This means you can use Skype wherever it is most convenient for you. Whether you prefer making calls on your smartphone, computer, or tablet, the software ensures that you can connect with others and engage in conversations seamlessly.
Key Features
HD Video Calling
With Skype, you can engage in video calls that offer high-definition quality, guaranteeing clear and vivid visuals throughout your conversations.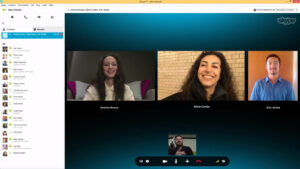 Call Recording and Live Subtitles
Skype provides the option to record calls, which is advantageous for podcasters seeking to capture interviews or discussions for their podcasts. Furthermore, live subtitles can be activated to improve accessibility and understanding during the calls.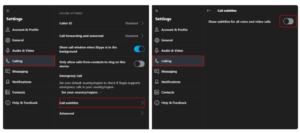 Screen Sharing
Sharing your screen during a conversation or video call helps facilitate collaboration, whether it's for displaying PowerPoint presentations, videos, photos, or conducting on-screen polls. This feature allows you to effortlessly share your files with anyone on the call, simply by dragging and dropping files up to 300 MB into the conversation window. This way, every participant can easily access the shared files and contribute to the discussion.
Background Blur
Skype's background blur feature functions similarly to Microsoft Teams'. It ensures that you remain the main focus during video calls. You can activate this feature with a single click, by right-clicking, or by accessing the settings. The background will then be softly and seamlessly blurred, allowing you to remain the sole point of interest.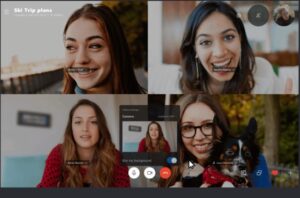 Instant Messaging and File Sharing
Skype includes a convenient built-in chat feature that facilitates text-based conversations with your contacts. Additionally, it allows for easy file sharing, making it simple to exchange files with others.
Group Calls and Meet Now
Skype enables you to host group calls with a capacity of up to 100 participants, making it well-suited for podcasters organizing panel discussions or featuring multiple guests on their shows. Moreover, the Meet Now feature allows you to create impromptu meetings without the hassle of scheduling or requiring participants to sign up.
Call Forwarding and Voicemail
Skype provides call forwarding options that allow you to redirect calls to another number or device, ensuring that you never miss out on important conversations. Additionally, the voicemail feature enables callers to leave messages for you when you're unavailable.
Skype Numbers
With Skype, you have the option to acquire a Skype Number, which is a dedicated phone number that people can call from traditional landline or mobile phones. These calls can be answered directly on Skype, offering podcasters a convenient way to receive calls from listeners or guests.
International Calling and SMS
Skype provides affordable rates for international calling and SMS, making it easy to connect with contacts around the world.

How To Use The Skype App
Skype Download
For computers:
Go to the Skype website and click on the download link for your operating system (Windows or Mac).
Once downloaded, double-click the file to install it.
For mobile devices:
Go to the App Store (iOS) or Google Play Store (Android).
Search for "Skype" and tap on the app to install it.
Remember to always download it from official sources to ensure you have the latest and genuine version of the app. The specific steps may vary slightly depending on your device.
Skype Web
Skype web refers to the web-based version of the app that allows users to access and use it directly from a web browser without needing to download or install the application.
To use it, you simply need to visit the website and sign in to your Skype account. Once signed in, you can access your contacts, initiate calls, send messages, and manage your settings directly from your web browser.
Recording, Saving and Sharing Skype Calls for Podcast
The platform has recently introduced a convenient recording feature that allows you to effortlessly save your calls and edit them for your latest podcast episode.
Using Skype's Built-In Call Recorder Feature
To begin recording, tap the "+" button located at the bottom of the screen and choose "Start Recording." This will trigger an announcement banner at the top of the screen, indicating that the conversation is being recorded.

For saving Skype calls, navigate to your chat and locate the ፧ symbol. Click on it and select "Save to Downloads." Alternatively, you can choose "Save As" and specify the desired location for saving the file. The saved file will be in MP4 format.

To forward a video, tap the ፧ symbol and select the "Forward" option. This will open a message box where you can choose recipients from your contacts list to share the video with.
Using Call Recording Software
For individuals seeking greater control over their podcast recordings, numerous third-party call recording software options are available. These programs capture audio from Skype calls by utilizing the computer's built-in or external microphone. Upon pressing the 'Record' button, the software automatically saves the audio as an editable MP4 or WAV file.
Using Double-Ender Audio Equipment Recording Tools
These tools enable simultaneous recording of both the host's and guest's audio, guaranteeing a high-quality sound without any Skype-related latency issues. Using a double-ender tool is straightforward: connect your device to the audio source, press the 'record' button on both devices, and begin your conversation.
Once you finish recording, merge the separate audio files into a single track during the post-production phase. Make adjustments to the audio levels and apply any desired effects to enhance the overall sound quality.
Check out our article on "How To Record A Podcast on Skype" to learn all the ins and outs of recording a high-quality show.
Pricing: Is Skype Free?
Skype Subscriptions
These plans, available on a monthly basis, provide the opportunity to make unrestricted or limited-duration calls to both landlines and mobile devices. If you make a lot of calls, a subscription is a good option. It saves you money compared to standard rates, and it renews automatically. You can cancel it anytime if you need to.

Skype Credit
This is a pay-as-you-go option. You buy Skype Credit and use it to make calls at low rates. It's useful if you only need to make a few calls and want to pay for what you use.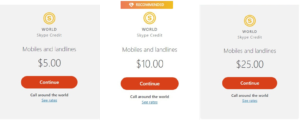 Skype Number
It's a phone number you pay for every month. When someone calls that number from their mobile or landline, you can answer the call in the platform. If you reside in different nations or frequently embark on journeys, opting for a Skype Number is an economical solution to maintain connectivity.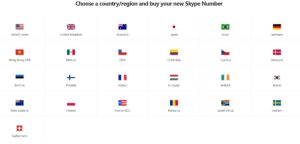 | | |
| --- | --- |
| Pros | Cons |
| Easy-to-use interface | Audio quality may be dependent on internet connection and hardware setup |
| Reliable and stable platform | Transcription and translation features are not directly available within the platform |
| High-quality voice and video calls | |
| Screen sharing feature | |
| Chat and file-sharing capabilities | |
| Call recording functionality | |
| Compatibility with various devices and operating systems | |
Final Verdict
In summary, Skype.com is a popular and reliable communication platform for podcasters. The platform is a game-changer for podcasters, transforming how you connect and work together. With its easy-to-use interface and powerful features like high-quality video calls, recording, and screen sharing, the software helps you create professional podcasts. Connect with guests from anywhere, share files easily, and make engaging content.
Whether you're hosting discussions, interviewing guests, or collaborating with your team, Skype takes your podcast to the next level. While there are other options available, it is a solid choice for podcasters looking to enhance their communication capabilities and create compelling content.