Welcome, golf lovers and budding athletes! If you're looking to get the most out of your passion for golf, podcasts are an excellent way to do just that. We invite you to explore Me And My Golf Podcast. A top choice among avid podcast fans. Discover why this show is unique compared to other similar programs. And what amazing features it has to offer in our review.
Summary Of Me And My Golf Podcast
The Me and My Golf Podcast is a platform created by PGA coaches Piers Ward and Andy Proudman to help golfers play better. With over 875,000 YouTube subscribers, the podcast aims to improve listeners' understanding of the game and their performance on the course.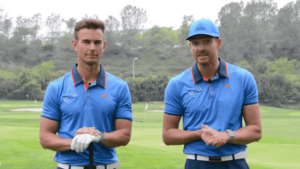 The topics discussed on the show range from current affairs in golf to interviews with leading figures in the industry who share their experiences. It also provides mental and practice advice to help listeners up their game. So far, world-renowned coaches such as Pete Cowen and Cameron McCormick have been featured guests, while many top tour pros have also made appearances on the show. 
Furthermore, Andy Proudman and Piers Ward draw upon their expertise in coaching for this audio format. They provide detailed insight into some of the most important aspects of playing golf, including course management skillsets that can help you take charge of your game. And this has become popular among viewers of all skill levels looking for tips that make them more competitive players. 
You can usually expect to find a few episodes each month that last anywhere from 30 minutes to an hour. 
Overall it's an informative audio source that provides both newbies and experienced players with valuable advice to help them up their game! 
What Makes This Podcast Special
The Me And My Golf Podcast makes for an informative and entertaining listen, as it is hosted by two of the world's leading golf experts. Piers Ward and Andy Proudman have dedicated their lives to helping people improve their game at all levels of play. As European Tour coaches, they have the expertise to provide valuable tips for golfers of all levels. They bring years of knowledge and experience in golf coaching, news, mindset, overall performance, and more. 
Through discussions with some of the top golfers, both professional and amateur, listeners are given straightforward advice and strategies to help them improve their game. Like, refining your stance, swing, and course strategy to enhance your golf game. They clearly focus on improving both technique and mental aspects of playing competitively.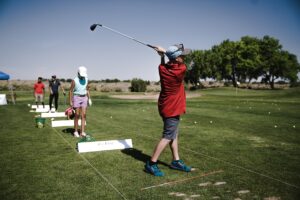 What truly sets this podcast apart is its approachability. Piers and Andy ensure each episode keeps technical jargon to a minimum so that even those new to golf can benefit from the shared advice. Me And My Golf Podcast offers something unique to mid to low-handicap amateurs looking for professional advice from experienced coaches who understand what it takes to become a successful golfer. 
Moreover, listeners will find each episode entertaining thanks to the witty banter between the two hosts, who bring a lighthearted vibe whenever they talk about serious topics related to improving one's game. 
Main Ideas Highlighted In The Me And My Golf Podcast
Learn the latest trends in golf coaching, news, mindset, and performance from European Tour coaches.

It is vital to have a good understanding of the fundamentals of golf. Get simple tips and tools to help you take charge of your game.

Mindset is a crucial factor in golf performance. Mental toughness and resilience are to maintain focus and stay motivated. Understand how to develop a winning mentality on the course and off it.

Visualization and goal setting can help golfers reach their goals. Gain insight into how professional golfers approach their own games and strategies for success on tour.

Consistent practice and dedication are essential for golfers to reach their goals. Get advice on how to practice effectively and develop your own unique swing.

Proper nutrition and exercise are important for golfers to perform optimally. Get insights into the importance of adequate food and exercise for golfers to perform optimally and stay healthy. 

What Are The Shortcomings Of The Podcast?
The Me And My Golf Podcast does have a lot of great content. However, the audio quality leaves a lot to be desired. 
The voices on the podcast are also extremely uneven in terms of volume. One moment the audio can be too low, then the next moment it's too loud. This is incredibly distracting and makes it harder to focus on the content. Furthermore, it takes away from the overall experience of listening to the podcast. 
The audio quality doesn't match the quality of the content, which is a real shame. 
If the audio is clearer and the volume is more consistent, the great content would be able to shine through, and the podcast would be much more enjoyable. 
Overall Opinion On The Me And My Golf Podcast
The Me And My Golf Podcast is one of the best out there for golfers at all levels. With Piers and Andy's expertise, they offer valuable insight into the game that can help any golfer improve their skills. The podcasts are engaging and interactive, with topics ranging from basics to more complex aspects of the sport. 
The hosts' enthusiasm for teaching golfers how to get better makes it a fun listen, even if you're not a die-hard fan of the sport. Their interviews are packed with advice and commentary that will help any golfer reach their goals faster. If you're serious about taking your game up a notch or two, I highly recommend giving Me And My Golf Podcast a try!
Don't let this opportunity pass you by! Listen in today to find out how you can improve your golfing skills!