As the podcasting industry grows, having the right equipment is essential for quality recordings. That's why having a reliable mic stand is an important component of any podcast setup. The NEEWER NW-35 is one of the most popular stands on the market, so we wanted to take an in-depth look at its features and performance to help you decide if it's the right stand for your setup. So join us as we break down the NEEWER NW-35 and see if it's up to the task.
About NEEWER NW-35
Neewer is a multinational company founded in 2011 and is dedicated to providing professional, high-quality products at entry-level pricing. Its headquarters is in Shenzhen, China, with branches and subsidiaries worldwide, including the United States, United Kingdom, Germany, and China. Neewer was accredited as a national high-tech enterprise in 2020 and had several Amazon-certified best-selling products. It provides services to tens of millions of clients across three continents. The company focuses on cutting-edge technology and aims to improve user experience to meet the needs of its clients.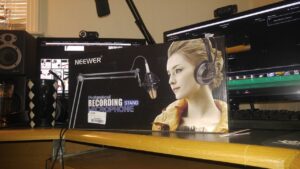 And one of the company's state-of-the-art products is the NEEWER NW-35 mic stand. 
The Neewer NW-35 is a great budget-friendly option for streamers looking to upgrade their gear. This scissor arm stand features a clamp base and two points of articulation, providing more flexibility than the SB-2. The stand can easily be moved out of the way when not in use, making it an ideal choice for streamers. 
Key Features of NEEWER NW-35
Steel Boom Arm Stand with Desk C-Clamp

Supports up to 3.3 lb

Offers 360° Rotation & 135° Tilt

C-Clamp Fits on Desks up to 2″ Thick

Includes Set of Cable Straps

Includes 3/8 to 5/8″ Mic Thread Adapter

Bundles with a double-layer pop filter

Design & Performance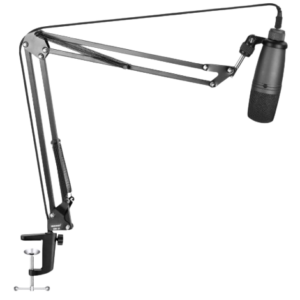 The Neewer NW-35 is highly durable due to its steel construction and can extend up to 27.6 inches. Using the included C-clamp, this boom arm can be attached to desks with a maximum thickness of 1.7 inches (4.5 cm). It can support microphones that weigh up to 3.3lb. At the same time, its 360-degree rotatable and 270-degree pivotable spigot allows for precise adjustments. 
This stand comes with a snap-on mic clip perfect for a 35mm diameter mics and a double-layer pop filter with a bendable goose-neck for ultimate control. The plastic mic clip is designed to fit a microphone with a shaft diameter of 1.26″/3.2cm to the boom arm, and five cable straps are also included to help keep the cables neat and organized. The base connector is robust and ensures the mic is firmly in place.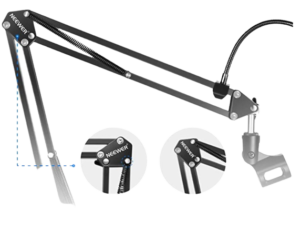 Moreover, the swiveling joints and neck allow complete freedom when positioning your microphone. Other than that, you can quickly and easily remove the stand from your setup with its pop-out clamp. 
Neewer NW-35's strong steel frame makes it exceptionally durable and sturdy, allowing it to firmly hold the microphone without bending or deforming. This durability makes it ideal for heavy-duty use, increasing its longevity and overall value.
Specifications
Form Factor:  Studio Microphone Arm with Mount

Color:  Black

Height: 31.5" (80cms)

Weight: 1.7lbs (769g)

Maximum load: 3.3lbs (1.5kg)

Boom Angle:  Adjustable

Reach: 70cm (27.6 inches)

Rotation Range:  360°

Cable Management:  External Cable Clip

Mounts: C-clamp, Flange

Clamp Range:  2.0″ / 5.1 cm

Construction Material:  Steel
Final Verdict On NEEWER NW-35
| | |
| --- | --- |
| PROS | CONS |
| Can hold up to 3.3 pounds of weight. | Springs can create a lot of noise. |
| Pop filter is adjustable to suit your needs. | Clamps may not last as long as desired. |
| Compatible with Blue Snowball iCE or Yeti. | Sponge pads can be slippery. |
| Easily adjustable. | May not have the same level of sturdiness as other stands. |
| Comes with a mount clamp for secure fixing. | |
| Takes up minimal space on a desktop. | |
| Great value for money. | |
The NEEWER NW-35 Adjustable Stand is an affordable choice for those needing a desk-mounted scissor arm boom. It is built with sturdy construction and has various adjustable features, such as height and angle adjustments. The stand also includes a universal microphone clip for compatibility with most microphone models, making it a fantastic choice for any budget. Overall, the NEEWER NW-35 Adjustable Stand is a great option for anyone needing a reliable and versatile stand.
---
Your opinion matters! Share your thoughts on our review by leaving a comment below.