Are you interested in starting a podcast? You can't do it without the right equipment. The On-Stage DS7200B is an essential piece of equipment for any aspiring podcaster. This mic stand is sturdy, adjustable, and reliable. We've reviewed this product and are here to provide you with all the information you need to make the right decision. Read our review to find out why the On-Stage DS7200B is the perfect mic stand for your podcasting needs!
About On-Stage DS7200B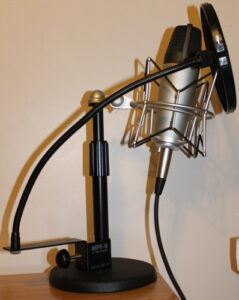 On-Stage has been a leader in the music industry, providing top-quality instruments and microphone stands since 1979. Their commitment to affordability, durability, and innovation has made them a favorite of musicians in studios, showrooms, and on stages worldwide. 
The On-Stage DS7200B stand is an economical and effective option for desktop microphone stands. It is highly sought after because it is so reliable and affordable. It's perfect for any situation where a straight microphone needs to be placed on a desk, or even without one. Plus, the On Stage stand is a basic model with a simple and robust base. It is simple yet practical – ideal for those looking for a dependable stand and quickly setting up a microphone on a desk. 
Key Features of DS7200B Mic Stand
Removable Shaft Extends 9 to 13″

Die-Cast Steel Clutch

Round weighted 6″ base

Black Rubberized Nonslip Base

5/8″-27 Solid Threaded End

For Tabletop Uses and More

Design & Performance
The On Stage DS7200B is a durable and secure microphone stand with a black finish and a clamp for mounting to desks or tabletops. It is made of heavy-duty die-cast steel. The On Stage also has a flexible gooseneck to help with precise mic positioning and a built-in pop filter to reduce plosives and other noises.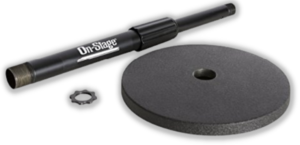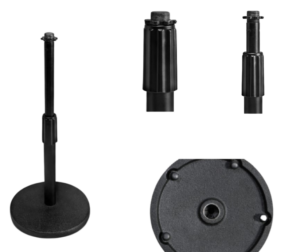 The DS7200B is designed with a heavy-duty weighted steel base to provide stability and a clutch to keep a microphone or shock mount securely in place. Plus, its base is equipped with nonslip rubber feet to minimize unwanted movement or sound and prevent vibrations. It's a 6-inch base, weighs 2 pounds, and can be adjusted to different heights with a standard 5/8 "-27 thread. 
The Rucker Lug connection of this microphone allows for easy position adjustment without the need for knobs, and its adjustable height from 9″ to 13″ allows for a custom fit to your desk. Additionally, rubber feet on the bottom minimize any unwanted movement or sound. 
The On Stage DS7200B does not provide the 360 degrees adjustment ability of more expensive clamp arm models. However, it does offer a forty-degree adjustment of the upper shaft. 
This On-Stage microphone stand is an excellent choice for those looking to save money while still getting a high-quality product. It's also incredibly versatile, allowing you to use it in various settings. It is compact enough to fit into your home recording studio and sturdy for stage performances. 
On Stage DS7200B truly does the job – perfect for podcasting
Specifications
Application:  Desktop and Short Height Miking

Stand Type:  Desktop Mic Stand

Height:  9″-13″ (22 to 33 cm)

Base Diameter:  6″ (15 cm)

Base Weight:  2 lbs. (0.9 kg)

Base Type:  Round

Color:  Black

Tube Materials:  Steel

Manufacturer Part Number:         12463
Final Verdict On On-Stage DS7200B
| | |
| --- | --- |
| PROS | CONS |
| Built to last | Build quality is mediocre |
| Lightweight | Not as flexible as other options. |
| Low-profile design | Too heavy for some users. |
| Highly versatile | |
| Adjustable | |
| Stable with its nonslip rubber fit | |
| Affordable | |
The On Stage DS7200B is an excellent choice for those looking for a durable, secure, and versatile microphone stand at an affordable price. Its heavy-duty steel construction, adjustable height, and built-in pop filter make it ideal for podcasting and stage performances. With its flexible gooseneck and Rucker Lug connection, you can easily adjust the microphone to get the perfect sound. Highly recommended for budget-conscious buyers.
---
Help us improve our content by leaving a comment below if you found our review article helpful.