The podcast Pardon My Take is here for you to experience your favorite NFL league.

The NFL is among the most watched sports across the globe. There are 32 teams, and games often take place only three days a week. Because of this, it can be tough for fanatics to keep abreast of everything.

Good thing there's an NFL podcast to keep them on top and take advice for your favorite NFL football team.
About Pardon My Take
Barstool Sports' Pardon My Take' is now six years old and is consistently one of the most popular and listened to podcasts across all subjects. Launched on March 2016, the podcast is a comedy show posed as a sports talk show. And it has been regularly listed as the top podcast in the "Sports & Recreation" section of the iTunes Store.
Pardon My Take hosts, Dan "Big Cat" Katz and PFT Commenter, cover the day's most-talked sports stories by toning down the controversial takes commonly created by journalists in the entire industry.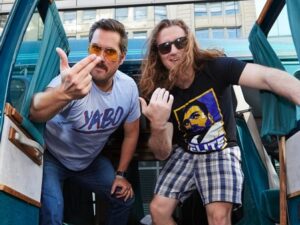 Most Pardon My Take episodes are composed of three parts. The pair starts the show with a review of the latest sports news. An interview with a sports star, athlete, public figure, or celebrity comes after. The podcast concludes with a compilation of regular original segments that differ from episode to episode. Episodes are released regularly, at least every two to three days, and run around for two hours.
The show has mocking parts to satirize all the pretentious discussions that sports talk shows resort to fill time. Besides the sports industry, they also often tackle entertainment, with stretches such as 'Bachelor Talk for People Who Don't Watch The Bachelor' and 'Hot Seat, Cool Throne' created to make fun of the many sports shows that believe it's necessary to explore the pop culture.



What's So Great about The Podcast?
Now and then, sports podcasts adhere to a particular sports segment. But this is different as far as the Pardon My Take podcast. Although they talk about a lot further than just the NFL, it is a league that they intensely emphasize. They discuss more league-wide stories with exciting reviews. The show is equal portions of sports commentary and comedy.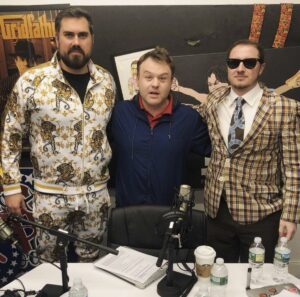 Big Cat Pardon My Take, and PFT Commenter is a powerful duo with exceptional humor and a knack for engaging with guests. They can bring in pro athletes and coaches to speak freely and display different sides of themselves. And this approach is refreshing and seldom observed on the platform by guys who don't play professional sports. Although the Guests join in the show's wit, the podcast still delivers enlightening interviews.
The hosts provide remarkable insights on various football-related topics, apart from the comedic vibe. They deeply examine current news, stories, and hoaxes encompassing the NFL.
PMT podcast offers listeners among the most captivating programs versus other podcasts. It continues to make an already top-rated podcast better each week. The core of its success is the crazy chemistry between Katz and PFT Commenter and how they support one another for funny gags and silly antics. Because of that, it's like you're only listening to amusing dialogues with friends and fans of the game instead of a formal professional outlining and reporting the NFL news.
What's Not So Great?
The episodes run for more than two hours which can be a lot to wrap up as a listener. While it's impressive to hear the unfiltered talks between the hosts (and it does build up the humor aspect of the podcast), two hours is like ages to be giving ears for, particularly when there are three episodes each week. If you want in-depth and detailed takes or a professional analysis program, there will be a better podcast for you. Pardon My Take is a superb podcast for NFL supporters looking to have a laugh.

Also Read: The Right Time With Bomani Jones
Pardon My Take Review
One of the best sports podcasts in the NFL, Pardon My Take presents a fantastic example of community involvement that is only achievable in the podcast world. If sports is your groove and you want to keep up with the current stories and games and hear opinions and forecasts light-heartedly, listen to Pardon My Take podcast.