Are you looking for a dependable mic stand? The Pyle Heavy Duty PMKS56 is designed to meet the needs of professional recording studios and live sound applications. With its solid construction, adjustable height, and secure mounting design, the Pyle Heavy Duty PMKS56 will be a great addition to your microphone setup. Read on to find out more about this stand and why it's one of the best on the market!
We will take a closer look at the features, specs, and overall performance of this great piece of equipment.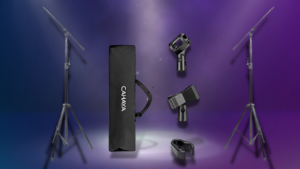 About Pyle Heavy Duty PMKS56
Pyle USA is a well-known brand in the field of audio equipment, providing high-quality products that cater to the needs of professionals and amateurs alike. One of their most popular offerings is the Pyle Heavy Duty PMKS56 Professional Microphone Stand. This sturdy and adaptable stand is designed to provide a reliable and secure platform for microphones of all shapes. Moreover,iIt has been designed with a USA standard 5/8-Inch adaptor. Plus a threading for compatibility with other audio equipment and consumer electronics, which can be found mainly at big-box stores and online. 
This PMKS56 microphone stand is perfect for those who prefer to stand up while recording podcasts. It is strong, durable, adaptable, and won't break the bank.  
Key Features Of PMKS56
Rugged & Reliable Mic Placement

Hassle-Free & Quick Lock-Tight Clamp Mechanism

Stable Tripod Legs with Anti-Slip Rubber Feet

Extending/Adjustable Boom Arm Length

Convenient Height Adjustment

Glossy Black Finish

Perfect for On-Stage or In-Studio Use

Designed for the Professional, Holds Microphone Securely

Boom Microphone Stand Perfect for the Studio and Concerts

Enlarged Tubing for Durability and Structural Support

Height and T-Bar Adjustment Points

Can Be Used With or Without Boom

Includes Universal USA Standard 5/8" Mic Adapter

Stable Tri-Pod Base

Design & Performance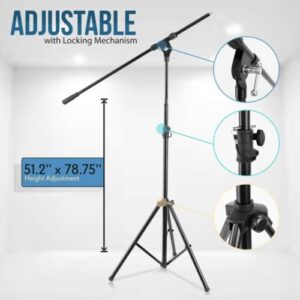 The Pyle Pro PMKS56 is a sturdy and long-lasting tripod stand, which is designed to withstand regular use. It has anti-slip legs that provide great stability and balance. Furthermore, this stand is equipped with a universal 5/8" mic adapter, allowing for compatibility with most microphones. 
With a height range of 51.2 to 78.75 inches and an adjustable telescoping boom arm, it is the most flexible stand on the market. The sturdy tripod leg base and counterweight of 6.5 lbs guarantee stability and precise balance, while the enlarged tubing provides durability and structural support. The T-bar adjustment point ensures that the microphone stays elevated and in place. 
The Pyle mic stand has a few limitations in terms of build quality. The pivot point is not as heavy-duty as the other components, making supporting heavier mics and goosenecks difficult. The mic will eventually droop towards the floor even when users tighten the boom arm locking knob. Additionally, the grip disks do not have any texture, which could lead to the mic slipping out of place. 
Additionally, the compact design of the item can be problematic, as it can block your view if placed directly in front. However, its lightweight and sturdy construction makes it highly portable.
Specifications
Mic Stand Type: Floorstanding

Base Type: Tripod

Height Adjustment: 51.2" x 78.75" (130 to 200 cm)

Boom Arm Length: 29.5" (74.9 cm)

Folded Dimensions: 5.9'' x 4.3'' x 52.0'' (15 x 11 x 132 cm)

Weight: 7.7 pounds

Construction Material: Steel Metal Alloy

Color: Black
Final Verdict On Pyle Heavy Duty PMKS56
| | |
| --- | --- |
| PROS | CONS |
| Robust build ensures a long-lasting product. | Problems with the pivot point |
| Universally sized handle for convenience. | Does not support heavy microphones |
| Stable construction for secure and reliable performance. | Bulky |
| Conveniently adjustable height for your specific needs. | |
| Standard thread size for compatibility with most mics. | |
| Risk-free purchase with a money-back guarantee. | |
The Pyle Pro PMKS56 is an excellent choice for those looking for a heavy-duty mic stand that is both reliable and budget-friendly. Its portability makes it great for transporting, and its durable design makes it perfect for any place and podcast recordings. Its foldable design and affordability make it an ideal choice for anyone looking for a professional mic stand without breaking the bank.
---
Your feedback matters to us! Leave a comment below if you found our review article useful.