The Rode PSA1 is a highly sought-after microphone boom arm, renowned for its quality sound and durability. Perfect for podcasters, musicians and voice-over artists, the PSA1 offers excellent flexibility with its two-axis swivel mount and adjustable arm. If you're looking for a professional-grade boom arm for your microphone, this is the perfect choice. To learn more about the Rode PSA1, check out our article here.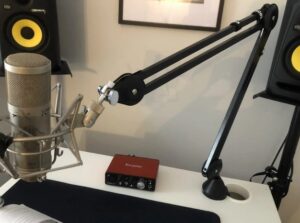 About Rode PSA1
Rode, a company based in Australia, is well-known for producing some of the most popular microphones on the market. Likewise, the brand offers accessories, such as windshields, shock mounts, and boom poles, that are designed to fit their microphones. And the RODE PSA1 is a popular boom arm commonly used by podcasters and streamers for its studio-grade quality.
The Rode PSA1 allows for easy and precise placement of a microphone. Secondly, it has 360-degree movement capabilities and comes with a desk attachment for easy setup. Furthermore, it features an innovative parallelogram design that keeps the mic direction constant as the height is adjusted. 
Key Features Of Rode PSA1
Professional studio arm
Ideal for radio, broadcast, studio, and home use
Internal springs for quiet operation
Includes both threaded desk insert and desk mount clamp
Supported microphone and shockmount/clip weight between 700g to 1.1kg (1.5 lbs. and 2.4 lbs)
Touch-Fastener Cable Wraps
Desk-Clamp Included
Desk-Insert Hardware
Full 360° rotation
Maximum horizontal reach of up to 32 inches
Maximum vertical reach of up to 33 inches

Design & Performance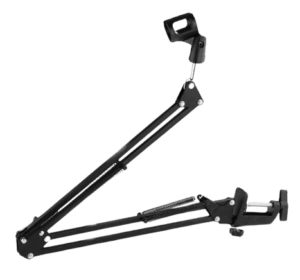 The Rode PSA1 studio boom arm is ideal for radio, broadcast, or home use. It possesses an all-black metal arm with joints at the base, mid-point, and where the microphone is attached. On top of, it is a 3.4-pound arm mount and measures 37.0 x 3.9 x 2.6 inches. 
The PSA1 microphone stand provides a seamless, adjustable reach of three feet. Thus, allowing you to use your microphone from any angle. Besides that, it can handle up to 2.4 lbs., making it an excellent choice for most broadcast-style mics. 
It comes with a flexible arm that can be adjusted to any position and can even be rotated 360 degrees. The desk insert option allows you to stand it up from any flat surface, while the clamps provide extra stability. Both spring-loaded arms are made of metal; therefore, there is no need to worry about them being damaged over time or with frequent use. Not to mention, it has two types of desk mount and velcro cable wraps to keep all your wiring neat.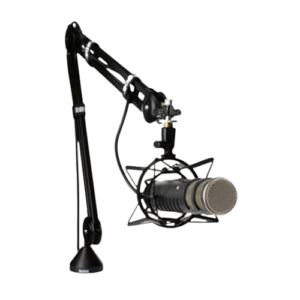 The PSA1+ can be easily mounted by using the included table clamp, which is compatible with most desk surfaces that have a ledge. Unfortunately, it cannot be secured to surfaces that have a flush edge. 
Podcasters who prefer to work while seated will appreciate the PSA1's design, which is adjustable enough to accommodate those who like to stand. Hence, with all these features, the Rode PSA1 is the perfect microphone for any multi-user setup.
Specifications
Form Factor: Studio Microphone Arm with Mount

Parallelogram spring design

Horizontal reach: 32" (81.2 cm)

Vertical reach: 33" (83.8 cm)

Weight: 1.74 kg (3.84 lb.)

Load Capacity: 700g to 1.1kg (1.5 lb. and 2.4 lb.)

Fully dampened springs

Neoprene arm cover

Mounting Type: C-Clamp (Included) & Surface Mount (Included)

Clamp Range: 2.2″ (5.5 cm)

Color:  Black

Tube Materials:  Steel

Manufacturer Part Number: PSA1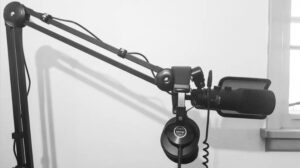 Final Verdict On Rode PSA1
| | |
| --- | --- |
| PROS | CONS |
| Movement is whisper-quiet and long-lasting | Cannot support heavier mics |
| Rotate a full 360-degrees | Lacks a locking mechanism at the base or arm |
| Sleek, professional appearance | Cables cannot be concealed |
| Can mount it in two different ways | Not the most cost-effective option |
| Durable |   |
| Great value |   |
The Rode PSA1 is an excellent product for those looking to stream, podcast, or record vocals. Its flexibility and vertical reach make it a great choice for anyone who needs to adjust the microphone to its exact specifications. More than that, it is well-built, easy to set up, and provides exceptional sound quality. So, if you are in the market for a quality microphone, the Rode PSA1 is definitely worth a look.
---
If you found our review article informative, please share your feedback in the comments.