If you're looking for a way to pass the time and stay up-to-date on all things triathlon, then the best triathlon podcasts are just what you need! And That Triathlon Show is the perfect podcast for fitness fanatics looking to level up their training and racing skills! Tune in to learn new tips and techniques, build mental strength, and get updates on upcoming events.
Check out our review of this top-notch podcast. And if you found this review helpful, please leave a comment and share it with your friends who might be interested in listening to this podcast. So they can get an overview of what it's all about.
What That Triathlon Show Is All About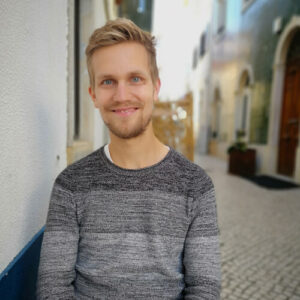 The That Triathlon Show is the perfect podcast for any triathlete who wants a deeper understanding of their sport. Brought by Scientific Triathlon and hosted by coach Mikael Eriksson. Each episode dives into the science behind multisport performance. 
The show features detailed discussions and interviews featuring world-class coaches, scientists, and experts in triathlon and endurance sports. In addition to interviews, solo episodes with Mikael cover tactics and strategies listeners can apply to their training and racing. 
The show takes a holistic approach to triathlon training, covering nutrition, strength training, hydration, mental strength, and more. Through Q&A episodes, they can get answers from experienced professionals on questions related to swimming, running, cycling, or nourishment. 
The goal is to give age-group triathletes practical advice that they can apply to their own training and racing. New episodes are released twice weekly, making it easy for listeners to stay up-to-date on the latest triathlon news and advice. 
That Triathlon Show is an essential resource for anyone interested in triathlon training and racing. With its focus on constructive advice and actionable tips, it will surely provide listeners with the knowledge they need to succeed in their triathlon journey. 
What Makes The Show Among The Best UK Sports Podcasts
That Triathlon Show is one of the best UK sports podcasts due to its comprehensive and detailed approach to the sport. Host Mikael Eriksson has a wealth of knowledge and experience in triathlon training and racing. And this makes him an ideal resource for providing listeners with detailed research-backed tips and advice. 
The podcast also features top guests from the world of triathlon. From professional athletes, coaches, authors, and nutritionists who give their expert insights into how to take your performance to the next level. 
The topics on That Triathlon Show are wide-ranging, covering everything from training techniques and mental strategies for racing success. To nutrition advice for recovery optimization and injury prevention. Each episode provides actionable information that athletes can use immediately to improve performance or start new habits. The show takes an in-depth look at all aspects of triathlon training so you understand what it takes to become a successful endurance athlete.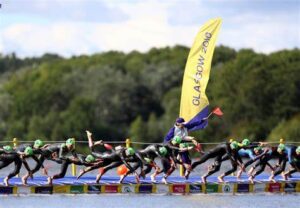 Furthermore, its Q+A format helps break down complex scientific concepts into easy-to-understand conversations so anyone can benefit from the show's content regardless of the prior knowledge base. 
All this makes That Triathlon Show one of the most informative UK sports podcasts – offering great insight into every aspect of triathlon for beginner or elite athletes alike! 
Key Points To Remember From That Triathlon Show
Learn the Basics: Provides great advice for novice and experienced triathletes. It covers the basics of triathlon training, from proper nutrition and hydration to setting goals and developing a training plan. It also provides helpful tips on transitioning between individual sports, race-day strategies, and more. 
Stay Informed: Keeps listeners up-to-date on the latest developments and trends in the triathlon world. With interviews and reports from experts in the field, the show provides valuable information that can help triathletes keep up with and ahead of the competition. 
Understand the Necessary Gear: Knowing the gear for triathlon training and racing is essential for success. This includes clothing, footwear, nutrition, hydration, and recovery items. The right equipment can distinguish between a successful race and a miserable experience. 
Create a Training Plan: Have a well-developed training plan with specific workouts tailored to your goals and fitness levels or upcoming races. This plan should include a mix of swimming, biking, and running, with appropriate rest and recovery in between. 
Develop Your Skills: Provides invaluable advice on improving swimming, cycling, and running skills. With tips and advice from experienced athletes, the show helps athletes take their performance to the next level. 
Maximize Your Potential: With advice on training techniques, race preparation, and more, the show helps athletes maximize their potential and reach their goals. 

What Are The Weaknesses Of The Podcast?
This podcast is generally an excellent resource for anyone wanting to learn about triathlon or just starting. However, there have been occasions where the conversation can be too circular, such as an episode about fatigue management which discussed the different types of fatigue for an extended period without providing many actionable takeaways. Despite this, the podcast remains informative for those seeking to learn more about the sport. 
Overall Impression On That Triathlon Show
That Triathlon Show is among the best UK sports podcast because it offers a practical and reliable approach to endurance concepts. Host Mikael Eriksson ensures that the content is easy to understand and apply, especially for age groupers. The scientific basis of the advice makes this an informative yet entertaining podcast for triathletes and any other endurance sports enthusiast. With varied guests from different backgrounds, one can gain insights into top-end training with clarity and depth. 
Tune in now and join Mikael Eriksson on That Triathlon Show. Start your journey toward peak performance!