Are you ready to take your self-care to the next level? Then, let The Calmer You Podcast help you. With more than 3 million downloads since its launch in 2017, Chloe Brotheridge's award-winning show has become the go-to self-help podcast for people worldwide. Keep reading to learn more about The Calmer You Podcast and why you should tune in.
An Outline On The Calmer You Podcast
The Calmer You Podcast is a weekly podcast hosted by expert hypnotherapist Chloe Brotheridge. The podcast focuses on helping listeners achieve a more relaxed and calm mind. 
The show airs once a week on Wednesdays. Across the podcast, Chloe interviews experts in the field of mental health and well-being. Through their conversations, they discuss topics such as anxiety, sleep, and stress.
Each episode is designed to help listeners gain insight into the different areas of their lives that can be improved to lead a healthier, calmer lifestyle. Learn to understand the science behind worriedness and how to put it in perspective. Plus, explore tools and techniques to calm the mind in overwhelming moments. Chloe's expertise and knowledge shine through every episode. 
In addition, she also offers various online programs and one-on-one coaching sessions to help people find their inner calm. She also gets personal, talking openly about her struggles with anxiety and her journey to becoming an expert hypnotherapist. Through these stories and interviews, listeners can gain a better insight into the impact of anxiousness and how to manage it. 
The Calmer You Podcast is full of honest, accessible, and practical advice for anyone seeking help dealing with anxiety. With valuable information from professionals, helpful techniques, and tips, it will provide you with the insight you need.
What Makes The Calmer You Podcast A Great One?
The Calmer You Podcast is a great self-help podcast. And it's quickly becoming one of the most popular self-help podcasts in the UK, and it's easy to see why.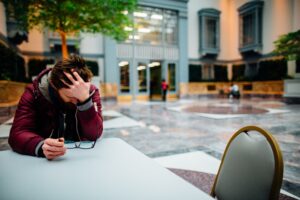 The podcast covers various topics, including mental health and emotional well-being, relationships, mindfulness, and self-care. Each episode is packed with practical advice and strategies to help listeners manage stress, anxiety, and other challenging emotions. 
Chloe's easy-going and reassuring approach helps make the podcast an enjoyable and engaging listen. Her expertise and positive attitude make it easy to trust her advice and follow her suggested steps to better mental health. Instead of focusing solely on the negative aspects of mental balance, the podcast takes a holistic approach to health and well-being. Not to mention the practical tips and strategies it offers for creating a more mindful and fulfilling life. 
The Calmer You Podcast also features interviews with experts and inspiring guests, allowing listeners to benefit from their experiences and lessons. Each episode is packed with interesting stories and wisdom, making it easy to stay motivated and focused on your goals. 
Finally, the podcast is free to listen to, making it an accessible and affordable way to access expert guidance. The podcast is also available on a variety of platforms, making it easy to listen to wherever you are. 
If you're looking for practical tips and strategies for developing a calmer, more balanced mindset, this is one podcast you won't want to miss.
Some Of The Important Takeaways From The Podcast
Self-care is essential.

Self-care is integral to maintaining mental, emotional, and physical health. It is not a luxury or something to be skipped. And it is a necessity for living a balanced and healthy life.

Recognize and accept your emotions.

When you can recognize and accept your emotions, it can help you to process and manage them healthily.

Find connection and support.

Having a support system of family, friends, and professionals can help you to feel less alone and more connected. This connection can provide a safe space to talk about your struggles, challenges, and successes. Or to just talk and be heard.

Set healthy boundaries.

Setting healthy boundaries is essential for having healthy relationships and self-respect. This involves being honest and clear with others about your needs and limits.

Take time for yourself.

Taking time for yourself is essential for your mental and emotional well-being. This might mean taking a break from work or spending time doing something you enjoy. 

What's Not So Good About The Pod?
The Calmer You Podcast is a great podcast that offers advice and tips on how to be more mindful, relaxed, and content. However, some shortcomings should be addressed. 
The biggest issue is the short running time of the episodes. While it's great that the episodes are quick and easy to digest, the lack of time means that the topics can only be discussed in an introductory way. There needs to be more time to explore the topics in depth, so listeners may not get as much out of the podcast as they could if the episodes were longer. 
Additionally, the episodes are mostly interviews with experts and guests, but these interviews are often quite short. This means listeners don't get to hear the full range of perspectives and ideas that could be discussed if the interviews were longer. 
Overall, the podcast is a great resource, but if the length of the episodes and the depth of the conversations were increased, it would be an even more valuable resource for listeners.
Final Verdict On The Calmer You Podcast
The Calmer You Podcast is an excellent podcast for anyone looking to improve their psychological health and well-being. Despite the few negative reviews, this podcast has proven to be the ultimate channel for practical guidance on managing anxiety and stress in our lives. Chloe Brotheridge's delivery style is informative yet calming, making it a delightful listen for those seeking support from her wealth of experience with these topics.

If you're looking for new ways to become calmer and more sensible daily, give The Calmer You Podcast a try! After all, what have you got to lose? Click here to explore more self-help podcasts like The Calmer You Podcast today!