In the last decade, self-help podcasts have exploded into the mainstream media. Hundreds of podcasts offer guidance and support on various topics, from career advice to personal development and mental health. According to an iHeartMedia study, 67% of podcast listeners say that podcasts "motivate and inspire me."
The Chasing Joy Podcast is a self-help podcast hosted by Georgie Morley that focuses on topics related to wellness. With an upbeat attitude and inspiring guest stories, the podcast has quickly become one of the most popular personal growth and development sources. In this review, we will explore what makes this podcast stand out from other self-help programs and its overall content quality.
What The Chasing Joy Podcast Is All About?
The Chasing Joy Podcast is a weekly show hosted by Georgie Morley, who is passionate about wellness and helping people to chase joy.
The podcast is filled with inspiring guests who offer a wide range of advice on mental health issues. It includes depression and anxiety, spiritual growth through meditation practices, and developing healthy habits to achieve physical well-being goals. And the list goes on!
The episodes range from 10 minutes to an hour long which guests share their stories and practical advice on living a healthier and happier life. It also features solo episodes sharing tips Georgie has learned about sustainable happiness. With high-quality content, listeners can gain perspective from different sources each week, which will help them create positive change within their own lives.
Each episode also includes a segment where Morley answers questions submitted by her audience members about any topic related to achieving inner peace. This Q&A portion allows listeners to receive personalized advice from someone who truly understands their struggles. 
With its mix of real-life stories from guest speakers and creative activities designed to help boost self-confidence.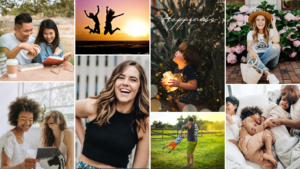 Why The Podcast Is Worth Listening To?
What do people love about this podcast? Firstly, many appreciate how it serves as a reminder that we can all be happy if we make an effort to practice self-care and stay mindful of our well-being. Through stories from guests about their experiences with navigating life's challenges, the podcast offers encouragement that no matter what hardships come our way, there is still hope for happiness.
Additionally, listeners enjoy hearing Georgie's unique perspective on gratitude and resilience. Her words are inspiring and comforting for those dealing with difficult times. They are filled with hope and optimism, encouraging her audience to look at the positive side of life.
She offers concrete advice that can be easily implemented into everyday life, such as expressing gratitude daily or practicing self-care during tough times. In addition, she shares stories from her personal journey with vulnerability and authenticity, which helps others feel seen in their own experiences.
In sum, The Chasing Joy Podcast has become popular because it helps people reframe their view of happiness while giving them tips on how to improve their lives moving forward! 
Important Takeaways From The Chasing Joy Podcast
Each episode leaves listeners with tangible takeaways they can use in their own lives to help them find joy.
Prioritize Self-Care: Taking time to care for yourself is essential to living a joyful life. It can be reading a book, taking a bubble bath, walking, or doing a yoga class. Whatever it is, set aside time to do something just for you.
Practice Gratitude: Make a habit of writing down three things you are grateful for daily. This practice will help you recognize the good things in your life and be more mindful of the present moment.
Embrace Your Passions: Doing something you love can bring you joy. Whether getting creative with a craft, cooking a delicious meal, or exploring a new hobby, make sure to take time for activities that bring you joy.
Nurture Connections: Relationships are essential to happiness. Nurture your relationships by spending quality time with your family and friends. Or even just send a card or text to remind them of your appreciation.
Find Time to Relax: Take time to relax and unwind by taking a break from technology, going on a nature walk, or just taking a few minutes to sit in silence and practice mindful breathing.
Make Time for Yourself: Taking time for yourself can help you reconnect with your inner self and find joy. Take time to do something special for yourself, whether treating yourself to a massage or taking a day to explore a new city.
Take Action: Take steps towards achieving your goals and dreams by making a plan, setting goals, and taking action. No matter how small, taking action can help you move closer to your vision and bring you joy. 

What The Podcast Should Change?
The Chasing Joy Podcast has received some criticisms about its episodes. Some listeners have noted that many of the guests featured on the podcast have similar backgrounds and discuss similar topics. And this leads to a sense of repetition in specific episodes. Additionally, there have been issues with audio quality when guests appear. Some listeners find that this detracts from the overall quality of content.
In response to these criticisms, the podcast should focus on diversifying its guest lineup and ensuring good sound quality for all episodes. They can proactively look for guests who come from varied backgrounds and experiences. And also, work with them to ensure they are using proper equipment or technology to capture clear audio during interviews. Doing so will help create dynamic conversations between hosts and guests while delivering a more consistent listening experience for their audience. 
Final Thoughts On The Chasing Joy Podcast
The Chasing Joy Podcast is an excellent source of self-help guidance and inspiration. Georgie Morley's thoughtful interviews and thought-provoking conversation make this podcast stand out from the rest. It contains topics ranging from mental health to personal growth to financial literacy. So everyone who needs support on their journey toward joy is sure to hear something.
For those looking for help finding their own version of joy, The Chasing Joy Podcast provides comfort and actionable tips that can be implemented immediately. If you're looking for a supportive and engaging way to increase your happiness and cultivate meaningful connections, then take advantage of this podcast!
Also, be sure to check out  Good Life Project Podcast – it might also be what you need!