If you're a fan of comedy, current events, or a healthy dose of absurdity, then you'll definitely want to check out The H3 Podcast. Hosted by the hilarious duo of Ethan and Hila Klein. The podcast is a wild ride through an array of topics, ranging from Elon Musk's latest antics to the antics of their pets.
The podcast's humor is witty and conversational, making it the perfect show to listen to while commuting or kicking back on the couch. No matter your mood, The podcast will make sure you laugh out loud and stay entertained.
The show also features some amazing behind-the-scenes talent, such as Zach (the sound technician), who adds a special touch to the show with his perfect timing of soundbites and witty comments. Another fan favorite is Hasan Piker, who co-hosts the Leftovers episode with the H3 pair. It's always a blast to hear Hasan's take on various topics.
With a range of topics from internet culture to politics and, of course, Klein's own life stories, The H3 Podcast is a must-listen for anyone who loves to laugh and have a good time.
What's Most Impressive Podcast?
The most impressive thing about The H3 Podcast is the show's ability to remain entertaining while tackling a range of topics. With humor that is both intelligent and accessible, The H3 Podcast is a great show to listen to with friends or family.
It's rare for a podcast to find a balance between high-brow comedy and low-brow humor, but the show manages to do it expertly. And with the added bonus of amazing guests, The H3 Podcast is sure to keep you entertained for hours.
One of the most amazing things that I personally found while listening to The H3 Podcast was the 'Families' episode. Ethan and Hila discussed their own experiences of family life, from Ethan's dad, Gary, destroying beach balls to Donna expressing her passion for butterflies. The episode was an incredibly wholesome look at Klein's family life, and it was a refreshing change from the podcast's usual internet culture and 'beef' talk.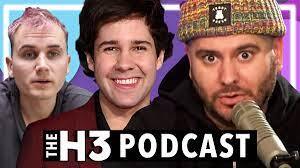 What's Not So Great?
Just like any other podcast, This one also has its flaws. Firstly, the hosts often veer off-topic and end up discussing seemingly unrelated topics for extended periods. This can sometimes make you feel a bit disjointed and unfocused, leading to some sections feeling like filler.
Ethan can also be a bit too opinionated at times, often taking sides without considering the other person's point of view. This can lead to heated arguments and debates, which can be entertaining to listen to but aren't always constructive.
Final Thought On The H3 Podcast
The H3 Podcast is great for anyone who loves comedy, culture and current events. With witty humor and conversational tones, It offers something for everyone. From Elon Musk to Gary Klein's beach balls, The H3 Podcast keeps you entertained and laughing for hours.
The occasional disagreement may make for some tense moments, but it is worth a listen overall. So if you're looking for a fresh and witty take on comedy, current events and culture, then The H3 Podcast is most certainly worth your time.