The search for self-improvement and mental health support has never been easier with The Men's Self-Help Podcast. Hosted by Dr. John Moore, this podcast is designed to help men of all ages learn more about their mental health.
For those looking to gain insight into modern men's struggles with mental health and well-being, The Men's Self-Help Podcast Offers an invaluable resource. Plus it can be accessed from any device at any time of day or night. Learn what it takes to become an emotionally balanced man in today's world by taking advantage of this revolutionary new platform!
The Men's Self-Help Podcast Is All About What?
Dr. John Moore, a psychologist, and life coach, host the Men's Self-Help Podcast. It is designed to give men valuable insight and advice regarding life, relationships, career, and other important matters. Every podcast episode focuses on a different topic. With Dr. Moore providing advice and guidance on how men can improve their lives and make better choices.
The podcast covers relationships, communication, stress management, problem-solving, money management, and other essential life skills. It also features interviews with experts in their respective fields, providing an array of perspectives on the issues discussed. Additionally, Dr. Moore addresses issues relevant to modern men, like masculinity, sexuality, and mental health.
The show aims to help men become more self-aware and make positive changes in their lives. It provides valuable guidance on how to better manage stress and anxiety, improve communication, and relationships. Moreover, it helps individuals make better decisions. Moore encourages men to take ownership of their lives and take action to create the life they want.
The podcast is for any man looking for advice or guidance on how to live a better life and make the right choices. It is an excellent resource for men of all ages and backgrounds, providing them with essential advice for success. With its practical advice and insightful interviews, The Men's Self-Help Podcast is an invaluable resource for men who want to make positive life changes.
What Makes It Among The Best Podcast?
The Men's Self-Help Podcast has quickly become a good platform for men all over the world looking for guidance on becoming the best version of themselves. Its thought-provoking and actionable content have gained an impressive following of dedicated listeners eager to hear Dr. Moore's advice.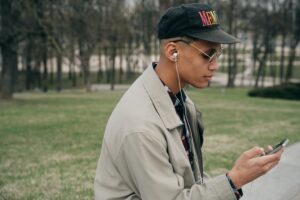 The podcast stands out from other self-help resources due to its unique focus on the issues faced by men. Dr. Moore is an experienced psychologist with a deep understanding of men's individual struggles and pressures in today's society.
The Men's Self-Help Podcast serves as a platform for him to share this knowledge with his listeners. His approach is practical and honest. Besides, he encourages listeners to take action and make worthwhile adjustments in their lives. The Men's Self-Help Podcast is an engaging and interactive experience for its listeners. Not only does Dr. Moore provide meaningful advice, but his guests also share their expertise on various topics. Additionally, listeners can participate in the podcast through the Men's Self-Help Community Facebook page, where they can discuss the topics covered in the podcast and connect with other listeners.
Dr. Moore is an inspiring figure for men everywhere. More importantly, this podcast can help men take control of their lives.
Some Of The Benefits Of Listening To The Men's Self-Help Podcast
Developing a greater understanding of yourself and your goals. The podcast offers advice and tips on becoming more self-aware and better understanding yourself and what you want out of life.
Improving communication skills. Listening to the podcast can help men learn how to communicate more effectively and build stronger relationships with those around them.
Becoming more productive. The podcast offers advice on how to use your time more efficiently, set goals, and take action.
Becoming more successful in your career. The show provides advice on becoming more successful in your career, such as being more confident and proactive.
Improving physical and emotional health. Listening to the podcast can help men to become more aware of their physical and emotional health and learn how to manage stress and anxiety.

What's Not So Great?
The Men's Self-Help Podcast has a lot of potentials, but it could use some improvement.
First, the tone of the podcast could be improved. It tends to be monotone and lacks enthusiasm, which makes it difficult to stay engaged. A more dynamic and energetic style would make the podcast more engaging. Second, the topics of the podcast can be somewhat limited. While a wide range of topics is discussed, they tend to focus on issues related to men's mental health and self-improvement.
The podcast is targeted toward men, which could be perceived as exclusionary. Men's Self-Help Podcast focuses solely on the needs and challenges of men, providing real-world advice and solutions tailored specifically for men.
Final Thoughts
The Men's Self-Help Podcast is a great instrument for men who want to lift their mental state. Dr. John Moore has created an effective platform that provides helpful tools and strategies to help men lead happier, healthier lives. With its diverse topics and approachable style, the podcast can be a great tool in taking one's mental health into their own hands.
If you're looking for a self-help podcast tailored to men, give The Men's Self-Help Podcast a listen today. And if you're looking for more podcasts like this one, read this related post.
We hope these resources will help you find the right solutions for your journey toward better mental well-being.