Did you know that the universe is estimated to be around 13.8 billion years old? It's incredible when we consider how much has happened over those billions of years. To make sense of it all, The Skeptics' Guide to the Universe podcast provides a unique and engaging way for anyone interested in science and skepticism to learn more about our amazing universe. This award-winning science podcast offers a fresh perspective on current events, from astronomy to physics. All to question conventional wisdom.
If you're ready for thoughtful discussion and exploration into the unknown corners of our universe, then keep reading to find out why The Skeptics' Guide to the Universe deserves your attention! 
What The Skeptics' Guide to the Universe Is All About
The Skeptics' Guide to the Universe is an American weekly skeptical podcast created by Dr. Steven Novella, MD. It is co-hosted by Bob Novella, Cara Santa Maria, Jay Novella, and Evan Bernstein.
The podcast discusses topics related to science, critical thinking, conspiracies, pseudoscience, medicine, current events, and more. It also includes interviews with notable scientists in various fields and commentary on news stories pertinent to the scientific community.
The show provides listeners with an entertaining and educational exploration of scientific developments and critical thinking topics. Through this program, the host offers their audience insights from notable scientists in various fields and commentary on current news stories relevant to science.
They also play entertaining games or puzzles between the panelists or guests, designed to challenge listeners' critical thinking skills. Additionally, they provide informative accounts of events in the news that relate to heresy and promote further investigation by their audience.
The Skeptics' Guide has won five Podcast Awards: four in the "Science" category (2009, 2010, 2011, and 2014) and one in the "Education" category (2009). It was also recognized as a 2014 "Dose of Rationality" Top 10 Podcast and nominated for a Physics.org Best Podcast award in 2010.
This award-winning podcast can be found on multiple platforms, including YouTube, iTunes/Apple Podcasts, and Spotify, among others.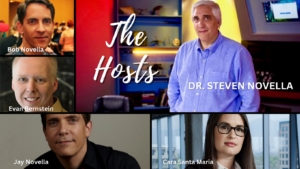 What Makes Them Among The Best Science Podcasts?
The Skeptics' Guide to the Universe Podcast is among the most popular podcasts. It's been running since 2005 and has a strong following among skeptics and non-skeptics alike.
Dr. Steven Novella is intelligent, entertaining, and informative. He brings in guests from various fields to discuss topics. It may be in science, skepticism, philosophy, technology, current events, pop culture, etc. Each episode is filled with interesting facts and humorous banter that keeps listeners engaged throughout each conversation.
Listeners appreciate that the podcast promotes critical thinking by encouraging discussion about controversial topics without bias or judgmental opinions. This allows for meaningful conversations which can help people learn different perspectives on many issues from experts in their respective fields. Furthermore, it helps push people to think outside their comfort zone when debating specific topics. This can ultimately lead to a better understanding of different areas of life, such as politics or religion.
The Skeptics' Guide also offers an entertaining escape from everyday life. It has fun segments like "Skepchick Events," where they cover conventions related to science fiction/fantasy TV shows or movies. "Random Papers," where they critique scientific papers. Plus, even some games like "Name That Logical Fallacy!" These segments add lightheartedness between serious discussions while maintaining educational value through fact-checking and debunking myths.
Its diverse range of topics combined with its engaging debate format plus comedic relief interspersed throughout episodes makes The Skeptics' Guide Podcast an enjoyable show. It is for anyone curious enough who wants to expand their knowledge base while having a few laughs along the way! 

Important Takeaways From The Skeptics' Guide to the Universe
This podcast is an excellent help for those looking to learn more about science, doubt, and critical thinking. Here are some important takeaways from this podcast:
Science and critical thinking are essential tools for understanding the world around us. The show encourages its listeners to think critically and base their decisions on evidence-based facts.

Being doubtful doesn't mean you don't believe anything. Instead, you should question and investigate any claims and facts before accepting them as accurate.

Pseudoscience, superstition, and conspiracy theories are dangerous and should be avoided. The show strives to debunk these myths and provide reliable information about science and suspicion.

The Skeptics' Guide also provides information about the latest science, health, and technology news. By listening to this podcast, you can stay up-to-date with the latest developments in the world of science.

The podcast encourages listeners to stay informed, think critically, and challenge outdated beliefs. By doing so, they can become better-informed citizens and appreciate the world around them. 
What Are Some Of The Unfavorable Reviews of The Pod?
The Skeptics' Guide to the Universe is known for discussing scientific topics and news. But some listeners have expressed concern about the far-left views expressed by one of the hosts. They feel that the science news is still good but is overshadowed by the host's political opinions. Additionally, some listeners have complained about the amount of idle banter, self-promotion, and giggling during the podcast.
When the hosts comment on the inner workings of academia and financial events, those comments are often based on third-hand sources. And this makes them difficult to verify and understand. The hosts should provide listeners with more detailed explanations of their assertions so that listeners have a better grasp of the topics being discussed. This helps ensure that the podcast is more informative and accurate. 
Final Verdict On The Skeptics' Guide to the Universe
The Skeptics' Guide to the Universe is an incredibly valuable podcast for anyone looking to better understand scientific principles, critical thinking, and skepticism. Hosted by a panel of experts in their field, each episode comprehensively looks at today's most pressing topics. The Skeptics' Guide to the Universe has it all. Whether you're searching for tips on thinking critically or just want to stay up-to-date with the latest science news.
So don't wait any longer – give this outstanding podcast a listen today! For more great podcasts like this one, be sure to read our review of Science Friday.