Are you always on the hunt for insightful, educational content that aligns perfectly with current market needs? Ever wonder how a podcast could serve as a valuable resource to expand your knowledge and skills? You might want to add Thoughtful Echoes Podcast to your list. It's a special platform offering both free and premium educational stuff made just for its listeners.
Keep reading our review to understand more about this unique podcast and discover why it could become an essential part of your learning journey!
Thoughtful Echoes Podcast's Focus
The Thoughtful Echoes Podcast is a unique platform that seeks to empower its audience with knowledge and information about current market needs. This Canberra-based enterprise has strategically chosen podcasting as its primary communication channel, understanding the growing trend of this medium. The podcast caters to an array of topics such as cyber skills, personal development techniques, and thought-provoking issues like why abuse often goes unreported.
One of the noteworthy aspects of the Thoughtful Echoes podcast is its commitment to providing affordable yet premium insights. It doesn't limit itself to just professional or educational content; it's also a hub for those who are in constant pursuit of learning irrespective of their fields. But what truly sets Thoughtful Echoes apart from other podcasts is its focus on sensitive areas like mental health, entrepreneurship, childhood trauma, and sexual assault along with discussions around resilience and healing.
It bravely addresses these complex topics with simplicity and sensitivity making them accessible to all listeners. These conversations not only aim at raising awareness but also at sparking dialogue among audiences about pressing issues that need our attention.
In summary, the Thoughtful Echoes Podcast isn't just another regular show you tune into during your leisure time; it's an insightful guide helping you navigate through life's ups and downs while equipping you with useful knowledge pertaining to today's market demands.
About The Host
Meet the amazing host of the Thoughtful Echoes podcast – Neelu Gurung. She is an aspiring entrepreneur, who has set her heart on achieving greatness in this land Down Under.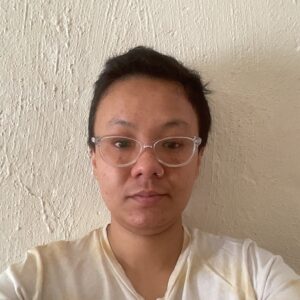 Originally from beautiful Bhutan where she completed her primary schooling, Neelu headed off to India next. There, at Lovely Professional University, she delved into Electronic and Communication studies.
Neelu's got both brains and ambition in spades. She holds a Master's degree in Information Science from the University of Canberra, specializing in how humans interact with robots! Not only that, but she also has two international conference papers and a published article in a top-tier journal under her belt.
Recently, Neelu picked up Micro Business Skillsets with APM Australia and Cyber Security Awareness training from the Canberra Institute of Technology. Before heading down under, Neelu spent time studying B.Tech Electronic and Communication at Lovely Professional University back home in India after completing her primary schooling.
From entry-level jobs as an immigrant to gaining high-end skills through continuous learning – Neelu surely knows how to make every step count toward success.

Reasons To Tune In To The Podcast
The Thoughtful Echoes podcast is definitely a show you wouldn't want to miss. First off, I am highly impressed with the range of topics they cover in their episodes. Each episode is like embarking on a new adventure where you get to explore different perspectives and expand your knowledge base. Even as a beginner, they've managed to curate an engaging list of subjects that cater to various interests.
Moreover, they already have interesting guest lineups. These are individuals who can add depth and context to each topic discussed. Whether it's professionals sharing insights from their respective fields or real-life individuals sharing personal experiences and stories – every guest brings something unique to the table that makes each episode enlightening.
The interview questions for each guest have been so well thought out and crafted; it's clear they've been designed not only to bring out the best in guests but also to make sure listeners get the most value possible. These questions provoke insightful responses that go beyond surface-level banter, delving deeper into the issues at hand.
So if you need reasons why you should tune into Thoughtful Echoes podcast: engaging topics? Check! Insightful guests? Double check! Thought-provoking interviews? Triple check! It's not just about passive listening – it's about being part of an enriching conversation journey where learning never stops.
Things I Least Like
In my humble opinion, there are a couple of aspects from the Thoughtful Echoes podcast that caught my attention and could use some fine-tuning. While listening to the episodes, I noticed our host seemed slightly nervous during her initial dialogues which was somewhat noticeable due to a slight stutter. We've all been there and it's nothing a bit more practice can't iron out!
In addition, it seems like she tends to speak somewhat slowly on certain episodes. While this isn't necessarily a bad thing, as it often ensures clarity and understanding from listeners, it might also run the risk of losing listener interest especially if they prefer a more dynamic pace.
Another point worth noting is the inconsistency regarding volume across different episodes. For instance, one episode had such low volume that I found myself straining to catch every word spoken by our dear hostess! Other times though, everything sounds perfectly normal without needing me to constantly adjust my speaker settings.
However, before sounding overly critical (which isn't my intention), let's remember that this podcast is still in its early stages – so these hiccups are totally normal!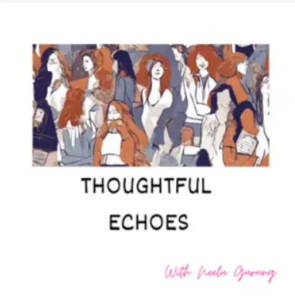 Recent Episodes*
This episode features Jesse Gibbs discussing the tough journey of emotional healing after experiencing trauma. He emphasizes on resilience as a powerful tool in overcoming the physical manifestations of past traumas.
This episode dives into the multifaceted role of an entrepreneur, as seen through the eyes of Robert Indries. It explores how social, human and financial aspects play a key part in shaping business opportunities and success.
In this episode of the Thoughtful Echoes podcast, Scott Goodrich delves into the topic of entrepreneurial operating systems (EOS), a game-changer for businesses seeking growth. Listen in as he elaborates on what EOS is, who can benefit from it and why you should consider implementing it in your business.
In this episode, Mettle Reebrick gives an inspiring talk about how our thoughts can influence our success. She discusses the concept of manifesting these thoughts into reality to achieve greater success.
*at the time of writing
Final Verdict
The Thoughtful Echoes podcast is an audacious venture that skillfully combines education and empathy. It's a refreshing sanctuary for those who seek knowledge, healing, and empowerment – all wrapped up in one unique audio experience. The topics they tackle are relevant and real – from mental health issues, entrepreneurial journeys, and childhood trauma stories to sexual assault survival narratives.
The journey of improvement is endless for this young team behind Thoughtful Echoes but their dedication shines brighter than any flaw or mistake made along the way. Their passion yields potential! And isn't that what makes anything worth listening to?
Now it's your turn to join the conversation – click on the listen button below. Let's wander into wisdom together with Thoughtful Echoes Podcast!