Small businesses are the heart and soul of our economy, driving innovation and creating a significant portion of new jobs. In this digital age, there's an abundance of resources available to help entrepreneurs navigate the challenging landscape of running their own venture. One such resource is the world of business podcasts – a treasure trove filled with insights from industry leaders and successful innovators. Among these gems is "Too Legitimate to Quit," a podcast that combines actionable small business strategies with engaging pop culture references.
Keep scrolling down this article for more nuggets about how this unique program can potentially revolutionize how you approach running your small enterprise!
Introduction To Too Legitimate to Quit
The Too Legitimate to Quit podcast is a lively and engaging platform where non-sleazy sales specialist Annie P. Ruggles, along with her successful but down-to-earth guests, decode the intricacies of marketing, mindset, sales and success. What's unique about this podcast is that it uncovers these business strategies hidden within popular culture – think movies, TV shows, music or books. 
Every episode concludes with practical homework designed to make you feel legitimately accomplished in your understanding of the topic discussed. One episode might delve into revenue generation through the lens of Sir Elton John's rockstar career – a living legend known for his tenacity and larger-than-life personality. Another might explore financial wellness using characters from "The Last Of Us," a popular video game turned TV show as case studies — illustrating how even flawed protagonists can teach us something useful. 
There's also coverage on topics like sales strategies — taking inspiration from unexpected sources like "The Walking Dead." It proves that entrepreneurial lessons are all around us if we're willing to look at things from fresh angles! 
New episodes premiere every Wednesday, making it an ideal way to kick-start your week with some light-hearted learning! 
Whether you're well-versed in business jargon or new to the world of entrepreneurship, this podcast keeps things simple yet effective so everyone can grasp essential business concepts without feeling overwhelmed. 
Who Is The Host?
Annie P. Ruggles is a woman with a mission: to transform the way small businesses grow and connect. This isn't just her job, it's in her DNA! Born into a family of big thinkers and successful entrepreneurs, she was pretty much destined for greatness. 
For over 12 years, Annie has been using her Hulk-like dislike for pushy sales tactics as fuel to help others find better ways to expand their businesses. She doesn't believe in hard-selling or self-promotion that feels fake or tacky. Instead, she guides people toward making genuine connections that leave lasting impressions. 
Now, Annie calls Chicago home where she lives with her husband (who also happens to be in sales), their pets, and surprisingly, quite the distaste for deep dish pizza – which might just make her the most unique Chicagoan around! 
So whether you're running your own small biz or dreaming about starting one soon – keep an eye on Annie P! She's got some invaluable insights up her sleeve.

Reasons To Tune In To The Podcast
The Too Legitimate To Quit Podcast by Annie P. Ruggles is not your average business podcast and here's why I think you should tune in.
First off, the title alone is a clear indication that this isn't just another dry, suit-and-tie talk show about sales communication. It's quirky, it's catchy, and it sets the tone for what to expect – a fun twist on serious topics.
Next up is the host herself – Annie P. Her energy levels could power a city! Her energy is infectious. You can't help but be drawn into her discussions no matter where you are or what you're doing. Her personality radiates through your headphones as she shares hilarious takes on serious business strategies using pop culture references from our beloved 80s and 90s era. The incorporation of these familiar elements adds a layer of relatability and nostalgia which makes absorbing information much more enjoyable.
And let me tell you this: it's not all humour either; there are some nuggets of wisdom thrown into each episode too! After every interview she conducts with her guests, Annie says her signature line "I'll be back in a second with my final thought". This gesture gives listeners something substantial to ponder upon after each episode ends – making every moment worth your time!
But wait…there's more! What really sets this podcast apart is how interactive it becomes when Annie assigns homework to us, listeners, week after week. Yes, you heard right – homework! But don't worry, they aren't dull assignments but rather actionable tasks which help reinforce learning while keeping engagement alive between episodes.
So if you're looking for something different yet effective in the world of business podcasts or if you love being entertained while learning valuable insights at the same time then Too Legitimate To Quit may just become your next favorite listen!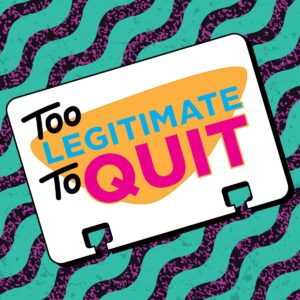 Most Popular Episodes
In this episode, Diann Wingert, a former therapist turned coach, chats with Annie P. about her unique journey from evangelism to creating irreverent cartoons and embracing authenticity. They delve into the concept of 'letting your freak flag fly' – showing unconventional or nonconformist characteristics without fear of judgment. The conversation aims to provide listeners with tips on how to stand out effectively while being true to oneself in an increasingly transparent world.
This episode focuses on exploring the relationship between self-care and productivity, arguing that they can coexist effectively. The hosts, Annie and Sacred Walker, discuss how fear and doubt can influence business growth while emphasizing the importance of self-awareness and validation. They also share their methods for creating personal sacred spaces and draw inspiration from Whitney Houston's life and career.
In this episode, Annie P. Ruggles sits down with scaling and simplicity expert Joy Bufalini to discuss how introverts can effectively market their businesses without compromising their nature. They cover a variety of topics including content strategies, relationship building, branding, and more whilst drawing parallels between these techniques and the work of Alfred Hitchcock. This conversation aims to help listeners learn about addressing client pain points and evoking emotion in marketing while maintaining clear messaging and solid systems for business growth.
In this lively episode, marketing guru Josh Elledge joins the celebration of TLTQ's 2nd anniversary to share his expertise on relationship marketing. The conversation delves into the importance of ethical practices, empathy in business interactions, leveraging video content and building trust with your audience. They also discuss reciprocal relationships and wrap up with an engaging discussion about the recent Star Wars addition – Andor.
In this episode, Annie P. Ruggles is joined by Crystal Tosh and Amy Hartmann from So True Digital to discuss the pitfalls of online marketing practices. They share their insights on the need for honesty and transparency in the industry and express their disdain for collaborations that are more draining than beneficial. The conversation also draws parallels between business strategies and true crime detective work, offering an unconventional yet interesting perspective.
Final Verdict
The Too Legitimate To Quit podcast is an immersive, impactful and enjoyable journey with the functionality of a masterclass. Hosted by the vibrant Annie P., it successfully interweaves valuable entrepreneurship teachings with exciting pop culture elements. Born along the lines of empowering conversations and actionable advice, this show is the ideal guide for every entrepreneur, from the greenhorn to the sage. What's more, it accomplishes all this without employing any jargon-y, premier-league sway, keeping every episode enjoyable and relatable.
Now, make your entrepreneurial journey come alive. Click the listen button below and dive into the world of Too Legitimate To Quit. You're just one click away from discovering your favourite new podcast.