Hey, girl! Are you a passionate football fan? If so, we've got the perfect podcast for you! Nothing brings us more joy than when women get to share their passion and expertise in sports! And from the best in women's sports to the latest in football news, check out Upfront Podcast. Hear inspiring stories about female athletes dominating their game. Get ready to be entertained and informed with this fantastic podcast now!
We understand that it can be hard to commit to a new podcast. That's why we've written an in-depth review of the Upfront Podcast.
Read our review to learn more about the podcast's topics, format, and content. So, take a few minutes to read our review and decide if Upfront Podcast is the right podcast!
Overview Of The Upfront Podcast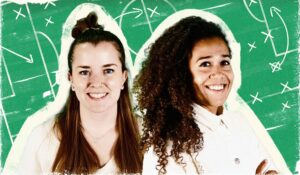 Stak is proud to announce the launch of Upfront, its newest addition to the Football Ramble feed. It joins Football Ramble Presents as part of Stak's ongoing dedication to creating thoughtful and original content. 
Upfront is a weekly podcast that aims to provide a comprehensive look into the world of women's football. It covers practically every aspect of the game, from elite-level WSL and international football to grassroots kickabouts in local communities. 
Hosted by Rachel O'Sullivan from Girls On The Ball and professional player Chloe Morgan, Upfront features interviews with leading players and insightful analysis from experienced pundits. And each episode takes listeners on a journey – the sport's culture, successes, challenges, and personalities. 
The show also looks at broader industry issues such as pay equality within clubs, media representation for female athletes, and other forms of discrimination faced by female players. With an emphasis on celebration, Upfront provides both fun-filled entertainment for fans and valuable discussion about how we can continue to improve women's football to make it more accessible for everyone. It dives deep into conversations about diversity & inclusion in women's sports. 
Upfront aims to bring together voices often underrepresented or unheard in mainstream media coverage of women's football. And explore how these issues intersect with more comprehensive discussions around gender equality. 
Every Tuesday, a special guest will join Rachel and Chloe to examine the top stories in the women's soccer world. Listeners will find something of interest from all aspects of the sport. 
What Makes This Podcast Special
The Upfront podcast is a groundbreaking addition to women's football. It stands out for its sharp insight, hilarious tales from the heart of the women's game, and opinionated commentary on everything related to the sport. 
Upfront provides listeners with an immersive experience that covers everything from match analysis to interviews with players, coaches, and more. Whether you're just getting into women's football or are an experienced fan looking for an in-depth discussion about your favorite team, Upfront is for you. 
From behind-the-scenes stories about big matches to discussions on how important it is for female athletes to be celebrated. This show always serves up entertaining content that educates as well as entertains.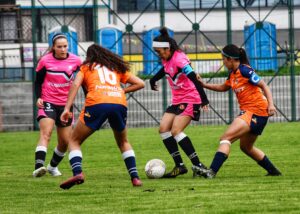 Moreover, they also take listeners to some of the game's biggest matches to their hugely celebrated "Upfront x At The Match" collaboration series. This series features exclusive access inside stadiums, including interviews with players before kick-off, half-time updates, and post-match reviews! All in all, these segments make it feel like you're right there experiencing each moment alongside them – making every episode special in its own way. 
Upfront brings fans closer than ever before into one of the sport's most passionate communities–women's football! If you want cutting-edge conversations about your favorite teams delivered by two passionate hosts, Upfront is here! 
The Main Takeaways From The Upfront Podcast
The Women's Super League (WSL) is the top division of women's football in England and is rapidly growing in popularity. 

The WSL has seen a surge in attendance and media coverage as the competition has grown in stature. This has been driven by an increase in investment and support from many of the top clubs in the men's game. 

Women's football is more than just a sport – it's a cultural phenomenon. Women's footballers are using their platforms to make a difference, both on and off the pitch. 

There is a growing community of dedicated fans, from all genders and backgrounds, who are passionate about the women's game. 

The Upfront podcast is dedicated to bringing you the biggest stories from the WSL and beyond, and taking you to the cultural heartbeat of the women's game. 

What Are The Drawbacks Of The Show
Navigating the many Foot Ramble podcasts can be difficult, as they all share the same feed. This makes it challenging to find a specific podcast and can be incredibly frustrating for those who are only interested in the content about women's football. To make things easier, it would be beneficial to have each podcast's own feed, so listeners can easily find the content they are looking for. 
Also, podcast hosts often come off as overly protective of the athletes and coaches they speak to, speaking of them as close friends. This can be off-putting for some listeners seeking more objective, unbiased discussions. 
Wrapping Up The UpFront Podcast Review
Upfront is indeed one of the best UK sports podcasts and a must-listen for all women interested in football. The podcast offers an exciting blend of hard-hitting journalism and fun banter that will be sure to keep you entertained. So if you're looking for a dynamic podcast on your latest football fix, Upfront is a perfect choice! 
So, give Upfront a listen and join the hosts on a journey to your favorite sports. And don't forget to recommend it to your friends!