Using writing software has become increasingly in high demand no matter what industry you are in. It offers people a range of benefits and convenience in the writing process. Writers can now work on their scripts nowadays whenever and wherever they please, which is a delight! They can easily utilize various devices now such as laptops, tablets, and smartphones. That's why as an aspiring podcaster, you may be wondering how to prepare so you can use writing software effectively in your work.
In this article, we will check out one of the leading software that you can use to help you in writing, and also for editing other mass media. We are talking about (of course!) the software, WriterDuet. We will tackle what this software is all about, and we will delve into the basics. Let's break them down, ensuring you're ready to embark on your podcast journey with the help of WriterDuet!
What is WriterDuet?
WriterDuet software was founded in 2013 to provide writers with a collaborative and user-friendly platform for writing and editing scripts. It is one of the most known screenwriting software that can help you to create your script. In general, one of its main features is allowing multiple writers to work on a script simultaneously regardless of where they are physically. That's the beauty of this software, and its convenience is one of the reasons it is well-known.
As a podcaster, WriterDuet is efficient since it provides features like in-app chat, comments, and revision tracking when you create your outline or script. These kinds of tools facilitate better communication if you have team members. This allows for feedback, discussions, and revisions directly within the software.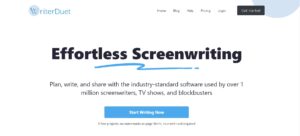 On the other hand, if you are a new aspiring podcaster and you are on your own, the popular cloud-based platform can allow you to access scripts from any device as long as you have an internet connection. That makes it portable and convenient, so you can start writing on your computer, and continue editing on your tablet, or your smartphone seamlessly.
How Does WriterDuet Work?
WriterDuet stands out as they offer users unmatched real-time collaboration capabilities. Its main highlight is also its organized writing platform, where you can access different templates aligned with professional standards. Creating an outline or script in podcast making, whether you are a newbie or with a team, will be easier with WriterDuet.
By inviting a collaborator with editing permissions on your WriterDuet document, either or all individuals get simultaneous edit rights alongside ample note-taking opportunities making it an overall better experience compared to traditional alternatives. This is highly efficient if you are working with a team beside you.
This software brings together a series of amazing awesome features and has a composition that makes it very simple and easy to understand when working with a program, the interface is too fast and it can facilitate everything when working on your current project. It has a large variety of tools that can be used to edit, create and modify. Everything that the WriterDuet does makes your work simpler.
Key Features of WriterDuet
Real-time Collaboration
The bread and butter of the WriterDuet app is its feature of collaborating in real-time. If you are a podcaster with a fresh set of team, you can simultaneously write with another team member, or by yourself in different devices and create an outline together. At the same time, editing and commenting are made easier on each project. Therefore, you will acquire feedback from your collaborators in real time.
Auto-format and Templates
Writers can enjoy the auto-format feature of WriterDuet. The app provides the best help in formatting a project up to the industry (film or television) standard when it comes to screenwriting, and this sets WriterDuet apart from its competitors.
There are also other templates available, such as templates for podcasts. This is a great help if you are a new podcaster and you aim to create an outline for your podcast.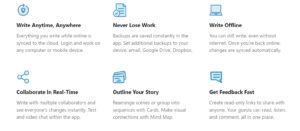 Spell-Check
WriterDuet's AI-powered spell-checker catches any typos, spelling errors, or grammatical mistakes in your screenplay, ensuring that your final draft is error-free and professional.
Import and Export
WriterDuet allows you to import and export your screenplay in a variety of formats, including Final Draft, PDF, and Fountain. This feature makes it easy to share your work with others or transfer it to other software.
Real-Time Feedback
WriterDuet's real-time feedback feature provides instant feedback on your writing, helping you improve your skills and develop your writing style.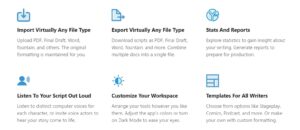 Ease of Access
The interface is user-friendly and can be used by anyone. As we have mentioned above, it has an auto-format feature, so users can use any template required for their work, and at the same time adhere to the strict rules of standards that will be required of them. For a new podcaster that aims to create a script or an outline for their podcast, the app will be an efficient and convenient tool.
Auto-Save for Storage and Revisions
As you collaborate in real-time, there are different revisions in the final project. WriterDuet's revision mode tracks changes made to your screenplay, allowing you to compare different versions of your work and see how your script has evolved over time.
At the same time, there are constant backups in the app so you will not have to worry about losing your progress. Additionally, you can also have additional backups on different platforms such as Google Drive and Dropbox.

How To Write A Script Using WriterDuet
Create A New Project
Are you ready to start writing? All you need to do is open a new or previously saved project.
To create a new project, either select "File" and then "New Project" or use the Project widget to select "New Project."
Provide a name for the project.
Decide on a name for the first document in the project.
Choose a template for the first document.
Click "Create" to create the project.
Start the exciting process of writing!
Open A Document
Crafting content in the form of documents is the crux of this platform. Want to produce two versions of a single script at once or compose character descriptions? This platform allows you to create as many documents per project as you desire.
From the Project Widget
Tabs for newly opened documents will be positioned to the right of the currently viewed tab.
1. To open a specific document in a desired project, access the Project widget first.
2. From there, choose the document that you want to open.
3. Alternatively, you can right-click or select the three-dot icon on the document, and then select "Open".
4. To open the document in Split Pane, select "Open in Split Pane" instead. For more information, see "Use Split Pane".
From the Portfolio
1. Select the desired Project first.
2. Once the Project is selected, the Project Documents will be displayed to the right side of the screen.
3. To open a specific document, either double-click on the file or select it first then click on Open option.
Add A New Document
Open the Project widget.
Click on Add Document and give it a name.
Select your desired template and choose whether to make the document private or not.
Set your preferred default view for the document (Page, Cards View, Mind Map).
Select Create and your document will be ready to go.
WriterDuet Pricing and Plans
You can choose a variety of plans that are right for your preference:
The Free plan – The fastest, easiest way to try WriterDuet
The Plus plan (9.99 USD/month) – Unlimited projects and real-time collaboration
The Pro plan (11.99 USD/month) – More control over writing, editing, and revising
The Premium plan (13.99 USD/month) – All the powerful tools WriterDuet has to offer
WriterDuet includes a free version that enables up to three scripts. It's important to note that with a free WriterDuet account, you will not have access to the service's real-time collaboration features. This is unless another user invites you.

| | |
| --- | --- |
| Pros | Cons |
| Great Accessibility | Pricing levels |
| Auto-formatting to Industry standard | Limited scripts for free version |
| Quality Collaborative Tools | Tools are available offline, but does not allow collaboration |
| Beginner-friendly Interface | |
| Easy revision and history tracking | |
Final Verdict On WriterDuet
We discussed the key features and abilities of the WriterDuet, and it's amazing software! If you're simply looking for an outstanding screenwriting tool that excels at making collaborative writing a breeze, look no further than WriterDuet. As a podcaster who's intrigued to use this writing software, you wouldn't want to miss out on the opportunity to use this exceptional tool that offers features such as real-time collaboration capabilities along with maintaining a strong adherence to industry standards. WriterDuet is certain to boost your creative process with its reliability and efficiency; whether you're an experienced professional or just beginning your career.