For podcasters looking for a high-quality audio recorder that is easy to use and portable, the Zoom H6 is an excellent option. With its 6-track recording capabilities, interchangeable microphone attachments, and intuitive interface, the H6 is a versatile tool that can handle a variety of recording situations. In this review, we'll take a closer look at the Zoom H6's features, performance, and overall value, so you can decide whether this recorder is the right choice for your podcasting needs. 
So, if you're interested in learning more about the Zoom H6, be sure to check out our full review below.
About Zoom H6
Zoom H6 is a portable audio recorder that allows you to capture high-quality audio in various environments. The device can record up to six 24-bit/96kHz Broadcast WAV audio tracks simultaneously, along with two additional -12dB 'safe' backup tracks that can be captured with the attachment mics or inputs. 
The H6 comes with 4 hybrid XLR/1/4″ jacks with preamps, each with its own dial to adjust the input gain. Which means that it can connect to a wide range of microphones, instruments, and other audio sources. 
Additionally, the recorder has two stereo X/Y and M/S microphone attachments, complete with their own microphones, on the front. For even more versatility, the X/Y capsule has a 3.5mm secondary input. An optional shotgun, or dual XLR/TRS jack attachment, is also available for purchase. 
The Zoom H6 stands out from the crowd with its versatile modular design, featuring interchangeable input capsules designed to attach directly to the top of the unit. And this allows users to quickly and easily swap out the "built-in" mic like they would switch the lens of a camera.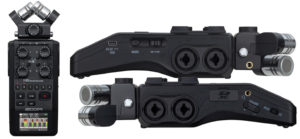 Key Features Of Zoom H6
Swappable X/Y Stereo Mic Capsule

6-track simultaneous recording capabilities

4 XLR-1/4″ Mic/Line Inputs with Pads and Gain dials

-20dB pads for each input

An included X/Y capsule with a secondary input through a stereo 3.5mm mini phone jack

Phantom power for all inputs

A full-color 2-inch LCD display for metering at a glance

Recording directly to SD, SDHC, and SDXC cards up to 128GB

24-bit/96kHz audio recording in WAV or MP3 formats

Auto-record, pre-record, and backup-record for safety

Built-in effects, like high-pass filtering, compression, and limiting

Can be used as a USB audio interface for PC/Mac/iPad

Compatible with regular AA or NiMH rechargeable batteries

Approximately 20 hours of operation with 4 AA batteries
Build Quality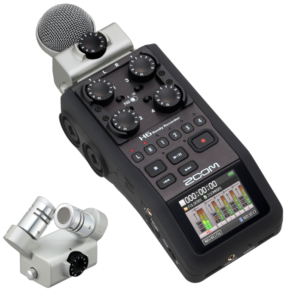 The unit is constructed with durable rubberized plastic, making it lightweight at less than 10 ounces while still feeling sturdy in your grasp. The H6 is relatively bulky when compared to other recorders of its kind, yet still small enough to be held comfortably in one hand. Even though it's not quite pocket-sized, it's still sufficiently compact for most users. 
The LCD screen on this unit is backlit with a color display and tilted slightly downwards, making it convenient to use in hand or with a camera mount. Also, the angle of the screen allows for a clear view when adjusting to capture sound, ensuring the best results when recording. 
The Zoom H6 offers convenient access to its various controls and inputs. Located above the transport are the gain control and pad selector for the four combo XLR/TRS inputs. The transport itself includes record enable buttons for all 6 possible inputs, Stop, Play/Pause, Record, Rewind, and Forward. 
Lastly, the Zoom H6 is packaged with a hard plastic carrying case that can house the X-Y mic, Mid-Side mic, USB cable, and windscreen. 
Performance & Audio Quality
The H6 is equipped with four XLR-1/4″ combo inputs and a 3.5mm stereo mini-jack input (on the X/Y capsule). Thus, it can accept condenser microphones, +4 dB balanced line-level sources, or signals from unbalanced instruments with active electronics. Equally, the XLR jacks can be powered with 12, 24, or 48 VDC phantom power, while the mini jack can be powered with 2.5V plug-in power.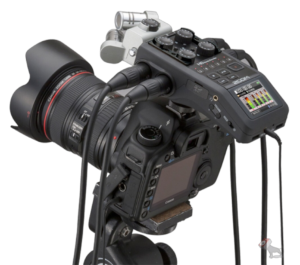 Additionally, it can record up to six tracks simultaneously and at resolutions up to 24-bit/96kHz. You can capture audio recordings in WAV format with sample rates ranging from 44.1kHz/16-bit to 96kHz/24-bit. As well as MP3s in bit rates from 48kb/s to 320kb/s.
The recorder also features a built-in stereo microphone that can be used for recording ambient sound or as a backup in case of equipment failure. In fact, the microphone is adjustable, and it can be set to a variety of pickup patterns, including cardioid, XY, and Mid-Side.
Moreover, the Zoom H6 can double as an audio interface, allowing you to connect it to your DAW via USB to record up to 6 channels of audio. This convenient device even prints effects such as a high-pass filter, three compressions presets, and two limiting presets.

The design of these mics is excellent in terms of shielding against handling noise. Such as, the rubberized coating of the casing provides an adequate buffer, and it is one of the best at rejecting handling noise.
What's more, it can record directly to an SD card, SDHC card, or SDXC card with a capacity of up to 128GB, yielding up to 3 hours of 16-bit / 44.1 kHz stereo recording time in the BWF-compliant WAV format. Likewise, for audio interface operation with an iPad, the USB stereo mode offers two channels in and out at up to 16-bit / 48 kHz with an Apple Camera Connection Kit (available separately).
As a result, this device is perfect for capturing live performances, interviews, and podcasts, where quality sound is essential.
Specifications
General
Number of Tracks
Maximum Sampling Rate: 96 kHz / 24-Bit
Microphone: Interchangeable Cardioid Condenser Stereo Pair, X/Y Configuration
Built-In Speaker: 400 mW Mono
Display: 2″ / 5.08 cm Color LCD (Backlit)
Memory Card Support
SD (16 MB to 2 GB)
SDHC (4 to 32 GB)
SDXC (64 to 128 GB)
Internal Storage: None
Recording
Audio File Formats: BWF, MP3, WAV
Sample Rates
WAV: 44.1 / 48 / 96 kHz
MP3: 44.1 kHz
Bit Depth: 16 / 24-Bit
Bit Rates: 48 to 320 kb/s
Signal Processing & FX: Compressor, Limiter, Low-Cut Filter, Pitch Control
Timecode Support: No
Recording Time
WAV 44.1 kHz/16-Bit: 1 Hr 34 Mins per GB (Stereo)
MP3 128 kb/s: 17 Hrs 21.5 Mins per GB (Stereo)
Connectivity
Analog I/O
4 x Combo XLR-1/4″ TRS Female Balanced/Unbalanced Line/Mic Input
1 x 1/8″ / 3.5 mm TRS Female Unbalanced Line/Mic Input
1 x 1/8″ / 3.5 mm TRS Female Unbalanced Line Output
1 x 1/8″ / 3.5 mm TRS Female Unbalanced Headphone Output
Digital I/O: None
Phantom Power:             +12 / 24 / 48 V (Selectable on Individual Inputs)
Plug-In Power: Yes, 2.5 V
System Connection: 1 x Mini-USB (2.0)
Sound
Gain/Trim Range
X/Y Mic Capsule: Up to +46.5 dB
1/8″ Inputs: Up to +46.5 dB
Mic/Line Inputs: Up to +55.5 dB
Max Input Level Inputs: +22 dBu (Pad On)
Max Output Level: Line Outputs: -10 dBu
Headphone Output Power: 20 mW per Channel into 32 Ohms
Impedance
1/8″ / 3.5 mm Inputs: 2 Kilohms
Mic/Line Inputs: 1.8 Kilohms
EIN: ≤-120 dBu
Microphone Sensitivity: -41 dB/Pa (X/Y)
Microphone Max SPL: 136 dB SPL (X/Y)
Power
Power Options: Battery, USB Bus Power, AC/DC Power Adapter
Battery Type: 4 x AA
Battery Life
WAV 44.1 kHz/16-Bit: 21 Hours (Alkaline, 2 Channels)
WAV 96 kHz/24-Bit: 9.75 Hours (Alkaline, All Channels)
Physical
Dimensions (W x D x H)
H6: 3.06 x 6.01 x 1.88″ (77.8 x 152.8 x 47.8mm)
XYH-6: 3.10 x 2.37 x 1.77″ (78.9 x 60.2 x 45.2mm)
MSH-6: 2.2 x 2.6 x 1.6″ (58.0 x 67.6 x 42.1mm)
Weight
H6: 9.4 oz (280 g)
XYH-6: 4.3 oz (130 g)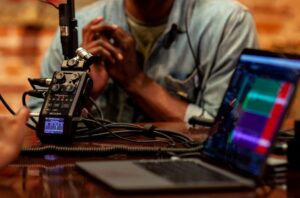 Final Verdict On Zoom H6
| | |
| --- | --- |
| PROS | CONS |
| Easy-to-control mic volumes | Limited adjustability of the near-level dials. |
| High quality audio recordings delivered by reliable preamps. | Limited storage space. |
| Robust design. | Not suitable for solo monologue podcasters. |
| 6-in/2-out interface for use with digital audio workstations. | Not suitable for beginners. |
| Interchangeable and expandable microphone configuration. | |
| Compatible with DSLR cameras. | |
| Long-lasting battery life. | |
The Zoom H6 is an excellent choice for experienced podcasters and content creators who need a versatile device for group recordings and roundtable discussions. Furthermore, its impressive recording quality and portability makes it a great option for those on a budget who want professional audio capabilities. With independently configured settings, the ability to record multiple signals simultaneously allows for a great deal of flexibility.
All in all, the Zoom H6 is an ideal device for audiobook recordings, roundtable discussions, and more.
---