Are you feeling stuck in a rut and looking for an uplifting and inspiring podcast to help reignite your passion and spark new ideas? Look no further than the Routines and Ruts Podcast, hosted by Madeleine Dore. This podcast is quickly gaining traction as one of the best self-help podcasts out there. It offers practical advice, thought-provoking conversations, and inspiring stories from people who have taken the plunge and changed their lives. 
So, if you're looking for a source of motivation and inspiration, this podcast is for you! This review will take an in-depth look at the Routines and Ruts Podcast. And discuss why it's become so popular and loved by so many.
Overview of Routines & Ruts Podcast
Routines and Ruts Podcast is all about helping people break through their routines and ruts and make meaningful changes. 
Madeleine Dore, an Australian writer and creator, hosts the podcast. She interviews a range of guests, including entrepreneurs, authors, and experts in the fields of psychology, personal development, and productivity. And through these conversations, Madeleine explores how people can make the changes they need to live the life they want.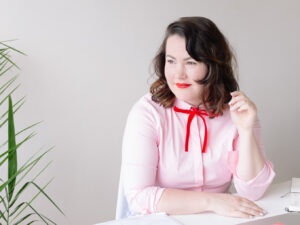 The podcast officially launched on the 3rd of April, 2021, and currently releases a new episode every Tuesday. From topics like self-care to career and relationships, this show dives deep into the power of breaking out of our comfort zones and embracing the unknown. And in return, it enables us to reach our goals and turn our dreams into reality. Each episode offers inspiring and motivating insight into how to live our lives to the fullest by embracing the power of change and transformation.
Whether you're looking for tips on getting out of a funk or making more meaningful connections, the Routines and Ruts podcast can help you.
What Makes The Routine & Ruts A Good Podcast?
The Routine & Ruts Podcast is a popular self-help podcast. And the podcast is well-loved by listeners because of Madeleine's unique ability to provide objective, actionable advice that can be applied to real-life situations. She has a warm, engaging personality, and her episodes are full of inspiring stories and life lessons. In addition, she has a knack for breaking down complex topics into easy-to-understand concepts. 
The content varied and covers a wide range of topics, from mental health and productivity to career and relationships. The podcast also features an array of guests, from life coaches and entrepreneurs to experts and creatives. These conversations offer real-life perspectives on various topics and provide valuable insights into how people have overcome challenges and achieved success.
The podcast stands out as it provides practical advice that listeners can immediately apply to their life circumstances. Plus, each episode features a segment where the audience can send questions or comments, which adds an extra layer of engagement.
Benefits Of Tuning In
The Routine & Ruts Podcast is a great source of motivation and inspiration. And listening to it can be a great way to improve your day-to-day life and career. 
Get Motivated: This podcast is packed with inspiring stories from guests who have overcome their own routines and ruts. Whether you're looking for a way to jumpstart your career or just need a little pick-me-up, listening to Routines and Ruts will give you the motivation you need.
Get a Fresh Perspective: Every episode features a new guest with a unique perspective on life. You'll get to hear about different strategies for breaking out of your rut and discovering what works best for you.
Learn New Skills: The podcast covers a wide range of topics, from productivity to personal development. You'll get to learn new skills and techniques that can help you become more successful in your work and life.
Gain Insight: You'll get to hear from experts in various fields about their own experiences and what they've learned along the way. Whereon, this can give you valuable insight into how to make the most out of your own journey.
Connect: Routines and Ruts is a great opportunity to connect with like-minded people. You'll meet other listeners and share your experiences, which can help you feel more connected to the community. 
By listening to the Routines and Ruts podcast, you can gain valuable knowledge, insights, and motivation to help you break out of your routines and ruts. Thus, making the most of your life. 

What's On The Negative Side?
The podcast is an exciting and informative discussion about living a meaningful and creative life. However, it still receives negative reviews due to its slow-paced at times. This is due to the undue time spent on anecdotes and personal stories. The guests often get sidetracked by tangential topics, which can drag the podcast on for too long. It will be better if the host provides more structure and focus to the conversations to ensure that the essential ideas are discussed concisely.

The podcast could benefit from having more diverse guests. Most of the guests featured on the show are white. It would be great to see more people of color represented. Additionally, guests from different backgrounds and experiences would provide a broader perspective, which can make the content more compelling and engaging. 
Overall Thoughts On The Routines And Ruts Podcast
Routines & Ruts with Madeleine Dore is arguably one of the best self-help podcasts available today. The podcast covers multiple topics, making it an invaluable resource for individuals seeking to break out of their comfort zone and make meaningful life changes. In each episode, Madeleine Dore deepens into conversations with experts from various fields. And together, they discuss unique strategies for improving mental health and well-being.
Overall, Routines & Ruts with Madeleine Dore is an excellent source for anyone who wants inspiring insight on creating routines that help you reach your goals while avoiding rut-inducing behavior patterns. Its informative yet entertaining content makes this one of the most engaging self-help podcasts available today. So, if you are looking for actionable advice backed by scientific research, this podcast should be at the top of your list! 
Tune in every Tuesday and see how it can help you reach your full potential!