The School of Greatness is your podcast if you're searching for a self-help podcast that will help you take your life to the next level. It is one of the best self-help podcasts available, offering listeners the opportunity to learn from the successes of some of the most influential people in the world. 
With inspiring stories, practical advice, and expert interviews, this podcast will help you become the best version of yourself. Keep reading to learn more about The School Of Greatness Podcast and why it may be right for you. 
What The Podcast Is All About?
The School Of Greatness podcast is a hit show hosted by New York Times best-selling author Lewis Howes. It was initially launched in 2013 and has become a favorite among many listeners. With over 200 million downloads and counting, it's clear that this podcast is doing something right. 
The podcast was created to explore what makes great people successful and to share their stories, strategies, and insights with listeners. Each week, Lewis invites guests, including top-performing athletes, bestselling authors, renowned entrepreneurs, and more. Their candid conversations cover a range of topics, including business, health and fitness, relationships, life strategies, and much more. It also features inspiring stories from everyday people who have overcome incredible odds to reach greatness. 
The podcast airs weekly on Tuesdays and is available on Apple Podcasts, Spotify, and other platforms so that you can stay up to date with the latest episodes. 
In addition to the weekly episodes, Lewis also hosts special mini-series that dive deeper into specific topics, such as "The Power of Storytelling" and "The School of Greatness Conversations." 
Whether you're a seasoned entrepreneur or just beginning to explore the world of business, The School Of Greatness Podcast is the perfect destination for engaging and inspiring conversations that will help you reach your goals and discover your true potential. 
What Do I Like About The School Of Greatness Podcast?
The School of Greatness podcast is a great self-help podcast for many reasons. It features inspiring, thought-provoking interviews with some of the most influential figures in the world today.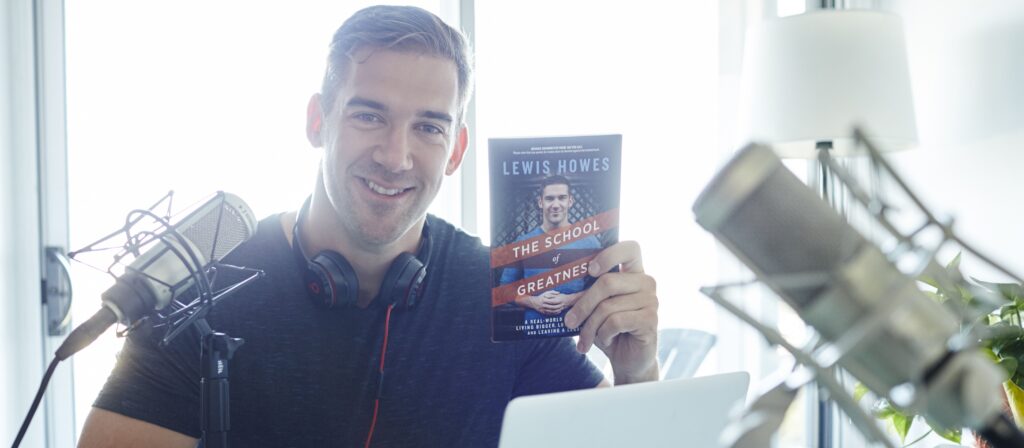 Howes is an excellent host. He is friendly and engaging and asks insightful questions that lead to meaningful conversations. His guests are also inspiring and exciting and provide valuable insights into their lives and experiences. Additionally, the podcast often has a lighthearted and fun atmosphere, allowing listeners to enjoy the show while learning from it. 
One thing that makes the School of Greatness podcast so popular is its focus on personal growth and self-improvement. The podcast offers practical advice for listeners on how to live a better life and achieve their goals. This advice is given in an easy-to-understand way, making it accessible to everyone. It also emphasizes the importance of self-care, which is often neglected in today's fast-paced world. 
Critical Takeaways From Listening To The Podcast
Everyone has the power to make a difference. Many achieved success in different ways, but all of them have used their talents and passions to make a positive impact in the world. Everyone has the potential to make a difference, no matter their background or experience.

Developing a growth mindset is vital. A growth mindset means believing that you can learn and improve, no matter your current skills or knowledge.

Surround yourself with positive people. This is important because it gives you the encouragement and guidance you need to focus on your goals.

Take action and be consistent. Taking action means actually doing something to move closer to your goals. Being consistent means taking action regularly to stay focused and motivated.

Believe in yourself and your abilities. The guests on the show have all shared stories of how they overcame self-doubt and negative beliefs about themselves. Believing in yourself and your abilities is essential to achieving success. 
These are just some of the essential takeaways from the School of Greatness podcast. 

What Do I Dislike About It?
While overall, the podcast is well-executed and provides valuable advice; some areas could use upgrading. 
First, the guests on the podcast tend to be quite repetitive. The same guests are invited back on the show, and the conversation rarely ventures into new territory. It would be more interesting if they invited new guests more frequently to discuss different ideas and perspectives. 
Second, the podcast is often quite long. Although the topics discussed are often interesting and relevant, they go on for hours and can be difficult to follow. Breaking the podcast into shorter, more manageable episodes would make it easier to digest the content. 
Third, the production quality could be improved. There are often sound issues on the podcast, such as background noise and poor audio quality. Investing in better equipment would help make the podcast sound more professional. 
Finally, the topics discussed on the podcast are pretty broad. This can make it hard to identify which episodes will be the most relevant to the listener. Providing more detailed episode descriptions would be practical in helping the listener identify which episodes are the most relevant. 
Overall Review Of The School Of Greatness Podcast
The School Of Greatness Podcast is one of the best self-help podcasts out there, and it's easy to see why. It is an inspiring and educational listening experience that can help anyone striving to become their best self. 
With Lewis Howes's thoughtful interviews with a wide range of experts, the show provides plenty of guidance for achieving success in both career and life. Although the focus on marketing may only be suitable for some, this podcast offers valuable advice that will benefit those looking to maximize their potential. With its unique blend of practical advice and insightful conversations, this show will help anyone become a better version of themselves. 
Whether you're looking for motivation, inspiration, or both, The School Of Greatness Podcast has something for everyone.