If you're familiar with the content creation world, you've probably seen the Shure SM7B microphone. This dynamic microphone is used by many of the top podcasters and content creators, and it's even been featured in the iconic Michael Jackson song "Thriller." From its superior sound quality to its durable construction, the Shure SM7B is the ideal mid-tier microphone for any modern content creator.
This review will explore why the Shure SM7B is the perfect choice for your podcasting needs.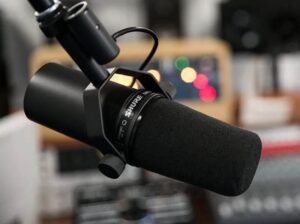 What Is Shure SM7B
Due to its exceptional performance, the Shure SM7B has earned a renowned reputation in many industries, particularly with podcasters, voice-over artists, and musicians. This dynamic microphone is designed for live and studio use and was launched in 2001 with a bigger windscreen than the SM7. 
The Shure SM7B Cardioid Dynamic Microphone is excellent for providing your voice with a clearly defined yet crisp sound. No extra peripherals are necessary – the mic includes a pop shield and shock mount that can be mounted on a stand or boom arm. It also has integrated features that allow you to adjust the microphone to your specific needs, allowing for the best results in a range of applications. 
It is the go-to mid-range pick for many and features a flat frequency response, allowing optimal vocal and musical recordings. Its versatility and quality make it one of the most popular mics on the market. 
Specifications
Microphone Type: Dynamic
Connector: XLR
Polar Pattern: Cardioid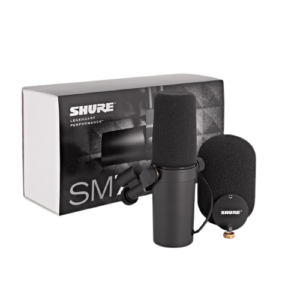 Frequency Response: 50Hz-20kHz
Output Impedance: 150 ohms
Sensitivity: -59 dBV/Pa
Hum Pickup (typical, at 60 Hz, equivalent SPL/mOe)
Low Cut Filter: Bass Roll off
Polarity Positive pressure on diaphragm produces positive voltage on pin 2 with respect to pin 3
Dimensions: 7.49″ x 2.5″
Weight: 1.69 lbs.
Construction Material:  Aluminum, Steel
Included Accessories: Windscreen, Switch Cover Plate
Manufacturer Part Number:  SM7B
Main Features Of Shure SM7B
Quintessential dialog microphone with a flat, wide-range frequency response

Bass roll-off and midrange emphasis (presence boost) controls accommodate a wide range of voices

Shielded against electromagnetic hum and broadband interference

Internal air suspension shock isolation virtually eliminates mechanical noise transmission

Effective pop filter eliminates need for any add-on protection against explosive breath sounds

Ships with A7WS detachable close talk windscreen

Yoke mounting with captive stand nut for easy mounting and dismounting

Classic cardioid polar pattern provides excellent off-axis rejection

Rugged construction for a lifetime of regular wear and tear
Sound Quality
The SM7b from Shure has earned popularity thanks to its natural, warm sound quality. It features a broad and flat frequency response and mid-range emphasis and controls for a clear, crisp vocal performance. Furthermore, a built-in pop filter ensures that plosives are reduced. The tone adjustments also allow for more customization when recording, making it suitable for all kinds of voices and singing styles. 
The mic features a dynamic capsule designed to provide a smooth and polished vocal sound with a rich response in the lower frequency registers, making it a popular choice among broadcasters and podcasters. It features a cardioid polar pattern, bass roll-off, and midrange emphasis (presence boost) controls. It also provides shielding against broadband interference. 
Additionally, an internal air suspension shock isolation is included to reduce mechanical noise transmission, and a yoke mount for precise control of the mic position. All these features make the mic a top choice for broadcasters and podcasters. 
The SM7b demonstrates exceptional performance when it comes to its off-axis rejection. This means it is great at picking up sounds directly in front of the microphone and only has minimal sound from the sides or back. This allows for a more focused and accurate recording, as the microphone can ignore many unwanted sounds. 

Versatility
The Shure SM7B is an incredibly versatile microphone. It features dual tone controls and a dual-band switchable passive EQ, including a low cut and presence boost. This allows the user to adjust the mic to different sound sources, ranging from the male dialog and vocals to bright sound sources and sibilant vocalists. Additionally, the SM7B has a maximum SPL of 180dB, making it an excellent choice for louder instruments such as bass drums and guitar and bass cabs. With its flexible controls and high SPL, the Shure SM7B is a great choice for any recording situation. 
Design & Build
The Shure SM7B has a sleek design that is iconic yet unassuming. It has a black cylinder base that connects to a metallic band with the branding and two screws for the mount and XLR input. 
This microphone also comes with an integrated swivel mount and close talk windscreen for noise reduction and an internal suspension and shockmounting system to eliminate light vibration. 
The SM7B is also equipped with electromagnetic shielding to keep out hum. As it has a cardioid polar pattern, this microphone's off-axis sound is never an issue. Despite its large size, weighing slightly below 1.7 pounds, the SM7B is made for studio use and is intended to be hung on a stand or the wall.
Drawbacks Of Shure SM7B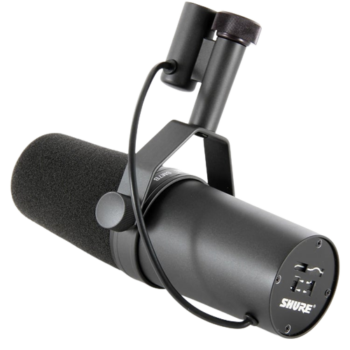 The Shure SM7B microphone is a great choice for streaming and podcasting, but it is not the most beginner-friendly option due to its cost. 
Additionally, the microphone's weight necessitates using a strong and sturdy stand to prevent it from toppling over. And without the right stand, the microphone is prone to falling over and could cause damage if it is not properly supported. 
The Shure SM7B is an XLR microphone, meaning a female-to-male XLR cable is required to connect it to a preamp or audio interface. To achieve optimum speech recording at a distance of 3-inches, Shure recommends a minimum of 60dB gain. However, most mic preamps are designed for condenser mics and only offer up to 50dB of gain, so an in-line mic preamp such as the Cloudlifter CL-1, Radial McBoost, or sE- DM1 would be necessary for clean gain. 
The Shure SM7B Microphone is known for its strong and full frequency range. However, the higher end is not as strong as other condenser-style models. And although not quite as bright and detailed as some of its counterparts, the SM7B is still an effective microphone and can be used in various applications.
Final Verdict
The Shure SM7B is an excellent choice for a reliable, top-grade microphone. Its dynamic range, balanced frequency response, and warm sound make it the perfect option for aspiring professionals and industry veterans seeking clear and crisp recordings in a controlled environment. The noise-attenuating technology and alternative responses make the SM7B a great choice for all recording ranges.
| | |
| --- | --- |
| PROS | CONS |
| Incredible sound quality | A good interface or preamp is necessary |
| Exceptional background noise reduction | The instructions for using the windscreen are not very clear |
| Durable | Quite expensive |
| Negligible popping and sibilance | Cannot be used as a handheld microphone |
| Adaptable to different recording situations | Heavy |
| Clear and consistent frequency response | |
---
The SM7B is an excellent option for anyone wishing to make the most of their vocals. As long as they are also willing to invest in a quality audio interface and good room acoustics.