As podcasters, it's essential that we have the proper tools for recording, such as monitors, computer systems and microphones. Although not all of them are required, some items are must-haves. One of these is a portable audio recorder; we are here to share with you a review of the renowned Sony PCM-D100 high resolution audio recorder. 
Read our review to learn more about this fantastic audio recorder and see if it's right for you!
About Sony PCM D100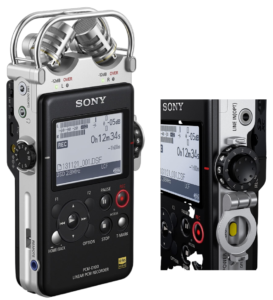 The Sony PCM D100 was released in 2014 as a successor to the PCM-D50, a popular portable audio recorder among professionals and enthusiasts. The PCM D100 was designed to be an upgrade in almost every aspect, with improved audio quality, greater storage capacity, and more advanced features. 
The release of the PCM D100 was met with much anticipation and excitement from the audio recording community, as it promised to be one of the most advanced portable recorders ever made. It was marketed as a professional-grade recorder that could be taken anywhere, and it quickly gained a reputation for its high-quality sound and ease of use. 
The PCM D100 features a 2.8-inch OLED display, which provides a clear and easy-to-read interface for recording and playback. It also has two built-in microphones, which can be adjusted for different recording scenarios, and it supports a range of audio formats, including WAV and MP3. 
One of the standout features of the PCM D100 is its ability to record up to 192kHz/24-bit audio, which is among the highest quality available for portable recorders. It also has a large internal memory of 32GB, which can be expanded with an additional SD card. 
Key Features
High-resolution field recorder

Onboard stereo microphones feature focused X-Y or wide spread configuration

Record in linear PCM (192/176.4/96/88.2/48/44.1kHz), DSD (2.8224MHz), or MP3 (320/128 kbps) formats

3.5mm & Dual XLR-1/4″ Mic/Line Inputs

32GB of internal memory, which you can expand with SD-XC Card media

Dual-path digital limiter, low-cut filter, and Super Bit Mapping onboard

A High-speed USB port allows audio transfer to and from your Mac or Windows PC

App-Based Remote Control via Bluetooth

Built-In EQ, Key Change & Speed Control

USB Type-C Connectivity

Constructed of lightweight aluminum

AA batteries provide long battery life 
Build Quality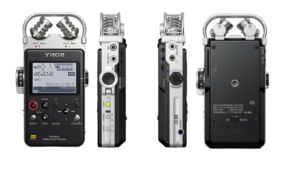 This recorder has a sleek, compact design with a black and silver color scheme that blends with its surroundings. Its discreet design conveys a sense of quality and attention to detail, which indicates the product's overall design quality.
The main chassis of the device is composed of aluminum, making it both rigid and lightweight. Plastic has been used in certain areas, such as playback, record level knobs, and the battery compartment lid. Furthermore, the swiveling microphone capsules are shielded by metal roll bars to protect them from direct impacts.
Compared to other recorders, the PCM-D100 is relatively compact and can easily fit in a large pocket. It is notably shorter but the same width as the Zoom H6, except for the level wheels.
The screen is quite spacious, making it easy to view the metering and song data, and the backlight can be activated by pressing a button. However, I found the text to be too faint. Additionally, the signal LEDs are situated so that they are often blocked by a windjammer.

Sound Quality & Performance
The PCM-D100 offers exceptional sonic quality, with a natural, open sound and a warm low end. Its ability to record ambience up to 25dB with virtually no hissing is awe-inspiring. However, it can struggle to capture moments before a dawn chorus which often dips below this threshold.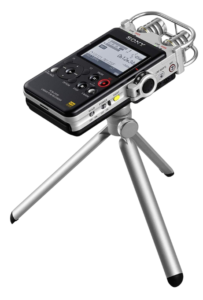 The circuit board of the PCM-D10 is designed to uphold superior sound quality. It features distinct analog and digital circuits that are isolated from each other, resulting in less interference and a heightened signal-to-noise ratio. Additionally, the amp blocks are situated close to the inputs to ensure optimum transmission clarity. 
Furthermore, the high S/N mode of the PCM-D10 eliminates the need to worry about lost low levels during recordings. This is achieved by using two ADCs that record at different volumes, replacing any lost levels with audio captured at -12 dB. The result is clear and dynamic recordings, even for the most dynamic performances. 
Additionally, the PCM-D10 features a digital limiter that allows interruption-free recordings even at high levels. In the event of a distortion, the device automatically fills in clipped portions with a backup recording at a lower level, ensuring that your recordings remain free of distortion even if there are sudden spikes in volume. 
If you have recorded your audio, you can easily connect the PCM-D10 to your computer using the provided USB Type-C to USB Type-A cable and import the files for editing or post-production. You will also receive a download link and serial number for Sound Forge Audio Studio 12, perfect for refining your interview or musical recordings before sharing them with others. 
But if you are conducting an interview, you can switch the PCM-D10 from stereo to monaural mode and record only on the left channel when using an XLR cable.
Specifications
General
Microphone: Built-in 15-mm Electret condenser microphone
Display: Backlit LCD
Memory Card Support: SD/SDHC/SDXC Card Slot
Recording
Maximum Files
Per Folder: 199
Total: 5000
Recording Formats
DSD: 2.8224 MHz
WAV: 192/176.4 (24 bit), 96/88.2/48/44.1 kHz (24/16 bit)
MP3: 320/128 kbps
Playback Formats
Linear PCM (WAV)
MP3
AAC-LC
FLAC
WMA
Recording Time
MP3 128 KBPS: 477 hours
MP3 320 KBPS: 190 hours
LPCM 44.1 KHZ, 16 BIT: 28 hours 50 minutes/43 hours 15 minutes
LPCM 96.1 KHZ, 24 BIT: 13 hours 15 minutes/19 hours 50 minutes
Connectivity
Inputs
2 x XLR-1/4″ TRS Combo Jacks
1 x 1/8″ / 3.5 mm TRS Mini Jack
Outputs: 2 x 1/8″ / 3.5 mm TRS Mini Jacks
USB Port: 1 x USB Type-C
Bluetooth: Version: 4.0
Range: Up to 33′ / 10 m
Frequency: 2.4 to 2.48 GHz
Profile Support: A2DP, AVRCP, SPP
Codecs: SBC
Power
Battery Life At 24-Bit
192 kHz: Up to 32 Hours
96 kHz: Up to 36 Hours
48 kHz: Up to 44 Hours
44.1 kHz: Up to 44 Hours
At 320 kb/s MP3: Up to 44 Hours
Battery Type: LR6 (AA) Alkaline Batteries
Power Requirements: 4 x AA Batteries or USB Type-C Connection
Physical
Dimensions (W X H X D): Approx. 7.20 x 15.68 x 3.27 cm
Weight: Approx 395 g (including batteries)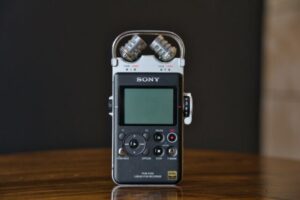 Final Verdict On PCM-D100
| | |
| --- | --- |
| PROS | CONS |
| Constructed from highly durable aluminum material. | No phantom power for use with external microphones. |
| Very low noise level. | Cannot be used as a computer interface. |
| Capable of recording audio in DSD format. | No windscreen included. |
| Easy to read text on the large display. | Buttons are not backlit. |
| Quickly boots up in five seconds. | Poor channel balance implementation. |
| Offers generous storage capacity. | |
| Boasts an impressive battery life. | |
The Sony PCM-D100 is an exceptional field recorder designed for professional audio capture. Its advanced technology and reliable build quality make it a great choice for audio professionals and podcast hosts looking for a high-quality recording experience. Its quiet preamps, sensitive microphones and multiple-track recording capabilities make it an excellent choice for capturing even the most subtle audio. The price tag may seem high, but the quality of the recorder justifies it, making the Sony PCM-D100 a great investment.
---