How many times have you wished for more hours in the day? Between work, appointments, errands, and our daily obligations, it's no wonder, so many of us struggle to make time for fitness. But what if I told you that even with a packed schedule, you can still prioritize your health and well-being? That's where the 20-Minute Fitness podcast comes in. With bite-sized episodes, this podcast is here to help you get back on track toward achieving your fitness goals. Without sacrificing too much of your precious time.
Keep reading our review article to learn more about why this podcast is worth adding to your weekly routine!
Introduction To 20-Minute Fitness Podcast
The 20-Minute Fitness Podcast is a must-listen for anyone looking to get the most out of their fitness journey. Produced in California by Shapescale, every episode covers one topic related to health and wellness in just the right amount of depth. From nutrition and exercise burnout to debunking health myths and staying up to date on the latest trends, this show has it all. 
Each episode features interviews with experts in their respective fields who provide practical advice and information that helps you become more knowledgeable about your health and well-being. 
Listeners can hear about quick cardio tips, recommendations on fitness apps, or facts about body types. Plus, keep up-to-date on the most recent fitness trends, such as mindful eating, muscle cramping, antioxidants, the use of technology to maintain hydration, and many more. 
The hosts are also known for responding quickly and thoroughly to questions posted by listeners. With new episodes available every Thursday, you'll never be without something interesting, informative, and inspiring regarding your fitness goals. 
Whether you're just starting out on your fitness journey or already an expert at finding ways around your personal plateau. The 20-Minute Fitness Podcast will help you achieve optimal results from your efforts while keeping things fun too! 
Why Give This Podcast A Listen
Listeners should tune in to the 20-Minute Fitness Podcast for various reasons. 
The podcast is perfect for those looking to fit a little health and fitness knowledge into their busy lives. Not everyone has the time to dedicate an hour or more to listening to a podcast about fitness, but with this one, you can get all the information you need in just twenty minutes. 
Also, the episodes are designed to be easily digestible and packed with actionable fitness information that can be implemented into anyone's daily routine. Each episode features an industry expert who is knowledgeable about topics such as nutrition, training, tech, and methodology.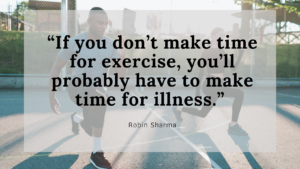 Additionally, the show provides insight into the latest news in fitness, including interviews with athletes and motivational speakers. And this allows you to hear first-hand what it takes to succeed in their respective fields. The topics are discussed in an easy-to-understand manner. So even if you don't have any prior experience with fitness or nutrition, the hosts and guests ensure that anyone can understand what they are talking about. 
Finally, tuning in even for just 20 minutes can bring tremendous value. You will be surprised at how much information can be packed into such short segments, and learning new things while commuting makes it so worthwhile! So make sure to take advantage of this amazing opportunity. 
Key Points To Remember From The 20-Minute Fitness Podcast
Nutrition: Knowing what to eat and when is vital for optimizing health and performance. This includes understanding the different macronutrients, micronutrients and the role they play in fueling your body.
Technology: Wearable devices, fitness apps, and virtual reality are just a few tools available to help you reach your goals. By taking advantage of the latest technology, you can track your progress and adjust your workouts accordingly.
Science: With advances in understanding the body's physiology, science has helped us better understand health and fitness. Research is giving us insight into how our bodies react to different forms of exercise, the effects of nutrition on performance, and how to optimize performance.
Methodology: Different training methods have their own merits and drawbacks. Knowing which methods to use and when is critical to getting the most out of your workout.
Mindset: Having a positive mindset and focusing on the process rather than the outcome can help you stay on track and reach your goals. It is also important to take a holistic approach to fitness and take the time to enjoy the journey. 

What Are The Cons Of The Podcast?
The 20-Minute Fitness Podcast has some major drawbacks. The most notable is the sound quality, described as "like a fuzzy phone call." This makes it difficult to listen to and could be improved with better-quality equipment. Additionally, the narrator's annoying voice makes it hard to pay attention to the content. Listeners mentioned the narrator saying "um" too often, which can be distracting and make the podcast feel like it is dragging on. 
Another shortcoming of The 20-Minute Fitness Podcast is that the content is sometimes scattered and hard to follow.  It can be frustrating having to wait for the latest episode of The 20-Minute Fitness Podcast to find out the last bit of information you need. 
These issues make it hard for listeners to stay engaged and motivated, an essential part of any fitness podcast. 
Overall Impression On The 20-Minute Fitness Podcast
Overall, the 20-Minute Fitness podcast is an excellent resource for fitness enthusiasts to quickly get up to date on the latest health topics and trends. With science-backed content and concisely delivered in 20 minutes or less, this podcast provides valuable insight into staying healthy without wasting time. 
If you're looking to keep abreast of health and fitness, then 20-Minute Fitness Podcast is a perfect choice! Tune in now to get all the information you need!