Have you ever felt like your workplace is stuck in a time warp? Maybe it's still clinging to outdated business practices, longing to get back to normal, or perhaps technology seems light years ahead of where your company is at. Well, fret not my friends, because we have just the solution for you! Introducing the Geeks Geezers and Googlization Show – a podcast determined to host crucial conversations about the future of work.
Keep reading our article below to find out more about what makes Geeks Geezers and Googlization Show one of the top-rated future of work and management podcasts.
What The Geeks Geezers and Googlization Show Is All About
The Geeks Geezers and Googlization Show is not your typical podcast. Hosted by Ira S. Wolfe and Jason Cochran, this show dives into the fast-changing world we live in and how it's affecting work and people. They believe that the current shift happening in society can be a good thing, an opportunity for growth and thriving. With their conversations, they aim to become the voice of the people and have crucial discussions about the future of work. 
In each episode, Ira and Jason talk with HR professionals, business leaders, and experts to tackle important topics like creating a thriving environment for employees, understanding the complexities of the future, and driving organizational transformation through HR's pivotal role. They also explore emerging themes such as neuromanagment and artificial intelligence.
Their ultimate goal is to bring better ways to reimagine tomorrow in times of uncertainty. They dig deep into how businesses, technology, and people are converging to shape our future. By doing so, they provide insights that help listeners navigate these changes more effectively. 
So if you're looking for a podcast that sheds light on what lies ahead in terms of work dynamics and explores the impact of technology on businesses while keeping things simple yet informative – Geeks Geezers & Googlization Show is your podcast. 
Who Are The Hosts?
Meet the dynamic duo of Ira Wolfe and Jason Cochran: the embodiment of seasoned wisdom and youthful curiosity. You'd never guess there's a 30-year age gap between them, but that's exactly what makes them the dynamic duo they are.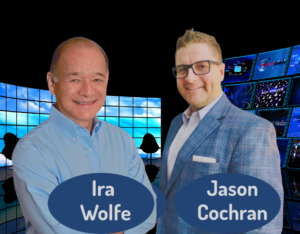 Ira supplies the depth of experience and sagacity—think of him as the guiding North Star. Ira S. Wolfe is a Baby Boomer who has the mindset of a Millennial. He used to be a dentist, but now he's a futurist ist and speaker. He's written seven books and is considered one of the top 5 thought leaders on the future of work, HR, and leadershipadaptability. You can find his articles in Forbes and Medium, and he's been featured in various publications like Wall Street Journal and Fast Company. 
On the flip side, Jason injects the team with youthful energy and practical insights, acting as the compass needle that keeps things moving. Jason Cochran also has an interesting background. He started out as an educational psychologist but decided to become an entrepreneur instead. Now he works as a consultant helping organizations with employee experience and culture. He's also co-hosting a popular podcast. 
Their unique blend of intellect and practicality is not just complementary; it's transformative. Just as wine and cheese elevate each other's flavors, Ira and Jason's combined expertise offers businesses a comprehensive guide to navigating the complexities of the modern workplace.
So if you're searching for experienced professionals who can help your business adapt and thrive in the changing world of work, look no further. Ira Wolfe and Jason Cochran have got you covered. 

What Makes The Show A Must-Listen Podcast
I've got to say, the Geeks Geezers and Googlization Show is seriously fantastic. First off, can we talk about that intro music? It's like stepping into a TV game show or turning on one of those late-night interview shows.  It really gets you pumped up and ready for what's to come. 
But it's not just the catchy tunes that keep me coming back for more. The direction of this podcast is top-notch. They cover such instructive and relevant topics that really make you stop and think. And let me tell you, Jason and Ira know how to lead a conversation with their guests. They ask all the right questions, get straight to the point, and provide insightful content that leaves you wanting more. 
One thing I appreciate about this show is that every episode offers actionable ideas. You're not just listening passively; you're actively learning something new every time. Whether it's tips on leadership, technology trends, or navigating changes in the workplace – there's always something valuable to take away from each episode.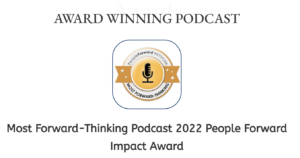 And let me tell you, when they won Most Forward-Thinking Podcast 2022 at the People Forward Impact Awards… well, it was no surprise to me! This podcast truly pushes boundaries and challenges conventional thinking in today's fast-paced world. 
So if you're looking for a podcast that will keep you engaged, provide valuable insights, and leave you feeling inspired to take action, then Geeks Geezers and Googlization Show is the one for you. 
Most Popular Episodes
The pandemic caused a lot of chaos and uncertainty in the world, but people responded to it in different ways. Jason Feifer explores why some people adapted well while others struggled in his new book, Build for Tomorrow.
In this episode, they talk to Kate Lister, President of Global Workplace Analytics. She believes that a hybrid approach to remote work is the best way for organizations to save money and improve productivity. Kate explains why a 100% remote model may not be possible for all companies and discusses the benefits of finding a middle ground between in-person and remote work. Tune in to learn how embracing this flexible approach can benefit both employers and employees.
In this episode, Dave Ulrich discusses why HR is not about HR. He explains that HR's role is to contribute value to the marketplace by ensuring the right talent, culture, and leadership are in place. He emphasizes that if HR isn't at the table in 2021, it doesn't belong in HR. Tune in to learn more about why HR needs to shift its focus and play a strategic role within organizations.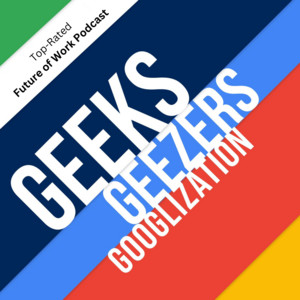 Final Thoughts
Whether you're fascinated or terrified by what the future of work holds for us, then the Geeks Geezers and Googlization Show is a must-listen podcast for you. Every episode is packed with valuable insights into how technology and social trends are shaping our workplaces and workforce strategies. Whether you're an entrepreneur or a manager, Jason and Ira take you on a journey through the ever-evolving world of technology, leadership, and everything in between. 
So go ahead, click that listen button below, and join the conversation on the Geeks Geezers and Googlization Show.