It is overwhelming to start a podcast with no audience, but it is possible! There are inspiring rags-to-riches stories on this platform. And in fact, some of the huge names today also start having no listeners. It's worth reminding that an audience is not a prerequisite when you start; you ought to have material. Then the audience will follow. The gratifying aspect of podcasting is that it has skyrocketed that there are individuals who are eager and ready to lend an ear. This post is a guide to starting a podcast, despite not having an audience.
How Do You Start A Podcast With No Audience?
Step 1. Find Your Niche

You should first find your niche. Make sure that your topic is something you will feel comfortable discussing. Determine a topic you are enthusiastic about, and you can talk about it intelligently and conversantly.
Step 2. Define Your Target Audience

Who are you aiming to reach? What topics will they be intrigued by? Who could your podcast help? Defining your target audience is a vital step to building a solid community. The podcast has grown in recent years, indicating there are numerous sorts of listeners, all with different fancies and preferences.
Step 3. Select The Correct Podcast Format

Consider how you want to convey your information and how you can make your show different from other podcasts. Don't settle on a format that's entirely outside of your interest. You'll be hesitant to record, get tired fast, and perhaps a podfade. Choose the format that works best.
Step 4. Plan Your Episodes

As soon as you have a format ready, it's time to begin drafting your episodes. This is where you'll formulate topics, guest lists, questions, etc. You don't need to write down every word you plan to express, but it's necessary to have notes for each episode to keep you in full swing.
Step 5. Record & Edit Your First Few Episodes
You'll have to:

– Choose a place far from the noise outside. And ensure that there are no pets, kids, other people, or anything that can compromise the audio quality.
– Prepare your equipment. You must invest in a good microphone, headphones, and digital recorder. These will change the quality of your show.
For greater results, use podcasting software like Audacity and Adobe Audition. Trim off background noise as much as possible, remove any dead space, and ensure your episode sounds good.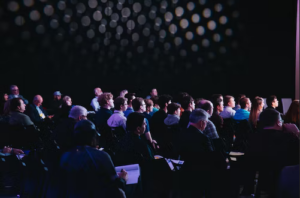 Step 6. Submit Your Show To All The Podcast Directories

One secret to gaining listeners for your podcast is visibility. The more sites people can see your show, the higher the chance of reaching new listeners and subscribers. If you wish to increase your audience, your show must be on all the platforms people are listening to, so make sure you publish your podcast to as many directories as feasible.

Step 7. Be Innovative When Promoting

Promotion is paramount for any podcast but gets even more critical when introducing a show with no supporters. You desire your podcast to be noticed by many people as possible. For you to accomplish that, you need to share your show in various methods. We give you these 3 strategies to set you in motion

Social media
You can produce a successful podcast by promoting your content on social media. If you have active social media followers, utilize them to market your podcast. Share your episodes on your personal account and in appropriate groups, and see to it that you put a link to your podcast's website or iTunes page (if you have one). While your fan base will likely start small, social media is a wonderful platform to advertise and prompt people to take a liking to your podcast.

Tell Family And Friends About Your Podcast
These individuals are most ready to share your pursuits or at least be fascinated by what you're doing. So let them know and urge them to spread the word. No need to be ashamed about asking family, friends, or colleagues to leave a review. Podcast reviews provide social proof of your podcast's quality, tempting your first listeners to download.
Guest appearances or guest blogging
Guest appearances are considerable opportunities to broadcast your niche with enormous listeners and fascinate new audiences. Find podcasts connected to yours and reach out to their hosts if they like to do a guest spot. Remember to include links to your show so they understand that what you're bringing to the table is related to them. Be sure also to add social media buttons in your profile so listeners can communicate with you there too. For guest blogging, locate blogs relevant to your topic and propose them for a guest post about your show.
If you can reach even a few people to listen to your podcast, it will make a huge difference.
Step 8. Leverage Your Existing Network

Once you've gained a few listeners, it's time to connect with them individually. Send them an email, or dm them on their social media accounts. Despite the fact that you don't have a bunch of them, you need to ensure you're reaching the people who are coming for you because word of mouth is still among the most effective means to grow a podcast. Ask them to share your podcast with people they know and leave a review.
This might sound too much to ask, though it's vital to be tenacious. You can even offer incentives if you have the means. On top of that, try reaching out to strangers on Twitter, Facebook, or Instagram who might follow your topic and inquire if they are willing to listen. It's impossible to predict what type of audience you may encounter!
---
So, Can You Start A Podcast Without A Following? Definitely!
What's great about starting a podcast when you don't have an audience at first is you can concentrate entirely on producing high-quality content without being concerned about what your listeners may say. This enables you to try out different content categories and techniques, helping you discern what relates most to your target market.
The growth of your new podcast depends on how you begin setting the scene- establishing a schedule, perfecting your sound, and your capacity to promote and market your podcast. Just remember to dedicate time and energy and consistently promote and engage with your audience. For more tips on starting a podcast, please read our article about How To Start A Podcast On Youtube.