If you're searching for a guide that explains how to start a podcast, you've come to the right place.
Starting a podcast can be leisurely, fascinating, and profitable. Depending on your purpose, you can start a podcast as an entertaining hobby, an extra job, or a career from the very beginning.
Now is the ideal time to start your career as a podcast host. The arena is growing its popularity. It's estimated that by the end of 2022, there will be 424 million podcast listeners worldwide. In this article, we'll share some BASIC steps on how to start a podcast and launch it successfully.
Steps To Start A Podcast And Get Listeners
#1 Planning & Preparation
Define Your Goals

First, it's crucial to be able to answer basic questions regarding your podcast before you kick off. What is it
about? And why are you doing it? Here are some reasons to start a podcast:
to generate leads for a business
to increase the size and value of your network
position as a known expert within the niche
share an important message
inspire deeper engagement
Podcasting has many benefits for brands and businesses, though it's vital to be S.M.A.R.T. about your goals.
Know Your Topic And Niche
Regardless of your chosen topic, a great podcast must focus on capturing the audience's attention. Your topic helps you outline your episodes as it presents some framework. The key to having a good topic is how eloquently you can narrate a story. What you delve into should be within your interest, beginning on the most important, then embarking on the details. Without a topic, you can end up broadcasting shows that don't connect. Except when you've chosen to discuss anything (not recommended, though), such a decision will make it hard to increase your podcast listeners.
Describe Your Audience

The next step is to determine who you are speaking to. Having a target audience will help you create valuable and relevant content. And when your show is more relatable to specific listeners, those listeners will likely advertise it, supporting your podcast's growth. Some questions you can ask yourself in determining your listener persona:
Who is the audience that I'm aiming to touch?
What inspires them to listen to a podcast?
What other types of content is my listener binging on?
What do they do in their spare time?
What's a regular day for my listener?
What do they wish they knew more about?
Pick A Podcast Name
A podcast name is typically the first hint of who you are, helping the listener get a glimpse of what to anticipate in your episodes. You can decide on the title that best characterizes your target listeners. But you must consider a few things when deciding on that perfect title:
Consider key phrases that are in relation to the content. This will help your podcast become searchable on search engines.
Keep it succinct and intriguing.
Include your brand name, excluding the word "podcast."
Make sure the title is not yet taken.
Prioritize Your Branding Elements
Along with the title, you'll also devote time to making your branding elements. Branding elements include the show's cover art and logo, color pattern, and custom design. The design holds a vital role in the success of your podcast.
In particular, the podcast's cover art is among the first features to invite possible listeners, so make it count to be clearly better than the rest. You can also have a podcast logo, which is simple and has few colors and visual objects. You should pick a suitable color palette for your podcast based on the audience you are aiming for.
---
#2 Organizing Your Podcast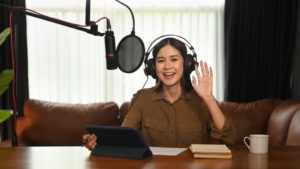 Choose A Podcast Format
Format

Your podcast format is how your show's content is organized and structured. Do you prefer being solo, having an interview podcast, or maybe having a casual conversation with your co-host? Are you going to produce a narrative podcast or an educational one? 

Your podcast is not limited to one specific format only. You can mix elements of different styles for identity or offer neutrality. But settling on an ideal format can help manage other decisions about your podcast.

Length

The good thing about podcasting is that there is no set time for an episode to run. With this, you must focus on condensing your podcast content ideas into their simplest structure and share that. Never stretch something out if the story is already concluded or bring an abrupt end if it's not.

If your content is organized and consistent, your episodes will arrive at a specific length range. Make changes as you notice what's the most practical for you and your listener. 

Frequency

When deciding your podcast format, you must consider the frequency of releasing your podcast episodes. Whether you publish new episodes daily, weekly, or monthly, having consistency with episode releases can help your listener remember to tune in.

In general, the higher the frequency, the better. This is important if you intend to make podcasting a big portion of your life. Why?

More possibilities for episode downloads

More episodes to be shared

Higher chance of appearing in search engine results

Plus, if you're to profit and rely on podcasting, you definitely must check out this step.
Scripted Or Unscripted?
When you opt for a scripted podcast, you can better control the flow of each episode. And if phasing and production or editing should be stern, a thorough script may be necessary. But if you choose to improvise, ensure you have at least acquired some fundamental expression and speech skills that enable you to do so proficiently. A combination of scripted and unscripted content is generally the best style for effective marketing-based content. Calls-to-action has to be understandable and striking, and this is not easy to do when your content sounds like a random discussion.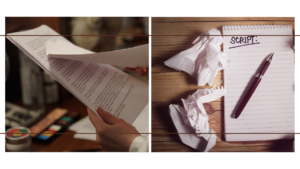 Set Up An Account In A Podcast Platform
Podcast directories are how your target market discovers and subscribes to your content. Most leading directories depend on a podcast's RSS feed to confirm its legitimacy and ownership. Therefore, you'll have to ensure you set it up ahead of time. Some of the most popular podcast directories are:
Spotify
Google Podcasts
Stitcher
TuneIn
Amazon Music and Audible
iHeartRadio
Podchaser
Make the most of your exposure, so don't hesitate to submit your RSS feed to as many podcast directories as possible.
---
#3 Investing In The Right Podcasting Gear
Recording Equipment
Knowing how to start a podcast and what you need is vital for a quality podcast. Publish more professional-sounding episodes with the following essentials:

A high-quality microphone. Your laptop microphone isn't enough for professional recordings. USB mics are perfect for beginners, specifically hosts who do solo/monologue-style podcasts and those conducting online interview shows. If you have multiple people or want more flexibility, you must have one or more microphones with an XLR output.

A computer equipped with a digital audio workstation (DAW). That means working on recording and editing software to produce the final episode sound better and more professional. You can first use a DAW like Audacity, Alitu, or Adobe Audition.

Digital recorders. These devices are your best friend when recording a podcast face-to-face with many people or interviewing on the road. The audio files will be automatically stored on a memory card, which you can access from your computer.

Headphones. Headphones are critical equipment for a podcast. They help you listen to the recordings and hear your exact voice. They can also let you recognize areas of improvement and things you can adjust to enhance the general quality of your podcast.

A quiet room to record. It might be worth investing in sound-absorbing panels, but at first, it's okay to pick a room with as few outward-facing walls as possible. This will lessen the ambient noise that infiltrates from the outside.
How To Start A Podcast On Your Phone
Suppose you don't have a computer or laptop; that doesn't mean you no longer have access to the podcasting industry. Almost any smartphone bears most of what you require to produce an introductory podcast. Your smartphone is a suitable recording device if you're more expert and want a super-compact apparatus for podcasting on the road. The easiest way to amplify your audio significantly when recording into a phone is to use an external microphone. Find the Voice Memos app on your iPhone, then record.

#4 Recording Your Podcast
Outline
Before you get going and start recording, give thought to how you want your show to flow. An outline is a tool to organize talking points and designate the sequence of topics you want to cover. You have to analyze your listeners' concerns and queries, what problems need consideration, and what facts they will only find in your podcast. Below is a sample template.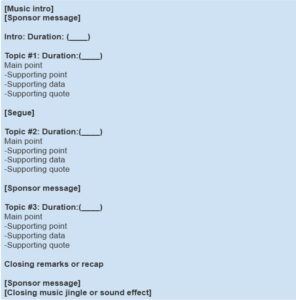 Record A Few First Episodes
Your setup may vary depending on whether you're recording remotely or not, but in general, you aim to have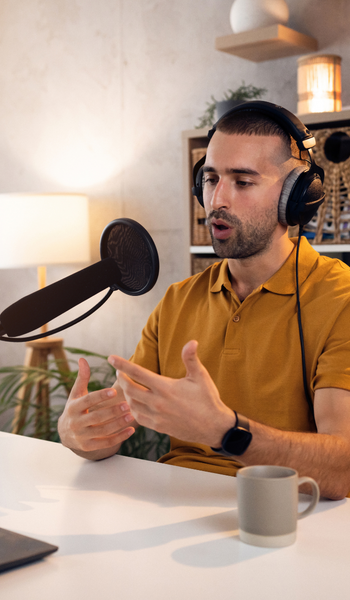 your show in the best quality attainable.
Make sure all your gear settings are ready.
Test the equipment to ensure the levels are right and respond to the room's audio.
Record in a quiet place or studio.
Don't be hasty. Speak confidently and clearly.
Be mindful of your proximity to the mic.
If you have to interview your guests remotely, a popular option is via recorded Zoom call. Record the call with special recording software.
Record An intro & Outro
An intro and outro for each episode add zest and color to your podcast. A striking podcast intro will capture your audience and allow them to see the value your podcast will produce. An outstanding podcast outro expresses gratitude to listeners for tuning in, includes your catchphrase, asks for something in return via a Call to Action, and offers a teaser and sign-off.
---
#5 Editing Your Podcast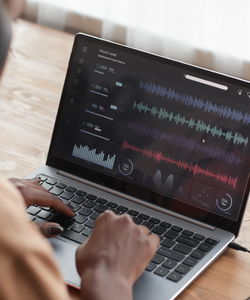 Editing is among the most crucial steps and the most challenging in podcasting. When it comes to editing, the
following are advised:
Cutting undesirable content to create a flawless but condensed flow.
Removing background noise and awkward silence.
Adjusting and equalizing the volume
Adding music and sound effects strategically
Creating clips to promote your podcast or repurpose it into short-form content.

Name Your Episode Titles
Your episode titles must correctly define what the episode covers and, if suitable, who's the guest on the episode. It's more thought-out to name your episodes according to your podcast's SEO.
---
#6 Publishing Your Podcast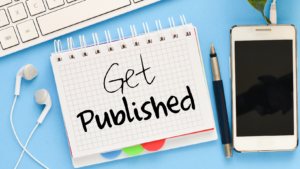 Before you publish your podcast, it's better to have 3-5 episodes ready to launch simultaneously, specifically for iTunes, to engage your listeners.
After converting your file into MP3, you should upload your podcast onto a hosting service (CoHost, Buzzsprout, Podbean, or Simplecast). The hosting service will generate an RSS 2.0 feed link.
Submit your show's RSS feed URL to the podcast directories (mentioned earlier).
Get approved and listed in each directory.
Following this, every podcast directory will automatically update whenever you publish a new episode.
---
#7 Promote Your Podcast
Once your podcast can be discovered and downloaded, it's time to promote and advertise it. One popular way of promoting your podcast is via social media platforms like Facebook, TikTok, YouTube, Instagram, and Twitter. Another method is to ask your listeners to like, share, subscribe, and review your podcast at the start and closing of each episode. Here are other techniques to grow your podcast and entice new audience:
Website/blog content and SEO
Cross-pollination with other podcast hosts
Email marketing / sending direct links
Networking and community events
Paid advertising


---
Conclusion: How To Start A Podcast Alone
Learning how to start a podcast is a trial-and-error process, but it can be gratifying. The most important thing is staying true to your podcasting goals and intentions. And your podcast can be as rewarding as you muddle through it with compassion and growth-wise. You can do it!