Hello! This is our review of Science(ish), a podcast hosted by Rick Edwards and Dr. Michael Brooks! This is an informative, educational, and entertaining science podcast exploring the fascinating world of scientific research. Whether looking for answers to complex questions or learning new things, this podcast has something for everyone.
This review reveals why this entertaining yet informative show makes it easy to stay informed on the latest research findings while still having fun! So read on to find out why Science(ish) should be your go-to source of science entertainment. 
A Synopsis On Science(ish) Podcast
Science(ish) Podcast is a show hosted by Rick Edwards and Dr. Michael Brooks, which explores the scientific concepts behind popular culture. The show looks at topics from movies, TV shows, and video games to discuss how science relates to them.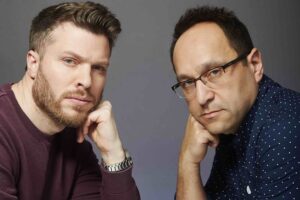 Episodes cover a range of exciting subjects, such as artificial intelligence (AI), space exploration, climate change, and much more! During each episode, guests are invited to join in conversations and offer insight into their personal experiences with these topics. They also discuss current science news events and consider how technological advances can impact everyday life.
Whether you're an avid scientist or just looking for a fun way to learn more about science-related topics – The science (ish) Podcast has it all! 
You can listen to the Science(ish) podcast on Apple Podcasts, Spotify, Stitcher, and most other podcast streaming services. 
The Good Points Of The Podcast
People are listening to the Science(ish) podcast because it provides an entertaining, informative, and accessible look into science-related topics. Hosts Dr. Michael Brooks and Rick Edwards have a natural chemistry that makes for engaging conversations about advanced scientific research.
The hosts appreciate each other's expertise allowing them to provide listeners with insightful perspectives from multiple angles. They also bring humor and wit to their discussions, making the content more palatable for non-scientists. But still maintain high-quality information. Listeners appreciate that this podcast covers a broad spectrum of topics – from artificial intelligence to sustainable farming practices – engagingly. Making it easy to break down a complex concept into bite-sized sized chunks of knowledge. So listeners can easily digest and understand.
Additionally, Science(ish) is fearless in tackling controversial issues without taking sides on any particular viewpoint. Instead, they allow the listener to make up their own mind after hearing both arguments presented objectively by experts in the field.
In short, anyone looking for an intelligent yet entertaining take on all things science should listen to Science(ish). It's perfect for those who want to stay informed but don't necessarily have hours upon hours dedicated to reading through dense academic literature!
Key Takeaways From The Science(ish)
In each episode, the two hosts interview experts and discuss the latest scientific findings, giving listeners an in-depth look at the world of science. Here are some of the critical takeaways from the Science(ish) podcast:
Engage with the science:

One of the main points of the podcast is to engage with the science and to help the audience understand complex scientific concepts. Discussing the latest scientific findings and asking questions encourages their listeners to think critically and explore their own ideas.

Seek out experts:

The podcast often features interviews with experts in various fields of science. Listening to the opinions of professionals can provide valuable perspectives and help people better understand the science behind the topics discussed.

Ask questions: Dr. Brooks and Edwards often talk about the importance of curiosity and using scientific knowledge to ask questions and try to solve problems.
Learn from mistakes:

The podcast also emphasizes the importance of learning from mistakes and using them as an opportunity to grow. It helps listeners understand the scientific process's importance of experimentation and risk-taking.

Be open-minded:

Finally, Science(ish) covers the importance of embracing different perspectives and being willing to learn from others. It also emphasizes the importance of constructive dialogue and collaboration in the scientific community. 
The Constructive Criticisms Received By The Show
The Science(ish) podcast has room for improvement regarding the dialogue between Dr. Brooks and Edwards. While the topics discussed are interesting, the jokes and laughter can distract from the overall message and enjoyment. It would be more engaging if they focused more on in-depth conversations and thought-provoking questions.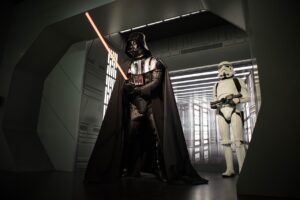 Although the dialogue in some parts may be cheesy and cliched, the topics chosen for discussion are thought-provoking and inspiring. By exploring the 'what ifs' of various situations, the content can delve deep into meaningful conversations and open the door to new perspectives.
Furthermore, the quality of the podcast may not be as enjoyable if the listener is not interested in science topics. To truly appreciate the podcast, one must have a genuine interest in science-related matters and enjoy engaging in conversations about them. 
Overall Review On Science(ish) Podcast
Science(ish) podcast is an entertaining and educational way to learn about science. It explores a wide range of topics in a fun and engaging manner. The show provides listeners with valuable information while keeping them entertained at the same time. The hosts are knowledgeable, passionate, and witty, making it one of the best science podcasts.
For a similarly accessible approach to big ideas, The Infinite Monkey Cage is another great podcast. As it goes from strength to strength.
If you're looking for an enjoyable way to engage with science content, then definitely give Science(ish) a listen! Its fascinating conversations, intriguing guests, and lighthearted humor will keep you coming back for more, so press play now!