Welcome to the world of Liverpool FC, where passion for the beautiful game runs deep. For those who want more than just a casual connection with their favorite team, The Anfield Wrap podcast is here to provide insider analysis and news from one of the top clubs in English football. On this show, you'll hear first-hand accounts from players, coaches, and other key figures in the organization as they discuss their ambitions and strategies that have led them to success both on and off the pitch.
If you're new to The Anfield Wrap or unfamiliar with its content, our review will help guide you through what makes this podcast so special. So why not keep reading our review article? We guarantee that after reading it, you'll be tuning in to the podcast every week!
What The Anfield Wrap Podcast Is All About?
The Anfield Wrap Podcast is a weekly audio show that provides Liverpool supporters with the latest news and content from some of the most influential figures in media. It is produced by The AnfieldWrap, an independent UK-based company, and Hosted by Neil Atkinson. 
The podcast has over 28 million downloads around the globe, making it one of the most popular podcasts available today. 
If you're a Liverpool Football Club fan, The Anfield Wrap Podcast is the perfect resource for all of your LFC needs. This comprehensive podcast features exclusive interviews with players and head coach Jurgen Klopp. Plus video content and an additional subscription service to access even more content. It provides passionate discussions about each game from genuine match-going Red fans' perspectives.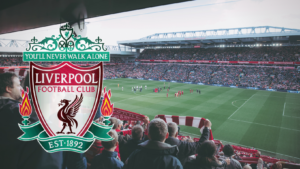 Every episode also includes news and analysis of matches and the team's performance. The Anfiled Wrap serves as a great way for dedicated fans to stay up to date on their beloved club and all things related to LFC. Besides providing entertaining content for anyone who enjoys football or culture in general. 
Whether you're looking for match previews or post-match reaction, The Anfield Wrap Podcast has something for everyone. 
What Makes This Podcast Special
The Anfield Wrap podcast is a must-listen for any Liverpool Football Club fan. 
Listeners are drawn in by the passionate and honest discussion of each game and the diverse range of guests from all walks of life. Host Neil Atkinson has a great talent for presenting and captivating his audience. He should definitely be on national radio! 
Besides, The Anfield Wrap podcast offers unique insight into each match with expert analysis from fellow LFC fans and journalists. This allows listeners to understand the finer details about the team's performance that they may have missed during the game. On top of this, topics such as current affairs and international football provide exciting context to discussions surrounding Liverpool FC. 
Finally, the podcast produces its content with fantastic audio quality, which makes it even more enjoyable to listen to. From interviews with players or club legends to fan debates about upcoming fixtures. You'll be entertained and catch a glimpse of your favorite team! 
A group of friends who are passionate Liverpool supporters first came together to create The Anfield Wrap, and it has since grown into a worldwide sensation. With witty banter, straightforward analysis, and the occasional random musings thrown in for good measure, this podcast is certainly one of a kind. 
Important Takeaways From The Anfield Wrap
Transfer News – The Anfield Wrap team keeps listeners updated on the latest transfer news and speculation surrounding the club. This includes who might be leaving or joining Liverpool and which players are being linked to the club. 
Tactics and Match Analysis – The podcast also offers tactical analysis of Liverpool's performances and thorough match analysis. This helps listeners understand why particular players and tactics were used and how they affected the match. 
Fan Culture – The show takes a deep dive into the fan culture of Liverpool FC. This includes discussing the fan atmosphere at Anfield, the latest supporter initiatives, and the special relationship between the players and the fans. 
Player Profiles – Detailed profiles of the players in Liverpool's squad. This includes discussing their background, strengths, weaknesses, and how they fit into the team's overall strategy.
History and Trivia – It also covers the history of Liverpool FC, as well as interesting trivia and facts that fans may not know. This helps listeners better learn the club's past and the stories behind some of their most famous players and moments.

What Are The Shortcomings Of The Podcast?
The Anfield Wrap podcast has been receiving a lot of negative criticism from its listeners recently. 
One critique is directed towards this Gibbons guy, and his tendency to use the phrases "sort of" and "ya know" multiple times in every sentence. This makes it difficult to listen to, as it is repetitive and distracting. In addition, the show is often criticized for its frequent use of profanity. Many listeners feel that it makes the presenters sound unintelligent and unprofessional. 
Another common criticism of The Anfield Wrap podcast is the poor sound quality of recent downloads. Many had difficulty understanding what was said, which can be frustrating. This is a serious concern, as it detracts from the overall experience of the podcast and can make it tricky to enjoy the podcast. 
Some of the critiques are valid, but others are more subjective, and the show can address them to improve them.
The Anfield Wrap Podcast Review Summary
The Anfield Wrap podcast is among the best UK sports podcasts for any Liverpool Football Club fan. It stands out among sports podcasts for its mix of comedic and serious content, delivered with genuine passion from knowledgeable contributors. 
This show offers an in-depth analysis of the team's performance and witty off-topic trivia that will make you laugh. Plus, it provides a thrilling mix of content that will entertain and stimulate thoughtful conversations about various topics. 
If you want an entertaining way to keep up with all things LFC, tune into The Anfield Wrap podcast now!