Today, let's talk about three things that we all need in our lives: Self-Love, Manifestation, and Healthy Relationships. These three aspects are like the three pillars that hold up our lives. Without them, we might feel lost, incomplete, or even hopeless. But don't worry! There's a podcast that can help you with that – The Soft Life with Candy Washington.
In this podcast, Candy shares practical ways to manifest the life of your dreams through self-love, and healthy relationships. If you're ready to start living your best life, keep reading our article to learn more about this self-care podcast.
Introduction To The Soft Life with Candy Washington
The Soft Life Podcast is a show hosted by Candy Washington that's all about helping you manifest the life of your dreams through self-love. It offers practical tips to help you achieve the romantic partnership, wealth, abundance, and healthy relationships that you deserve. 
Each episode covers a different topic related to personal growth. Some of the topics include healing from childhood trauma, ways to focus on ourselves, and how to deal with being ghosted. There are also episodes that explore manifesting our dream life and other related topics. 
The podcast aims to empower listeners with practical tools that they can use to uplevel their self-love and reclaim their self-worth. By stepping into the highest version of themselves, listeners can achieve the life they truly desire. Overall, The Soft Life Podcast is a great resource for anyone looking to improve themselves and live their best life. 
Who Is Candy Washington
Candy Washington went to Georgetown and studied philosophy.. She executive produced, wrote, and starred in a movie titled Narcissist that you can watch on Amazon Prime Video and SofyTV. 
Candy likes working with companies on social media campaigns about beauty, fashion, wellness, and lifestyle. She also acted in a show called The Salon that won an award. Candy wrote five books and has a popular podcast called The Soft Life. She volunteers with at-risk youth at the LA Covenant House. 
In her free time, she likes listening to true crime podcasts.

What Makes This Podcast Special
The Soft Life podcast is my new favorite go-to for inspiration and education. It's hosted by the amazing Candy, who is an absolute ray of sunshine. Her energy is infectious, and she has this reassuring voice that just makes you feel at ease. 
This podcast seriously feels like a treasure trove of wisdom! Each guest brings their own unique perspective and expertise to the table, and it's like getting a mini masterclass in every episode. Plus, the host does an outstanding job at making sure the conversations are not only insightful but also engaging. It's the kind of podcast that leaves you feeling a bit smarter and a whole lot more inspired after each listen.
One thing I really appreciate about Candy is how she breaks down important topics. Like, she explains the difference between Burnout and Depression in a really clear way. And that's so important, you know? Because if you're struggling with something, you want to make sure you're getting the right diagnosis and treatment. Another episode that I enjoyed was when she talked about the "toxic" mindset people have towards posting on social media. It's true that some people think they're being positive, but they're actually being toxic. 
The content on this show is like a breath of fresh air, touching on themes that we all experience in our day-to-day lives. It's as if they took a page out of our personal diaries. And Candy, hey girl, she navigates through these topics filled with wisdom and elegance. She's the kind of gal you'd want to sit with, discussing life and its complexities.
And listen, if you're feeling stuck in a negative mindset or you're struggling with self-limiting beliefs, this podcast is for you. It's all about changing your mindset and becoming more consistent in your life. And honestly, who doesn't need a little help with that? 
So yeah, if you're looking for a refreshing, informative, and inspiring podcast, give The Soft Life a listen.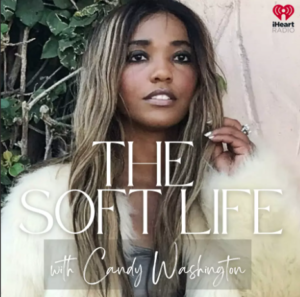 Recent Episodes*
*at the time of writing
Closing Comments
If you're looking for a podcast to help boost your self-confidence and positivity, you've gotta check out The Soft Life. Candy Washington is refreshingly honest and the tips and advice are so practical and relatable. It's like chatting with a wise friend who gets it, making you feel like you're not alone in your struggles. Trust me, this podcast is a game-changer. So go ahead and click that listen button below – your future self will thank you!