Have you ever heard the term Web3 floating around the digital universe and wondered what all the fuss is about? As the opening spiel of the podcast Web3 is the beacon of innovation and the gateway of the future.
In simpler terms, Web3 can be considered as a major transformation of the internet – it is the next level of our online interactions. It involves upgrading the way we browse, purchase, and communicate on the web. It goes beyond just websites and involves decentralized networks, blockchain, and a new set of regulations.
The moment you start to think "Why should I care about Web3? What's the big deal?" is when things start to become interesting. Knowing about Web3 is like having a map of where the internet is going in the future. It's not just about staying in the loop; it's about being prepared for the digital world that's unfolding before our eyes.
Knowing what Web3 is all about is getting more and more crucial, whether you're a business owner, a tech enthusiast, or just someone who wants to confidently navigate the internet world. Well, "Web3 Talks" is here to unravel the mystery.
What The Web3 Talks Podcast Is All About
Now, what makes this podcast interesting is that it dives deep into things like NFTs, Metaverse creations, and custom cryptocurrencies. It's not all tech jargon, though. Caleb makes sure to connect the dots between these new digital frontiers and how they can benefit businesses and regular folks like you and me.
"Web3 Talks" provides you with a backstage pass to the tech revolution that is transforming the internet. Caleb and his guests are dedicated to demystifying the jargon surrounding technology and helping you understand why Web3 is a significant development that deserves your attention.
The "Web3 Talks" podcast started sometime in the last quarter of 2021. You can listen to the "Web3 Talks" podcast on various platforms such as Spotify, Apple Podcasts, YouTube, Google Podcasts, and Castbox, giving the audience several options to access the content.
Who Is Caleb Pfohl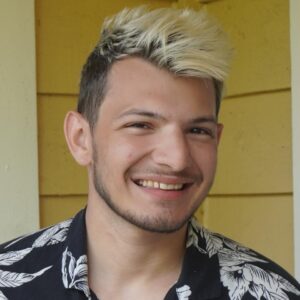 Now, who's this Caleb Pfohl, you might wonder? He's a digital guru who's been in the game for over 6 years now. He's all about executing plans and making things happen in the online world. Caleb's got a real knack for Web3, which he's been specializing in for 3 years. And get this, he's been a computer whiz for over 25 years – that's longer than some of us have been alive! 
But don't let all that technical talk fool you, Caleb knows how to communicate with people from all walks of life. Whether you're a business owner, a tech nerd, or just someone who's curious about the digital world, he can explain things in a way that makes sense.
Caleb's also the founder of Web3 Insanity – a company that uses the latest internet technology to tackle real-world business challenges. He's got a whole team of people working with him to make it happen.
Your guide across the Web3 wilderness is Caleb Pfohl. Exploring these computer issues is a breeze thanks to his expertise, enthusiasm, and warm personality.

Reasons To Tune In To The Podcast
Let me tell you why you should definitely tune in to "Web3 Talks" with Caleb Pfohl. Trust me, this podcast is a hidden gem that you don't want to miss out on!
First off, let me tell you that Caleb's enthusiasm for Web3 is absolutely contagious! He makes complex tech topics engaging and easier to grasp. His energy is just something else, and it really draws you in.
But it's not just Caleb's enthusiasm that makes this podcast great. The podcast is a goldmine of insights. Caleb brings in knowledgeable guests who delve into their experiences with Web3, discussing their entry into this realm and their unique journeys within it. So, if you're like me and still trying to wrap your head around what exactly Web3 is, then this podcast is perfect for you.  Caleb and his guests break down Web3 concepts in a way that makes them practical and relevant.
Now, let's talk about the variety of topics covered in this podcast – it's mind-blowing! In a world where technology is evolving at lightning speed, it can be hard to keep up with the latest trends and developments. From AI to blockchains, cryptocurrencies to NFTs, "Web3 Talks" covers it all. It's like a tech information buffet, serving up all the latest and greatest tech news and insights in a way that's easy to digest. You'll walk away from each episode feeling informed and up-to-date on what's happening in the tech world.
So, whether you're a tech enthusiast, a curious learner of Web3, or just someone who wants to stay in the know, "Web3 Talks" is the podcast for you. Caleb's infectious enthusiasm, combined with the wealth of insights and the wide range of topics covered, make this podcast a must-listen.
Things That Don't Resonate To My Taste
I'm all about geeking out on the intricacies of blockchain and decentralized systems, but man, those episodes can be a marathon! It's like they're purposely trying to test my mental stamina. I just wish they could hit the pause button once in a while, you know? Give me a 10-second breather, maybe with a bit of music or a sound effect, just to let my brain catch up. Trust me, it wouldn't hurt to slow down and let the information sink in a bit.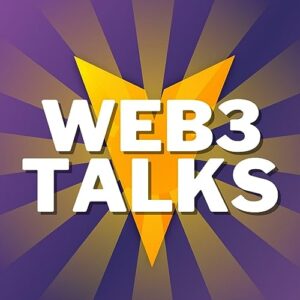 Recent Episodes*
Ryan was correct. The internet is controlled by only a handful of centralized establishments. If Web3 isn't the solution, that's okay. But the current approach isn't effective.
In this episode, host Caleb Pfohl chats with ALTAVA Group CEO Andy Ku. They talk about how ALTAVA Group helps luxury brands enter the metaverse, offering virtual spaces for showcasing digitized collections. Andy knows a lot about luxury brands in the metaverse, AI and fashion, and the fashion industry's shift from Web2 to Web3.
Get ready to explore the future of payments and the crypto revolution with BoomFi's CEO, Jack Tang, in a thrilling conversation with Caleb. Discover how BoomFi is shaping modern transactions with features like multi-party settlement, free trials, discounts, and token gating. Join them for an exciting journey through the world of BoomFi.
*at the time of writing
Final Verdict
If you're looking for a way to stay in the know about the latest in tech, then you have got to tune in to "Web3 Talks" with Caleb Pfohl. With Caleb's expert insights and lively discussions, you'll be amazed at the world-changing solutions that are being brought to you by Web3. It's the perfect way to stay up-to-date with the latest tech trends and developments from some of the most brilliant minds in the industry.
So, whether you're a tech novice or a pro, be sure to tune in to "Web3 Talks" and discover the cutting-edge innovations that are shaping our digital future. Click the listen button below and join the conversation.