The name Bose is often mentioned when discussing headphones, as they have been a premier audio equipment manufacturer for many years. Many DJs and audio aficionados will swear by Bose, saying that if you want top quality, you go with Bose. Therefore, we decided to look deeper into the Bose QuietComfort 25 headphones to discover what makes them highly acclaimed.
Read our article to learn more about the features, specs, and benefits of the Bose QuietComfort 25 headphones.
About Bose QuietComfort 25
Bose is an American brand specializing in sound-based products, such as home audio systems, noise-canceling headphones, professional audio equipment, and car sound systems. It has a reputation for protecting its intellectual property, such as patents, trademarks, and brands.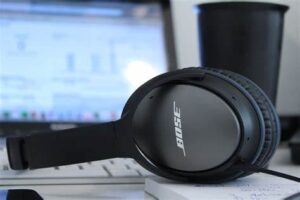 The QuietComfort line by Bose has long been a popular choice for business travelers, even if it's less familiar with teenagers and celebrities. The QuietComfort 15 was the top choice for noise-canceling headphones for years, and many were amazed when the QuietComfort 25 was released in 2014, as it was an upgrade in every way. From design to performance to noise cancellation, the QC25s have improved on what we already loved about the QC15s. 
One of the reasons why they continue to be a fan-favorite is because they offer incredible value. Despite being wired, they still manage to outshine most noise-canceling headphones in quality. 
Key Features Of The Headphones
Re-Engineered Sound Signature

Microphone Active Noise Cancellation

Bose Active EQ Technology

Bose TriPort Technology

Rotating Earcups

Suede-Like Earpads

Lighter Design

Headphones Fold For Better Portability

Get up to 35 hours of use from a single AAA battery (included)

Includes iOS In-Line Remote Control

Includes Carry Case

Build & Comfort
You'll find Bose QuietComfort 25 in either white or black. However, if you're looking for something more eye-catching, you can have it customized in any color you want for an additional $100.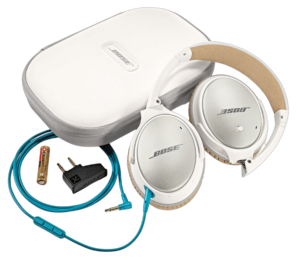 The new headband features a combination of cotton and felt to make it more comfortable and breathable, although it won't prevent the "headphone hair" effect. Covered with canvas-like cloth on top and endowed with generous padding, the circumaural (over-ear) earcups possess a plush feel and are lined with aqua blue grilles, featuring L and R markings to identify each earcup. The Bose QuietComfort 25 feels comfortable and breathable. 
Furthermore, the headband and earcups of this headset can be adjusted and folded, making it easy to transport. The earcups can rotate flat and the headband features hinges, allowing the headset to be compacted for storage. 
The included three-foot 3.5mm cable with inline controls is inserted into the left cup's auxiliary port. The right cup, on the other hand, contains the noise-cancellation switch, allowing you to shut out any external noises. After some practice, distinguishing which ear cup should be used becomes easy. 
The included carry case of the Bose QuietComfort 25 over-ears reveals a folding design when unzipped, which allows them to fit snugly with the earcups facing downward. The case provides some protection while being space-efficient, measuring 146 x 210mm and 51mm deep. Additionally, the package includes a double 3.5mm jack adaptor and a slot for a spare AAA battery. 
The construction of the Bose QC 25 headphones is robust, yet the simple, modern design gives them a contemporary aesthetic. 
Sound & Performance
When it comes to audio excellence, Bose is relentless in providing the highest quality. Their QuietComfort 25 headphones are designed for Apple devices and boast remarkable noise-cancellation, making them perfect for recording in any environment. 
When you switch on the noise-cancellation feature, the QuietComfort 25 over-ears also activate their Active EQ equalizer technology. This automated equalizer system guarantees a deep bass and full-bodied sound for any music. And with the noise-cancellation and Active EQ engaged, it's easy to see why the QuietComfort 25 over-ears have attracted so much attention – they provide fantastic audio quality while blocking out the noise from the outside world. 
Both headphones need an AAA battery to work. The noise cancellation feature may require more battery power. Though even if the battery runs out, the headphones will continue to play, but with diminished sound quality. 
The Bose QuietComfort 25 headphones offer a balanced listening experience without any particular frequency range taking precedence. Its midrange is smooth and open, with excellent detail and clarity. The lows, mids, and highs are equally present and clear, with a particularly sparkling and open treble that extends to the highest notes without any harshness at any volume. 
One of the criticisms of the QC 25 is that they lack bass when listened to at an average level. Furthermore, the highs tend to be muddled when played at high volumes, making it difficult to distinguish the nuances of the sound. However, the mid and low notes are generally well-defined.
Specifications
Technical
Sound Output: Stereo
Type: Over-ear
Connectivity:  Wired
Magnet Material: Neodymium
Sound
Frequency Response – Unknown
Impedance – Unknown
Sensitivity – Unknown
Connectivity
Inputs Supported: 3.55mm
Cable Length: 56″
Detachable Cable:  Yes
Power
Battery Type:  1x AAA
Battery Life:  35 hours of playback
Design
Color: Black
Acoustic Design: Closed
Attachment Type:  Headband
Control Type: In-line
Body Material: Fabric, Metal, Synthetic leather, Plastic
Dimension
Weight:  6.9 ounces
Manufacturer Part Number:         715053-0010
Final Verdict On Bose QuietComfort 25
| | |
| --- | --- |
| PROS | CONS |
| Outstanding sound isolation thanks to the advanced noise cancellation technology. | No USB or Bluetooth connectivity available. |
| An enhanced sound quality with the customized Active EQ. | Audio cable is only compatible with Apple devices. |
| Crisp and balanced audio. | Poor sound quality when battery runs low. |
| Extremely comfortable to wear for long periods. | Costly purchase. |
| Improved construction compared to earlier models. | |
| Great portability. | |
| Minimal audio distortion even when playing at higher volumes. | |
| No need for battery power for operation. | |
The Bose QuietComfort 25 headphones offer a deluxe set of noise-canceling headphones that deliver an impressive audio experience. Although they may lack features like rechargeable onboard battery and Bluetooth connectivity, their comfortable and lightweight design and their excellent noise-canceling abilities make them a great choice for those looking for a high-quality audio experience. They may be showing their age, but the Bose QuietComfort 25 headphones are still worth the price of admission.
Get yours today and experience the premium sound and comfort they provide!
---
We'd appreciate your input on this article.