Many people would love to record podcasts without worrying about cables, battery life, or device compatibility. The Skullcandy Grind Wireless headphones may be the perfect solution for this. However, since they don't fold, are they worth purchasing?
If you're wondering if the Skullcandy Grind Wireless headphones are the solution to your podcasting needs, read our review to find out!
About Skullcandy Grind Bluetooth Wireless
Skullcandy is a company located in Park City, Utah, offering a wide selection of listening devices such as headphones, earphones, hands-free devices, audio backpacks, MP3 players, and more. The company's products are mainly for outdoor athletes and the general public. Still, they have also stepped into the high-end audio market by introducing the Crusher headphones.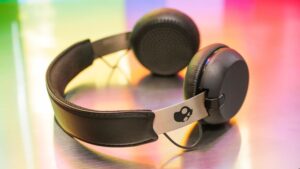 Skullcandy, previously known for moderately priced earbuds, has recently made great strides in the headphone market. The Skullcandy Grind provides great sound quality and comfort at an affordable price. Its wireless version has kept up the outstanding elements while adding the convenience of wireless technology.
In general, Skullcandy has consistently created attractive headphones that provide excellent sound without a hefty price tag, and the Grind Wireless is no exception. 
Key Features Of The Headphones
Made with premium materials

integrated amplifier & microphone

call connect, disconnect control

integrated volume control, function control

Bluetooth Connection

40mm audio drivers

2.4 GHz transmission frequency

Bluetooth wireless

built-in rechargeable Lithium ion batteries

12 hours of battery life

Detachable Audio cable

Build & Comfort
It's difficult to describe the design of the Grind Wireless in one particular way due to the range of colors and patterns available. From the all-blue and black sports-style design to the gunmetal and gray plaid bridge design, you can choose the look that suits you best. 

The ear pads have minimal cushioning, but the bottom of the headband is lined with a mesh fabric that fits nicely around the head. Despite the comfortable fit, the lack of padding makes them slightly uncomfortable to wear for extended periods. And due to the fact that they are placed directly on the ears instead of surrounding them. 
The headband is adjustable to fit various head sizes and is made of metal, while the ear cups are crafted from matte plastic that may become smudged with fingerprints. Grind Wireless is also noted to be quite sturdy. However, the headband has no hinges, so it cannot be tilted, swiveled, or folded. 
The Grind Wireless has three buttons: one to increase the volume, one to decrease the volume, and one to power on or off the headset and sync a new device. The right ear cup has all the necessary buttons. The response of the buttons is immediate, though it would have been more convenient to have independent track skip buttons rather than double or triple-pressing the pause/play button.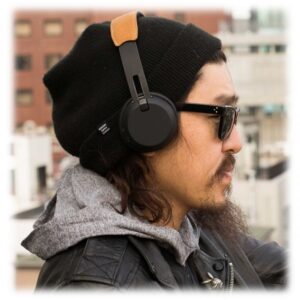 The right ear cup of the Skullcandy headphones is equipped with a port for listening using a cable when the battery runs out and a micro USB socket for charging them. On top of that, the battery life is around 12 hours. 
A noteworthy feature is the lack of branding, as the only logo present is a small skull discreetly featured on the headband. 
Sound & Performance
The most crucial factor of a headphone is its sound quality, and the Grind delivers surprisingly well in this regard, considering its price range, even when compared to pricier models. Additionally, it boasts a plethora of features and offers a comfortable listening experience. 
Grind Wireless offers a great sound for a fraction of the cost of other wireless headphones. The 40mm audio drivers can produce excellent stereo sound, allowing listeners to pick up all the nuances of a podcast. Plus, the bass is robust, even at the highest volume, with little distortion. The integrated microphone works remarkably well, too, providing sound quality comparable to more expensive sets. 
However, Grind Wireless does not provide much noise cancellation.
Specifications
Technical
Sound Output:  Stereo
Style: Over Ear
Connectivity Technology:  Wireless
Sound
Frequency Response Field 20Hz-20KHz
Sensitivity of 98 dB
Impedance of 32 Ohm
Diaphragm Diameter: 1.6 in
Driver Technology: Dynamic
Driver Size:  1.57 in
Connectivity
Inputs Supported: Bluetooth
Cable: 120 cm/3.9 ft
Wireless Connection: Bluetooth
Bluetooth Version: 4.1
Type Of Connector: 3.5mm
Type Of USB connector: micro-USB
Detachable Cable: Yes
Power
Battery Operated: Yes
Battery Life: 12 hours
Charging Via Usb: Yes
Power Capacity: 100.0mW
Dimensions
Weight:  11.2 ounces
Model Number:  S5GBW-J539
Final Verdict On Skullcandy Grind Bluetooth Wireless
| | |
| --- | --- |
| PROS | CONS |
| Constructed well | Poor sound isolation |
| Reasonable price. | No adjustable volume |
| Superior sound quality | Not collapsible |
| Well-defined bass. | Low battery life expectancy |
| Appealing visual design. | |
| Comfortable to use. | |
Skullcandy's Grind Wireless headphones offer a stylish look, excellent sound quality, and surprisingly good build quality, all at an affordable price. Whether you're looking for a good pair of headphones to take with you on your daily commute or want something that looks great, the Grinds are a great choice. With their fantastic sound quality, durability, and affordable price, the Grinds are an excellent choice for anyone looking for a great pair of headphones.
---
Please share your ideas about this article.