The headphone market is ruled by several major brands. However, a fresh competitor has recently emerged. The renowned microphone maker Rode has just stepped into the market with its first product, the NTH-100. This is the Australian company's first venture into the consumer electronics industry. We are reviewing the closed full-size headphones, the first of their kind from an Australian brand in this field. 
Let's check them out.
About Rode NTH-100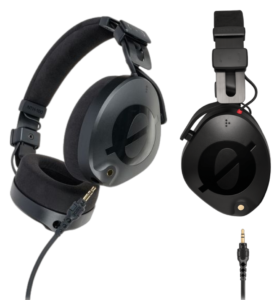 RØDE, the renowned Australian company with a reputation for making quality microphones, recently unveiled the RØDE NTH-100, its first foray into the world of headphones. This move marks a significant milestone in the company's history as it expands its portfolio of audio equipment to now include headphones. With the release of the NTH-100, RØDE demonstrates its commitment to quality and delivering the best audio experiences possible. 
Targeted to both audio professionals and casual listeners, the NTH-100 closed-back headphones offer a modern design and superior materials at a competitive price. Delivering studio-grade performance, these over-ears are perfect for podcasting, mixing, and monitoring audio. 
Key Features Of The Headphones
Rode's first headphone design

For Mixing, Video, Recording, Podcasting

40mm Custom-Matched Dynamic Drivers

Alcantara®️ headband cushion

FitLok™️ headband locking system

Unique ergonomic earcup shape

Left or right cable attachment

Durable all-metal headband

Bi-directional cup adjustment

Memory foam cushions with CoolTech™️ gel

Locking headphone connectors

Rugged and Modular for Field/Studio Use

Detachable, Single-Sided Cable

Dual cable inputs

Colored ID rings

Includes storage bag and 1/4-inch adapter

Build & Comfort
The NTH-100 has a sophisticated and professional look, with a construction that ensures its sturdiness and long-lastingness. The headband and earcup rotations ensure its robustness and dependability in daily use.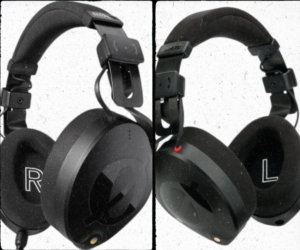 The triangular ear cups of the NTH-100 headphones offer a unique look compared to the traditional round or oval designs. The glossy finish of the iconic O symbol adds a stylish touch without being overly flashy. These headphones are professional and sophisticated. Additionally, the FitLok system on the headband ensures that the headband and earcup settings stay secure even after long sessions. 
The Rode NTH-100 headphones feature breathable Alcantara fabric for the headband and ear cushions. And it has memory foam with CoolTech gel to help keep your ears cool during extended use. While the gel cannot prevent sweating indefinitely, it can help to decrease perspiration. 
The velour-like ear pads are soft and provide comfortable, long-lasting wear. Despite their bulkiness, these headphones are designed to be lightweight, making them practically unnoticeable when worn. 
These headphones have a predominantly black metal and plastic construction. However, there are ID rings with various colors that you can use to decorate your cables. Additionally, you can buy extra cables in five colors – black, pink, green, orange, and blue. 
The NTH-100 headphones have a 2.4m cable with a 3.5mm jack on one side and a 'twist-to-lock' plug on the other. The long cable is designed to make it easier for professionals to use, and the fact that it can be plugged into either earcup adds to the convenience. 
Sound & Performance
The advertising for the Rode NTH-100 strongly emphasizes its aptitude in monitoring, mixing, and mastering, which it performs remarkably well for its cost.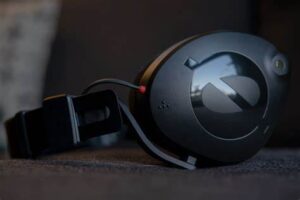 The NTH-100s feature 40mm dynamic drivers that provide a frequency response of 5Hz – 35kHz, an impedance of 32 ohms, and a sensitivity of 110dB/V. These headphones deliver a clear and accurate sound to the source, with no noise at high volumes. This type of soundproofing is unlikely to achieve a -20dB isolation rating. Nevertheless, it is still effective at dampening external ambient noise, which, when combined with a low volume, can make it feel like you are in a completely different environment. 
The thicker foam earcup cushions on the Rode NTH-100 headset improve sound isolation. 
Additionally, their earcups and drivers have been carefully balanced to ensure a focused yet wide soundstage. The NTH-100 delivers detail-heavy and articulate treble sounds with a crispness, attack, and absolute conviction that does not weigh down a recording. The treble hardness remains in the recording at any volume and is not exaggerated or dulled by the headphones.
Specifications
Technical
Type: Wired
Open/Closed: Closed
Fit Style:  Circumaural (Around the Ear)
Magnet Type:  Neodymium
Sound
Frequency Response: 5Hz-35kHz
Impedance: 32 ohms
Sensitivity:  110 dB
Maximum Sound Pressure Level (SPL):  126 dB
Maximum Power Handling:  1700 mW
Noise Attenuation:  Up to 20 dB (Passive)
Driver Type: Dynamic
Driver Size: 40mm
Diaphragm:  Mylar
Connectivity
Audio Connector to Source:  1/8″ / 3.5 mm TRS Male Straight
Adapter (Included):  1/4″ TRS
Cable Design:  Single-Sided, Straight, Detachable
Audio Connector to Earpiece:  1 x 1/8″ / 3.5 mm Male
Cable Length:     7.87 ft.
Detachable Cable: Yes
Design
Earpiece Connection / Wearing Style:  Headband
Foldable:  No
Color:  Black
Material:  Alcantara Covered Memory Foam Earpads and Headband
Dimension
Case/Bag:  Storage Pouch
Weight:  12.3 oz / 350 g
Manufacturer Part Number:  NTH100
Final Verdict On Rode Nth-100
| | |
| --- | --- |
| PROS | CONS |
| Outstanding comfort and temperature control | Uneven bass performance. |
| Spacious and defined audio | Distortion may be audible at higher volumes. |
| Crisp and balanced sound | Not suitable for those who prefer wireless connections. |
| Excellent sound reduction without power | Earpads may become uncomfortable after prolonged use. |
| Exceptionally durable construction | |
| Interchangeable cables | |
| Appealing design | |
The Rode NTH-100 wired headphones are an ideal choice for professionals and audiophiles. They have a sleek and comfortable design, exceptional sound clarity, and spacious audio, making them excellent value for money. With their robust design, excellent audio quality, and versatility, these headphones will indeed become a studio staple in the years to come.
---
We'd be grateful for your thoughts on this article.