Imagine a podcast where regular people chat about movies. Not the big-shot critics, just everyday folks like us, sharing what they think about what they've seen. Now, you might be thinking, "Is that even cool?" You get different takes, and it's fun. Who knows, you might discover something new or perceive an old movie in a new way. Join me as I delve into the world of movies and uncover Eavesdropping at the Movies Podcast.
Eavesdropping At The Movies Overview
Eavesdropping at the Movies is a podcast hosted by Jose Arroyo and Michael Glass. They talk about movies and share their thoughts and conversations about them. The conversations are unrehearsed, meandering, and enthusiastic. They have extensive knowledge and experience of watching different types of movies in various ways.
The podcast is not a traditional review. Instead, it is a genuine and engaging conversation about movies. They offer their well-informed perspectives and discuss movies they have seen recently. In one episode, they give their opinion on The Equalizer 3. They also talk about the Barbie movie, Empire Of Light And Babylon, and the stage musical adaptation of Matilda.
Jose and Michael are not overly critical, but they do offer honest opinions.
Eavesdropping at the Movies is a podcast for movie lovers who want to hear honest and engaging conversations about movies.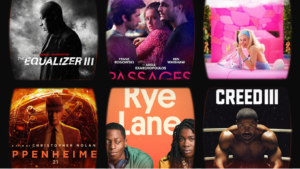 About the Hosts
Jose Arroyo and Michael Glass are both movie enthusiasts who enjoy watching movies in their own unique ways. Jose has a romantic idea of movies being a combination of place, people, and experiences, and he believes that individual and separate beings try to connect and share their experiences in a communal setting. He is intrigued by how the differing responses between himself and the rest of the audience can shape the overall movie-watching experience.
Jose wants to satiate his curiosity by eavesdropping on what others think and comparing their experiences to his own. He finds snippets of conversations overheard after leaving the cinema thought-provoking and wishes to provide a longer snippet of such experiences through a podcast.
Michael Glass, on the other hand, humorously claims that he just likes the sound of his own voice. However, it is evident that he shares Jose's passion for movies and their discussions revolve around their post-movie conversations.

Reasons To Tune In To The Podcast
If you're a movie buff and you're looking for a podcast that offers a laid-back and easy-going discussion about movies, then Eavesdropping at the Movies is the perfect podcast for you. 
This podcast is like having a casual chat with your friends after a night out at the cinema.  It's got this laid-back, easy-going vibe that's so different from other movie review podcasts out there. It's not about getting super technical or overly critical about the movie. Instead, it's about sharing the love and passion for cinema, which is really refreshing.
Another thing that I find super cool about this podcast is the hosts. These guys are not just casual movie-goers. They're hardcore movie buffs, so they definitely know their stuff. And the great thing is, they're not afraid to call a spade a spade. If a plot's bad, they'll tell you straight up. If an actor's performance is disappointing, they won't sugarcoat it. They'll even draw comparisons to the actor's past performances. This honest, no-nonsense approach is something I really appreciate.
The hosts' enthusiasm for cinema and their diverse viewing experiences make every episode a joy to listen to. They manage to strike the perfect balance between casual chat and insightful commentary, providing lively discussions without getting too bogged down in the details. 
Overall, Eavesdropping at the Movies is a fun and entertaining podcast that's perfect for anyone who loves movies. So, if you're looking for a podcast that's not too serious and just wants to have a good time talking about cinema, then this is the podcast for you.
Things That Don't Appeal To Me
Alright, let's chat about the bits of the Eavesdropping at the Movies podcast that kind of grinds my gears. First up is the length of the episodes. Sometimes, you just want a quick natter about the movie, not a marathon session. Not everyone's got time for that.
Then there's the spoilers. Oh boy, the spoilers. The hosts tend to dive into the good, the bad, and the ugly of the movies they're discussing. It's great if you've already seen the film, but if you haven't, you might end up knowing more about the plot twists than you'd like. So, if you haven't seen the movie they're talking about, you might just want to give those episodes a miss.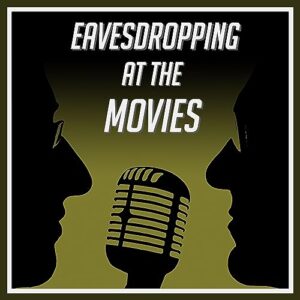 Recent Episodes
*
In this episode, the hosts compare "The Equalizer" to "Rambo: Last Blood," noting how both films adapt their actions to accommodate the aging stars. They question the morality depicted in the movie, the missed opportunities to showcase the beautiful setting, and some aspects of the writing. Additionally, they delve into the portrayal of McCall as a superhero with neurodivergent qualities.
José likes Ira Sachs' Passages, a romantic drama set in Paris that explores modern relationships. The story revolves around a married couple facing turmoil when one of them starts an affair with a friend. However, Mike believes that their issues are trivial and thinks that if the unfaithful partner matures, their problems will vanish.
In this episode, they have Mike's brother Stephen joining them once again to talk about the film. They'll be discussing the use of IMAX for close-ups and portraiture, how the story is structured and the impact of editing and music on the pace, the film's underlying attitude towards Communism, their thoughts on Florence Pugh's portrayal, the way black-and-white footage is used to shift perspectives, the handling of the Hiroshima and Nagasaki attacks, the use of imagery to convey energy, and more. José thinks it's Nolan's best film, and it's definitely worth seeing on an IMAX screen.
*at the time of writing
Final Verdict
If you're a movie buff and love to listen in on some juicy conversations, the Eavesdropping at the Movies podcast is the place to be!  It's far from the run-of-the-mill movie podcast. It's a fun, casual, and engaging way to indulge your love for cinema. No pretense, no jargon, just pure movie talk and a whole lot of fun. It's like hanging out with your movie-loving buds, except they're way more knowledgeable than your average Joe. Just be prepared for some spoilers, but hey, that's all part of the fun.
So grab some popcorn, hit that listen button below, and get ready to eavesdrop on some seriously awesome movie talk!