Are you tired of the same old Hollywood formula? Do you crave honest and insightful commentary on the latest films and trends in the movie industry? Then you're in luck, because we've got just the thing for you. Introducing The Filmlosophers, a podcast that offers candid observations about current events in the movie industry. From box office hits to old classic films, these hosts have got you covered.
Keep reading our article to see if The Filmlosophers is the podcast you've been searching for.
Core Of The Filmlosophers
The Filmlosophers is a podcast hosted by Eddie Villanueva and Spencer Williams. Every week, they share their thoughts and opinions on current events in the movie industry, as well as movie reviews and other topics that would interest movie buffs. 
One of their episodes is about Star Trek 10: Nemesis, where they give their candid observations on the movie. They also talk about Barbie in another episode, which could be interesting for people who grew up playing with the doll. Comic book  fans can enjoy their discussions on The Flash and Spiderman, and there's also an episode on John Wick. 
Overall, The Filmlosophers is a great podcast for anyone who loves movies. They release new episodes every week, so it's a good source of entertainment for those who want to keep up with the latest news and reviews in the movie industry.
Who Are The Hosts
Eddie Villanueva and Spencer Williams are long-time best friends who share a love for movies. 
Spencer is a techie who is a big fan of movie soundtracks and B-movies. He enjoys sharing his opinions with other movie lovers. Eddie, on the other hand, has been a cinephile since he was a child and loves the full spectrum and nuance of storytelling in movies. He has been a professional critic since 2012, writing for outlets like Nerd Reactor and appearing on the New Rockstars YouTube channel. 
They both have a passion for discussing movies and truly make a great team when it comes to critiquing movies.

Why You Should Not Miss This Podcast
I absolutely love The Filmlosophers podcast! Firstly, the introduction is so dynamic and exciting – it really makes me want to listen to the episode. You know that feeling you get when you're watching AXN and the narrator gives you a sneak peek of what's coming up? That's the vibe I get from their intro. 
As a movie buff, I find their discussions about new and classic movies incredibly interesting. They delve deep into how films get made, from the writers to the directors and actors. The hosts are all knowledgeable and engaging I love that they provide a history of the movie series, including the background of the very first film. This is a nice move for those who only watched the more recent franchise film. 
And listen to this, they really try to understand the perspectives of the production team. Like, when it comes to a certain plot decision in a Transformers movie, they don't just bash it or dismiss it. They take the time to consider why the production team made that choice and how it might have resonated with different audiences. It's refreshing to see them approach things from different angles and not just get stuck in their own opinions. 
Eddie, Spencer, and Amy have a great rapport and their conversations make me want to jump in and give my own two cents. They're genuine fans of movies, and they're not afraid to express their honest thoughts about a movie. If they're not excited about a movie because of a certain actor or storyline, they'll tell you. And they're not afraid to have a little fun with each other either. I love it when they're shocked by something one of the other hosts says – you can practically hear the disbelief in their voices. 
If you're a movie buff like me, you'll definitely want to check out The Filmlosophers podcast. They cover everything from new releases to classic films, and their discussions are always insightful and engaging. Just make sure you've seen the movie before you listen because they'll definitely be discussing scenes and characters in detail. 
What I Least Like
I love how they talk about things that actually matter and their conversations always feel so real. But there's just this one thing that kinda gets on my nerves – the laughter. I mean, don't get me wrong, I'm all for having a good time and cracking jokes, but sometimes it feels like they're laughing just for the sake of laughing.  It's not a huge deal, but it can be a little distracting at times.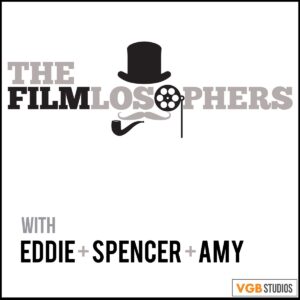 Recent Episodes
*
The Filmlosophers and Ensign Amy travel to a parallel universe in J.J. Abrams' Star Trek (2009). The Romulans talk about how this reboot fulfills unexpected fan desires. But does the toned-down Shatner-like portrayal of Kirk truly satisfy fans? Or has this movie introduced a new era of Star Trek that fans can all support?
The Filmlosophers and Ensign Amy return to the Multiverse where no one has gone before to celebrate Star Trek Month with a review of Star Trek: Nemesis. This film is known for dividing fans and some even believe it caused the franchise to decline. But is this really the case, or are fans just overreacting? Our crew of Red Shirts give their opinion on this much-debated movie.
The Filmlosophers and Intern Amy are finally watching the new Haunted Mansion movie. Intern Amy is super excited to review it because she loves Disney Lore. But will the old Eddie Murphy movie affect their opinions? Or will the new characters and story give fans a fresh perspective on the attraction?
*at the time of writing
Overall Thoughts
In short, The Filmlosophers podcast is a must-listen for any movie enthusiast who wants to delve deeper into the world of filmmaking. The hosts are funny, knowledgeable, and passionate about their craft, which makes for an entertaining and informative show. If you haven't checked it out yet, what are you waiting for? Click that listen button below and join the discussion!