The moment of childbirth is profound, awe-inspiring, and a tad bit terrifying. For all you brave, new mothers out there navigating this uncharted territory, we've got just the thing for you. Welcome to the Fourth Trimester podcast, a show dedicated to delving into the reality of life from your first few months to the first few years post-birth. So, grab a cup of tea, sit back and keep scrolling to learn more about this fantastic podcast and why it could be your new best friend in motherhood.
Fourth Trimester Podcast's Focus
The Fourth Trimester Podcast is essentially a guidebook for life post-birth. Hosted by Sarah Trott and Esther Gallagher, this podcast deals with the rollercoaster ride that is the first few months to years after welcoming a baby. Its main purpose is to make the journey of the 'Fourth Trimester', a term that captures the postnatal period, a smoother ride for all parents and those involved in parenting. 
The podcast delves into the nitty-gritty of fourth trimester care. It talks about the practical help that new parents and babies need. The emotional and social support aspects are also covered in detail. 
The Fourth Trimester Podcast is a treasure trove of information for expectant parents, new parents, grandparents, friends of parents, and anyone who is looking to lend a hand to a loved one with a new baby. 
With a lineup of expert interviews, the podcast offers a broad range of topics from prenatal care, postnatal yoga, breastfeeding, postpartum recovery, and nutrition, to newborn care, midwifery, and even handling family visitation. But it's not just about the experts, the podcast is also filled with personal stories from both new and experienced parents, giving listeners real-life examples of parenting challenges and triumphs. 
Available on multiple platforms including iTunes, Google Podcasts, Spotify, Amazon Music and various radio sites and podcast apps, The Fourth Trimester Podcast is easily accessible for anyone who wants to learn more about the postnatal journey. 
Who Are The Hosts
Sarah Trott and Esther Gallagher know firsthand the joy and challenges that come with parenthood. Their shared experiences and passion for helping new parents navigate the journey of parenthood led them to create the Fourth Trimester Podcast.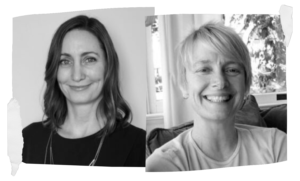 Sarah, a new mama to a lively baby girl, founded the podcast after finding that many of her own questions about becoming a parent were the same ones that her doula, Esther, had been asking for decades. She realized there was a need for a platform that addressed these questions and offered support for the postpartum period, known as the fourth trimester. 
When she's not hosting the podcast, Sarah works in tech in the San Francisco Bay Area. She loves her job, but her passion for helping new parents remains her true calling.
Esther, on the other hand, is a seasoned pro when it comes to parenting. She's a mother and mother-in-law to three grown-ups and a grandmother to one wonderful child. She's been working as a professional doula for 25 years and has been involved with birth and postpartum work since she was just 18 years old. 
Esther's background in Midwifery, Anthropology, and Philosophy has given her a unique and comprehensive perspective on childbirth and parenting. She is also a member of the SFDoulaGroup, offering consultation services in addition to her doula work. She is driven by her mission to educate Americans about the importance of support for new families. 

What Makes The Show A Must-Listen Podcast
The Fourth Trimester podcast is like a cozy, comfortable spot on the internet where moms, dads, and soon-to-be parents can find solace, camaraderie, and a lot of useful advice. First the co-hosts, they don't claim to be experts, they are just real moms sharing real experiences. And trust me, there's a lot of comfort in knowing that you're not alone in your parenting journey. 
What makes this podcast stand out is the seamless blend of personal experiences and expert advice. You not only get to hear about Sarah and Esther's parenting stories, but also insights from experts who are brought in to shed light on different topics. This brings in diverse perspectives, making the discussions engaging and enlightening. It gives a real-life picture of what life with a newborn looks like, which is beneficial whether you're a new parent yourself or if you're supporting someone close to you. 
But the podcast isn't just for the moms – it's for dads too. After all, fatherhood is just as significant a journey as motherhood. The podcast recognizes this and brings in fathers' perspectives, which is a breath of fresh air. Let's be honest, many fathers are stepping up to take on roles and responsibilities that were traditionally seen as "motherly". So, having their voices and experiences included only adds to the richness of the discussions. 
Another great thing about this podcast is that it doesn't just cater to current parents. Even if you're not yet a mother or father, but planning to be one soon, this podcast is a goldmine. It equips you with knowledge and insights about the realities that you'll soon face, helping you prepare for your impending parenthood. 
In a nutshell, the Fourth Trimester podcast is like a virtual parenting support group that you can tune into whenever you want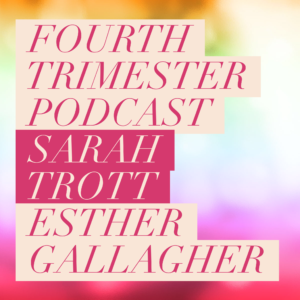 Recent Episodes
*
Discover how herbal medicine can support fertility, pregnancy, and postpartum with insights from Clinical Herbalist Laura Ash. Learn about the top herbs to help you achieve your specific goals.
Partum Health's CEO, Meghan Doyle, assists families in obtaining services for their overall wellbeing, including mental, emotional, and physical health. Discover how to plan for pre and postnatal care effectively, which may involve the assistance of doulas, lactation experts, and physical therapists. Additionally, learn about the trend of parents opting for preventative measures for mental health and other proactive measures.
Lisa Chin, an empowerment coach, explains how parents can boost their confidence and authenticity by exploring their inner selves and dealing with past traumas. This can create a better atmosphere for both parents and kids, promoting genuine feelings, a peaceful environment, and personal development.
*at the time of writing
Final Verdict
The Fourth Trimester podcast has everything you need to feel supported and understood as a mom, dad, or soon-to-be parent. From true-to-life stories to helpful advice, this podcast is a must-listen. You'll walk away feeling seen and heard, armed with practical tips for your parenting journey. So, click that listen button below, and join the conversation – you might just discover your new favorite podcast!