Hey there, DIY lovers and home improvement enthusiasts! Ever felt lost in the maze of construction and renovation? Well, imagine having access to a Guru that will help you with your home construction, maintenance, and renovation needs. That's what the Your Project Shepherd Construction Podcast is all about.
Enough with googling for home development advice, so why not try this worthy podcast that will surely give you practical tips and real talk? Come, join me to dig into the podcast.
What The Your Project Shepherd Construction Podcast Is All About
The podcast started with a group of folks who've been in the construction game for longer than some of us have been choosing paint colors for our walls. They've seen the highs and lows, the triumphs, and the oh-so-common headaches that come with building and fixing homes. They saw homeowners diving into DIY projects with all the enthusiasm in the world, only to hit brick walls of confusion and frustration. 
In January 2023, the Your Project Shepherd Construction Podcast was born.
The podcast is a guide for building a custom home. Hosted by Curtis Lawson, an expert in construction and home building, this podcast covers everything you need to know about the custom home building process. They talk about different topics like flooring, building performance failures, and design trends.
The podcast aims to provide you with the knowledge and tools you need to make informed decisions and confidently navigate your custom home build. They want to help you have a stress-free experience so you can achieve success with your project. 
New episodes and content are released bi-weekly on Tuesdays and Fridays. The podcast features conversations with seasoned industry experts who share their knowledge and experiences in the field. 
The Your Project Shepherd Construction  Podcast is open to everyone who wants to learn about custom home building. There's no gatekeeping, and they're all about building success together. So, if you're planning to build a custom home, this podcast is for you!
Who Is Curtis Lawson
Curtis Lawson is no stranger to the world of residential construction. He's been in the game since 2004, which feels like a lifetime in this business. Curtis has a couple of impressive titles under his belt, like Graduate Master Builder and Certified Aging-in-Place Professional. These badges aren't just for show; they mean he knows his stuff when it comes to building homes that are both well-crafted and practical.
Curtis also rolls up his sleeves and gets involved in the Greater Houston Builders Association and the Education subcommittee. 
He is passionate about helping people with their construction projects and contractors, and wants to share his knowledge through his new podcast.

Reasons To Tune In To The Podcast
If you're anything like me, construction can be a bit overwhelming. But fear not, because the Project Shepherd Construction Podcast is here to save the day! This podcast is like having your own personal construction guru right in your earbuds, guiding you through all the complicated stuff and making it super easy to understand. No need to stress about fancy terms when all we want to do is DIY our home projects, am I right?
But what really sets this podcast apart is the expert guests they bring on board, each with their own unique skills and knowledge. These guys know their stuff when it comes to design trends, building technology, and home maintenance.
And the best part? They don't just talk about their successes. They're not afraid to share their struggles and shortcuts, so we can learn from their experiences. It's a reminder that it's okay to fail sometimes because we're all human. But hey, at least we can avoid making the same mistakes and be better prepared if it does happen to us. They genuinely want to help us succeed in our DIY endeavors. 
And let's not forget about the music! The podcast's soundtrack is like the perfect background score for a house design montage. It sets the mood and gets you excited to tackle your own projects. It sounds like I'm about to become a pro DIY-er just by tuning in.
And if that wasn't enough, they also provide show notes with links to further resources, making it easy to continue learning even after the episode is over. So, whether you're a seasoned construction pro, someone who wants to build, renovate, or just understand the world of construction a little better, this podcast is a must-listen. Trust me, you won't regret it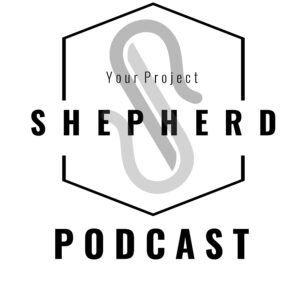 Recent Episodes*
They're talking about how landscaping is important for homeowners and how it affects your home's performance. Kyle Cahill from Grow & Company is joining Curtis Lawson and Toner Kersting to give his perspective on landscaping.
This week, they talk about flooring for their building performance failures series. Sometimes there are problems in your home that show up on your floors. Curtis Lawson and Toner Kersting are explaining how to pick the best flooring for your project.
It's hot outside, so they're talking about HVAC with an expert, Lee Kurtas. He knows a lot about HVAC, spray foam insulation, building science, and legal consulting. Curtis Lawson and Toner Kersting are also on the show. 
*at the time of writing
Final Verdict
If you're looking for a construction podcast that's informative yet easy to follow, Your Project Shepherd Construction Podcast is the one for you. With practical advice and tips that anyone can understand, this podcast is perfect for those who are just starting out with DIY or those who want to learn more about construction. So if you want to make informed decisions and navigate your project with confidence, click the listen button below and tune in to Your Project Shepherd  Construction Podcast.
Trust me, your construction buddy is just a click away!