If you're an entrepreneur, you know how important it is to constantly learn and improve your business strategies. And what better way to do that than by listening to experts in the field? That's where business podcasts come in handy. They offer valuable insights from people who have been there and done that. One such podcast is Transforming Work with Sophie Wade, which tackles current business conditions and provides tips on how to navigate disruptions. Want to know more about this podcast? Keep reading below!
All About Transforming Work with Sophie Wade
The Transforming Work with Sophie Wade podcast is about how businesses can adapt to the current disruption and find sustainable solutions. Sophie Wade shares insights and interviews experts who are providing or benefiting from transformative solutions. 
The goal is to transition to more effective, productive, and supportive ways of working across locations, generations, and platforms.
 The episodes cover a range of topics, including generative AI at work, communication in modern work culture, remote work effectiveness, and generational shifts in the workplace. Each episode lasts around an hour and a new one comes out every Friday. 
The podcast explores how challenging circumstances can drive changes in our working lives by discussing multidimensional topics related to work transformation. It's all about making favourable evolution in our work lives by embracing the challenges we face. 
If you're interested in learning how to navigate business disruption and transition to better working practices, the Transforming Work With Sophie Wade podcast is for you. 
Who Is Sophie Wade?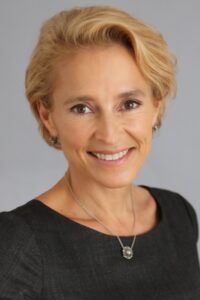 Sophie Wade is a work futurist and founder of Flexcel Network. 
She wrote two books, one of which is required reading for management classes. Her new book is called "Empathy Works" and it's about how being empathetic can help companies be successful. 
Sophie also teaches courses on LinkedIn about the future of work and empathy that have been taken by over 550,000 people around the world. She used to have important jobs in media, technology, and finance at companies like IMG and Yahoo. 
Sophie studied at Oxford University and international business school INSEAD. Additionally, she served as NYC chapter President for the National Association of Women Business Owners from 2015-17. Now she serves on the advisory board for Common Sense Media in New York.

What I Like Most About The Podcast?
I gotta say, I'm enjoying the Transforming Work with Sophie Wade podcast. It's seriously cool how they kick things off by introducing both the host and the guest. It's like a double welcome party for your ears, and I haven't heard anything like it before. It's unique, and I dig it. 
The podcast is all about how we can work together more effectively, which is super important if you ask me. And Sophie does an amazing job of interviewing leading innovators and making them feel comfortable enough to share their insights. 
Sophie's voice is so captivating that I feel like I'm listening to Tilda Swinton every time she speaks. She's articulate, clear, and knows how to ask great questions. Her rapport with her guests is remarkable too! 
But here's the kicker – this podcast is as timely as ever. We're living in a time when businesses are growing like crazy, and if you want to stay ahead of the game, you have to be on top of all the industry updates and changes. And guess what? Sophie dives into all that stuff in every single episode. She's on the ball, my friend. 
And let me not forget to mention how awesome Sophie's rapport with her guests is. It's like they're old friends catching up over a cup of coffee. You can tell that she genuinely cares about her guests and wants to create a comfortable space for them to share their knowledge and experiences. It's remarkable, really. Plus, she always gives listeners information on where they can follow the guest for more informative tips. 
So, if you're looking for a podcast that's not only informative but also engaging, look no further than Transforming Work with Sophie Wade. You'll get the inside scoop from leading innovators, and stay ahead of the business curve. 
What I Least Like?
Honestly, I have to say that this podcast is top-notch. They really know their stuff and the host is just killing it with all the useful tips and insights about business. I mean, there's not much to criticize here. The show is super relevant, informative, and practical – everything you want in a good podcast.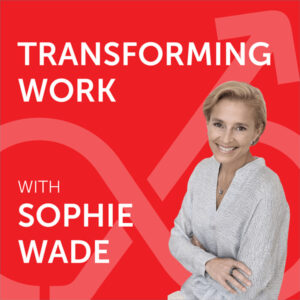 Recent Episodes*
In this episode, they chat with Dan Mapes, the head honcho of Verses.AI—a spatial web company that focuses on advanced artificial general intelligence. He's also the founder of Spatial Web Foundation enabling 3D Internet. They talk about what their globally networked AI can do now and what it'll be able to do soon—especially when it comes to AI-run operations. Dan gives us his vision of an AI-empowered planet in 2100 and how we're all undergoing a caterpillar-like metamorphosis as our augmented working capacities grow. 
In this episode, they talk with Chase Warrington from Doist. He's an expert in remote team management and has over 15 years of experience leading distributed teams. They discuss how to build a strong company culture and connection, even when working remotely. Chase shares his tips on selecting the right people for your team, effective onboarding strategies, and teaching employees how to work well asynchronously. He also talks about the importance of internal and external research and shares some insights he's gained from hosting his podcast "About Abroad." 
In this episode, they talk to Lata Hamilton. She's an expert in leading successful change and helps people develop compliance and process skills. Lata shares insights on how to be flexible when dealing with changes in both personal and professional lives. She also discusses the importance of offline processes when implementing changes, drawing from experiences during the pandemic. They cover examples of effective change leaders and how a combined top-down/bottom-up approach can lead to success. Finally, Lata describes how focusing on skills rather than roles is becoming more important for delivering results. Check out her course, Leading Successful Change! 
Gary A. Bolles, the Chair for the Future of Work at Singularity University, is back to talk about how work is changing and what we need to do about it. He shares insights on important trends, mindsets, and behaviors that will help us navigate these changes. Gary also talks about how different generations are being affected by new work rules and models. 
Dave Cairns from CBRE talks about the office market and how it's changing, especially for tech companies. He thinks there will be lease restructuring ahead and that "Space As A Service" could become a thing. Dave is excited about new community demographics forming as people move out of cities, which offers more opportunities. And he's convinced virtual worlds present richer experiences in the Future of Work – even though The Metaverse isn't here yet. 
*at the time of writing
Overall Thoughts
Need I say more? The Transforming Work With Sophie Wade podcast is awesome! The guests are super relatable and the discussions are both entertaining and educational. You'll come out understanding what's going on in the world of work and how you can prepare yourself for the future. 
So if you wanna be ahead of the game, click that listen button below to start listening now!
Remember: All our working lives are constantly evolving, but with podcasts like this one, we can stay informed and prepared for whatever comes next. Happy listening!