Have you ever had one of those moments where you felt like you were stuck in a rut or unsure of where to go next in life? I know I have. But, the beauty of life is that it's a journey of self-discovery and growth. And, that's what the podcast, EZ Conversations, is all about. They talk about everything from mental health, societal issues, and the incredible human ability to overcome adversity. So, if you're someone who's looking for some guidance, inspiration, or just a good old-fashioned chat, then this podcast is for you.
Keep reading to find out why you should listen in and join our community of like-minded individuals.
The Core Of EZ Conversations
EZ Conversations is a podcast that focuses on mental health, societal issues, and overcoming adversity. It is hosted by Furkhan Dandia, a therapist and mental health advocate who wants to help people feel uplifted, inspired, and connected with others. 
The podcast is designed to create a sense of community and shared understanding among listeners. 
Each episode of EZ Conversations covers a different topic, so you can learn something new every time you tune in. For example, one episode talks about emotional regulation, which is all about managing your feelings in a healthy way. Another episode explores the path of Sufism, which is a spiritual tradition that emphasizes inner peace and connection to God. There's also an episode about overcoming trauma, which can be a difficult but important journey for many people. And for anyone who is struggling with addiction, there's an episode about the pursuit of sobriety and how to stay on track. 
New episodes of EZ Conversations are released every Thursday, and listeners can expect to hear engaging and informative discussions on a wide range of topics related to mental health and personal growth. The podcast is a great resource for anyone looking to explore these topics and gain insights on how to overcome challenges and improve their overall well-being. 
Who Is Furkhan Dandia
Furkhan Dandia is a real jack-of-all-trades. He used to be an Engineer, but he got bored of that and decided to pursue a Master's in Psychology. Now he's a therapist, author, speaker, and coach. He's all about helping people find their purpose and live their best lives. 
The guy has been through some tough times himself. He went through a divorce and realized how much shame men feel when they fail. That's why he's so passionate about helping other guys out. Furkhan also runs men's groups where he helps guys be more vulnerable and open up. And he's written a book too, called Pursuit Of Self-Love. It's got 30 uplifting messages and reflections to help you feel good about yourself. 
If you're ever feeling lost or stuck, he's definitely someone you should check out.

Reason To Tune In To The Podcast
I absolutely love the EZ Conversations podcast for a bunch of reasons. First off, the opening music and intro sets the mood perfectly. It's such a captivating ambiance that makes me feel engaged and ready to listen to the discussions that follow. From the very first second of each episode, I'm hooked! 
As someone who studied psychology, mental health is a topic that's near and dear to my heart. That's why I'm so grateful for this podcast. It provides a critical platform to have conversations about mental health, which is so important in today's society. I think we need more podcasts like this one to help spread awareness and reduce stigma. 
One of the things I appreciate about EZ Conversations is the quality of the guests. They're always experts in their fields and provide valuable insights into the topics being discussed. Their perspectives are eye-opening and thought-provoking, leaving you with a deeper understanding of the subject matter.
I've been searching for a podcast that inspires me, makes me think deeper, and provides practical advice. EZ Conversations does all of that and more! Not only that, they break down each episode and explain things in such a relatable way. They tackle topics that most of us deal with on a daily basis, and they do it with such clarity and understanding. And that's what makes it so easy to connect with the content.
Finally, I have to mention the host's voice. It's perfect for podcasting! The depth and clarity truly keep me engaged from start to finish. It's such a pleasure to listen to someone who clearly knows their stuff and is passionate about the topics they're discussing. 
Overall, if you're looking for a podcast that covers a wide range of topics while also being informative and relatable, EZ Conversations is definitely worth checking out.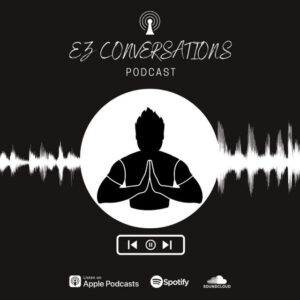 Recent Episodes
*
In this heartfelt episode of EZ Conversations, Furkhan chats with Dr. Sapna Shah-Haque, a doctor who has suffered from burnout and lost a friend to suicide due to similar struggles. They delve into the problems that cause burnout in the medical field, the stigma attached to mental health, and the need for change. She talks about the significance of taking care of oneself, being strong, and seeking help from colleagues and others. 
In this episode of EZ Conversations, Furkhan talks with A. Helwa, a spiritual teacher and author of Secrets of Divine Love. They discuss Divine Love, spiritual growth, interfaith communication, challenges and misunderstandings, and the strength of spiritual connections. 
This EZ Conversations episode is about helping kids handle their emotions better, with neuroscientist Dr. Cindy Hovington. Dr. Hovington explains why emotional regulation is important for kids and how it affects their growth. She talks about the challenges kids face in managing their emotions and gives tips for adults to help them. Dr. Hovington also explains attunement, which involves listening to kids, understanding their body language, and responding in supportive ways. 
On this episode of EZ Conversations, Furkhan talks with Victoria Pelletier about parenting during a child's gender transition. They discuss her feelings when she first heard about her child's desire to transition, how she grew as a person, and the strong relationship she has with her child as they face this journey together. 
*at the time of writing
Final Thoughts
Overall, the EZ Conversations podcast is a must-listen for anyone looking to better themselves and gain fruitful realizations. The relatable topics and helpful advice make it easy to connect with, whether you're going through a rough time or wanting discover more about yourself. So, if you're ready to embark on a journey of personal growth, click that listen button below and join the conversation!