Welcome to the Huberman Lab Podcast Review! Have you ever wanted to learn more about the exciting world of self-help and personal development? If so, you've come to the right place! Dr. Andrew Huberman, the host of the Huberman Lab Podcast, has created a genuinely unique podcast. Join him as he shares his advice and knowledge on a wide array of topics, from mental health to goal setting and beyond.
Read on to find out why the Huberman Lab Podcast is the best self-help podcast on the market today. Get ready to unlock your inner potential and unleash your best self!
An Introduction To Huberman Lab Podcast
The Huberman Lab Podcast is a fascinating exploration of the world of neuroscience. It is the brainchild of Dr. Andrew Huberman, a neuroscientist from Stanford University. The podcast focuses on existing and emerging tools for measuring and changing how our nervous system works.
Dr. Andrew Huberman is a professor of Neurobiology at Stanford University and the founder of Huberman Lab. He is a renowned neuroscientist and researcher who has made significant contributions to the fields of vision and visual perception, plasticity, and brain development. He has also authored numerous articles and books on the topics mentioned earlier.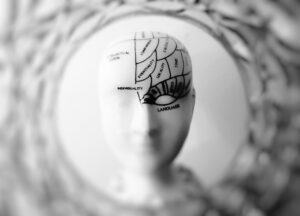 Dr. Huberman has spent over two decades researching the science of vision and the neuroscience of fear. He brings his expertise to this podcast to discuss neuroscience-related topics such as artificial intelligence, learning, memory, and brain health.
Huberman Lab was launched in 2021. It airs monthly on the first Friday of each month. Each episode is more than an hour-long interview with interesting people from the medical and scientific communities, as well as conversations with experts on general neuroscience, sleep, stress, and mental health.
It is ranked #6 on Spotify Podcast, and #10 on Apple Podcasts last December 2022.
Listeners can find the Huberman Lab Podcast on all major podcast platforms, including Apple Podcasts, Google Podcasts, and Spotify. It is also available on the Huberman Lab website, where listeners can find show notes and transcripts. So, if you're intrigued by neuroscience and want to learn more, the Huberman Lab Podcast is the perfect place to start.
Why You Should Listen To The Podcast?
The Huberman Lab Podcast is a unique offering in the podcast space, combining educational content with entertainment. It offers listeners a chance to learn more and gain a better understanding of the world of science.
What makes the Huberman Lab Podcast stand out is its engaging and thought-provoking content. Dr. Huberman poses thoughtful questions to his guests, leading to interesting conversations exploring the latest science topics. He also provides commentary on the science behind the topics, which helps listeners better picture the material.
The podcast also features interviews with experts from diverse scientific backgrounds, providing listeners with an in-depth look into the latest developments in science. Listeners can gain valuable insights from industry leaders and better knowledge of how the latest research is being applied in the real world. It also opens the door to connecting with potential mentors, collaborators, and industry leaders.
Huberman Lab can be an excellent resource for anyone looking to expand their learning and wisdom on psychology, neuroscience, and technology.
Some Key Takeaways From The Huberman Lab Podcast
The brain is constantly changing and adapting to its environment. People can use this knowledge to create positive changes in their lives.
Neuroscience research has revealed that our brains make decisions based on both conscious and unconscious factors. Understanding this can help people make better decisions.
Habits are powerful and can be used to create lasting change. People can use techniques such as habit stacking and tracking to create new and break old habits.
Emotions play an essential role in decision-making. People can use emotional regulation techniques such as mindfulness and self-compassion to manage their emotions and make better decisions.
Stress is a normal part of life and can be managed with techniques such as deep breathing, meditation, and exercise.
Self-awareness is key to understanding and managing one's emotions and behavior. People can use techniques such as journaling and meditation to increase their self-awareness.
People can use goal-setting and visualization techniques to create a roadmap for success.
Neuroscience research has revealed the importance of social connections in our lives. People can use gratitude and kindness to connect with others in meaningful ways.

Things That Might Help Improve the Pod
While the podcast is certainly informative, there are some aspects that could use improvement.
First, the show needs a consistent structure. Many of the episodes are over an hour long, but they do not have distinct sections or topics that are addressed. This makes it difficult for listeners to find the information they are looking for quickly.
Second, the Huberman Lab podcast does not always provide a comprehensive overview of the topics discussed. Huberman often fails to provide background information on the matters and instead jumps right into the discussion. As a result, listeners unfamiliar with the topics may have difficulty understanding the conversation.
Finally, the podcast could benefit from a more engaging presentation style. Huberman's delivery often feels dry and monotonous. Although the podcast is educational, it would be beneficial to incorporate humor and interactive elements to keep listeners engaged.
Final Verdict On The Huberman Lab Podcast
The Huberman Lab Podcast is a fantastic medium for anyone interested in neuroscience. With Dr. Andrew Huberman's expertise and engaging conversations, this podcast provides a practical sense of the world of neuroscience. Despite some negative reviews, it remains one of the best podcasts available today to help individuals learn more about this fascinating field of study. It offers useful knowledge that can be applied to personal and professional life while providing an entertaining listening experience.
So if you're looking for an enjoyable way to explore neuroscience, then give the Huberman Lab Podcast a try – you won't regret it!