If you are looking for a lightweight and highly adjustable mic stand that can extend to a range of heights, then the K&M 210/9 mic stand is for you. This mic stand is made of steel and has a telescopic boom arm for excellent flexibility. It also has a super clamp for a secure hold on any surface. The K&M Telescopic Boom 21090 mic stand is a great choice for any studio or performance space. Read on to find out more in our comprehensive review of this highly adjustable and reliable mic stand.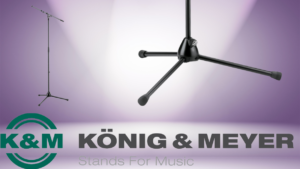 About K&M 210/9 Microphone Stand
König & Meyer, an industry leader in music equipment, has been providing high-quality, cutting-edge products to customers for over 65 years. Their innovative design, functionality, and durability have earned them international recognition and multiple patents and trademark rights.
The company's two production facilities in Germany manufacture over 1,500 stands and brackets for 80 countries worldwide. The renowned durability of their products also supports their commitment to environmental sustainability.
Hence, the 210/9 stand, albeit quite simple, is worth the extra money due to its superior quality and performance.
The K&M 210/9 Telescopic Boom mic stand is renowned among artists worldwide, as it is a more condensed alternative to the classic 210/2. This stand comprises the 201A/2 mic stand and the 211/1 telescopic boom arm, thus making it a favorite among professionals.
Key Features Of K&M 210/9
Stable and Sturdy Steel Construction
Boom arm:  2-piece telescopic design
Boom arm clamping:  T-bar locking screw
5/8″ Mounting Thread
Boom Arm Telescopes From 17.1 to 29.3″
Height Adjusts From 35.4 to 63.0″
Telescoping Shaft with Ergonomic Clutch
Long-Legged Tripod Base
Portable, Compact, Collapsible Design

Design & Performance of K&M 210/9

The K&M 210/9 mic stand is designed to make your microphone setup a breeze.
The Telescopic 210/9 mic stand is a one-piece boom arm with a solid T-bar locking mechanism. It is adjustable in height from 35.5 to 63.1 inches and is lightweight at only 3.3 kg. This tripod boom stand offers flexible features and cable clips to keep everything tidy and stable, high-quality construction, and unparalleled stability. It is crafted with a die-cast zinc base and long foldable legs for extra strength, and all the screws and clamps are designed for lasting use.
This stand is taller than most of the standard mic stands. And despite its heft, the K&M Telescopic Boom 21090 stand offers excellent portability and versatility. It is sturdy enough to support heavy mics without fear of tipping over.
The K&M 210/9 is perfect for any home or professional studio setup. Its telescopic boom arm lets you easily adjust the mic's angle to capture the perfect sound. Clearly, a floor-mounted stand would occupy more space than a desk-mounted one. However, it can give you more options when arranging your workspace.
Experience the quality and convenience of the K&M Telescopic Boom 210/9 mic stand today and take your recordings to the next level!
Specifications:
Stand Type:  Boom Stand

Base Type:  Tripod

Height:  35″ to 63″

Boom:   Telescoping

Boom length: 18.1/30.1 in.

Tube Materials:  Steel

Color: Matte Black

Weight: 6.85 lbs.

Height adjustment:  clutch

Leg construction:  socket with foldable legs

Rod combination:  2-piece folding design

Size when folded:  105 x 85 x 985 mm

Special features:  stable and sturdy; zinc die-cast base

Threaded connector:       3/8″

Manufacturer Part Number:         21090.500.55
Final Verdict on K&M 210/9
| | |
| --- | --- |
| PROS | CONS |
| Premium construction |  Price is relatively high. |
| Adaptable for a variety of applications | Floor footprint is relatively large. |
| Numerous placement options | |
| Light and convenient to transport | |
The K&M Telescopic Boom 210/9 mic stand is a great option for any home or professional studio setup. It is a reliable and well-crafted microphone stand that provides stability and adjustability and has cable clips to organize the setup. Its quality construction will make a lasting impression, regardless of the cost.
---
Did our review article answer all your questions? Let us know in the comments below!