Samson MBA38 mic stand is one of the most popular models available today. It is designed to provide optimal stability and durability for professional and amateur audio applications. A microphone stand is an essential piece of equipment for any recording studio or live performance. It helps to keep the microphone in the correct position, allowing for the best sound quality.
Read on to learn more about the Samson MBA38 mic stand and why it's one of the best on the market today!
About Samson MBA38 – 38″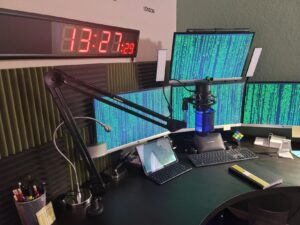 Throughout the last three decades, Samson has evolved from a two-person organization to a global enterprise that strives to create cutting-edge products that improve the experience of audio and broadcast professionals worldwide. A noteworthy example of their output is the Samson MBA38 Boom Arm. 
The Samson MBA38 Boom Arm is an ideal choice between the more budget-friendly options, offering superior durability and quiet adjustability due to its internal springs and steel body. Its high-end features stand out, making it the perfect choice for radio, podcasting, broadcast, and streaming. 
The MBA38 has an impressive horizontal/vertical reach of 38″ and is sturdily constructed to securely hold even heavier microphones than the Rode PodMic. It is accompanied by both a desk clamp and a permanent desk mount. 
Key Features OF MBA38
Versatile mic boom for Radio, Podcast, & Home Studio Setups

Articulating Microphone Boom Arm

Durable Steel Construction

Internal Springs for Silent Positioning

38″ Maximum Arm Reach

5/8″-27 Mic Clip Threading

5 lb Maximum Weight Capacity

C-clamp mount (3″ maximum grip)

Flange mount (with wood screws)


Design & Perfomance
The Samson MBA38 is an excellent choice for content creators looking to upgrade their work quality. It has a striking black finish and is highly sturdy. This audio accessory has a maximum horizontal/vertical reach of 38 inches, which is why it is named MBA38. 
The MBA38-38 is a substantial steel boom arm that is designed for durability. It can hold up to 4 pounds of equipment, and if you choose the 48-inch model, it can even hold up to 5 pounds, making it an ideal choice for heavier microphones.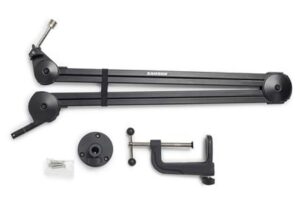 The mic stand can be securely fastened to your desk with a C-clamp or permanently mounted to any mountable surface using three bolts and the included base. Once the shock mount is attached, the boom is ready to be used. 
The Samson MBA38-38 offers great portability and flexibility, as it can be easily detached from its position, folded up, and reinstalled in another location. Additionally, its internal spring system and all-metal body provide for silent and effortless mic positioning, so you can reposition the microphone without introducing any 'handling noise' to your signal.
Specifications
Stand Type: Broadcast Boom

Base Type:  Deskmount

Color: Black

Total Reach: 38″ / 97 cm

Thread Size: 5/8″-27

Weight: 1.81kg (4 lbs)

Maximum load: 2.3kg (5lbs)

Tube Materials:  Steel

Manufacturer Part Number:         SAMBA38
Final Verdict On Samson MBA38 – 38″
| | |
| --- | --- |
| PROS | CONS |
| Innovative cable management system | Expensive |
| Sleek, premium design | High tension |
| Can be folded up for easy storage and portability | Bulky size of clamp |
| Manufactured with durable material | |
| Can easily support heavy microphones. | |
| Has generous reach | |
The Samson MBA38-38 is an excellent choice for content creators looking for a durable and reliable sound accessory. Its maximum horizontal/vertical reach of 38 inches makes it ideal for heavier microphones, and its internal spring system and all-metal body provide silent and effortless mic positioning. Additionally, its portability and flexibility make it suitable for those who always host on the go. All in all, the Samson MBA38-38 is an ideal choice for anyone looking to upgrade their audio setup.
---
We'd love to hear your thoughts on our article. Do you agree with us? Leave us a comment below.