Are you looking to give your podcast a professional edge? Investing in a good mic stand is essential for providing your audience with the highest quality audio. The Heil Sound SB-2 mic stand is the perfect choice for podcasters looking for a durable and reliable stand at a great price. Read our review of the Heil Sound SB-2 mic stand's design and features and determine whether it suits your setup. 
Discover why it's the perfect choice for your podcasting needs and why it has been a top seller for years!
About Heil Sound SB-2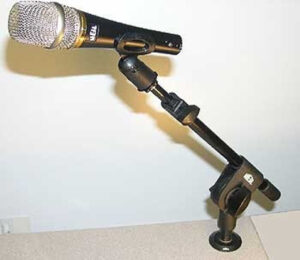 Heil Sound is an excellent choice for all your audio equipment needs. Heil Sound Communications, Inc. is an American manufacturer of professional audio equipment established in 1966 by Bob Heil, an inventor, organist, and radio enthusiast. With over fifty years in the business, the company has gained a good reputation for its high-quality products. It even has a podcast featuring stories about its history and the artists it has worked with. 
The Heil SB-2 stands out from other boom arms due to its portability and adaptability to different environments. Its small size and included C-Clamp make it ideal for traveling podcast recording and other situations where space is limited. 
Key Features Of Heil SB-2
Measures 9.25 to 17.50″

Teflon stem

Ships with C-Clamp

Mic Stand or Mountable with C-Clamp

5/8″ – 27 Threaded Stud

Cable management clip

Fits all Heil brass-lined mounts 

Design & Performance
The Heil SB-2 is a combination of a full boom and a desk stand, sometimes known as a "stick boom." It is similar to the GFW-MIC-0821, except it uses a clamp for attachment instead of a bulky frame.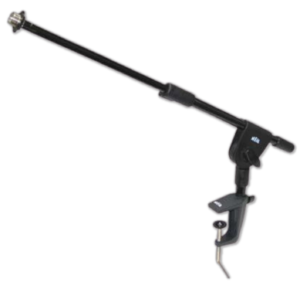 It has a detachable stem, which can be screwed onto a 5/8″ – 27 threaded microphone stand. This stand offers cable management with a clip molded to its side and can be mounted to a standard vertical mic stand or clamped onto a surface with the included C-clamp mount.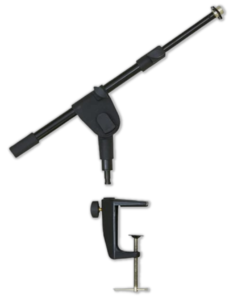 The Heil SB-2 boom arm offers greater reach for recording and broadcast applications, featuring a telescoping arm that extends from 23.49 cm to 44.45 cm. The stand is attached to a desk via a vice mount and can rotate a full 360 degrees for optimal positioning. 
The arm of the C-clamp directly connects to the device, so it does not come with a separate stand. If desired, the arm can be detached and attached to a different stand or mount. 
The SB-2 is compatible with these brass-lined Heil mounting accessories (not included):
the DT-1 Flush Mount, which is installed through a 1.5″ hole in the desktop

the FL-2 Flange Mount, which attaches to any flat surface

the WM-1 Wall Mount

the RS-1 12″ Riser Mount

However, the high price of Heil Sound SB20 is a con for some users. It puts the product out of reach for those on a budget. Not to mention, it may also discourage those new to sound equipment, as they may not understand the value of the SB20. 
The SB-2 Small Boom is a highly portable piece of equipment, being both lightweight and durable. It is suitable for transporting with a briefcase, along with the C-Clamp, and a slim-line microphone such as the Heil Sound PR20.
Specifications
Part Type:  Microphone Booms

Microphone Boom Type:  Straight extension

Boom Length: 9.3 to 17.5″ (23.5 to 44.4 cm)

Base: 2.1" (5.4 cm)

Weight: 2.25 lbs (1.02 KG)

Color:  Black

Material:  Brass

Brand:  HEiL sound

Manufacturer's Part Number:  SB-2
Final Verdict On Heil Sound SB-2
| | |
| --- | --- |
| PROS | CONS |
| Compact size | Not very robust |
| Secure attachment | Costlier than other options |
| Effortless adjustment | |
| Wide range of adjustability | |
| Stable operation | |
The Heil Sound SB-2 is an excellent boom arm for broadcast and recording applications. It is sturdy and durable, with a telescoping arm that offers a great range of movement. It features cable management and can be mounted to a vertical mic stand or attached to a surface with the C-clamp mount. The price may be steep for some, but its portability, durability, and range of mounting options make it a great investment for those looking for a reliable boom arm.
---
We appreciate your feedback! Please leave a comment below if you found our review article useful.