In the world of podcasting, there are voices that conform to societal norms, and then there's Andrew Tate, the audacious and often polarizing host of "Tate Speech." In a media environment that frequently seeks the middle ground, this podcast embarks on a fearless expedition into uncharted territories, embracing controversy with an unwavering dedication to articulating unfiltered thoughts and perspectives.
Tate Speech podcast boldly journeys where others fear to tread, with an affinity for controversy and an unrelenting commitment to speaking his thoughts. But is it worth listening to? Let's dive in and discover the world of "Tate Speech".
Tate Speech Podcast's Focus
Tate Speech is a unique podcast hosted by Andrew Tate and his brother Tristan, recorded from their studio in Romania. The central theme revolves around being the ultimate alpha male, covering areas like money management, business strategies, workout routines and self-discipline. Through these discussions, Andrew offers his perspective on how to escape the societal matrix and emphasizes building a global network of influential men.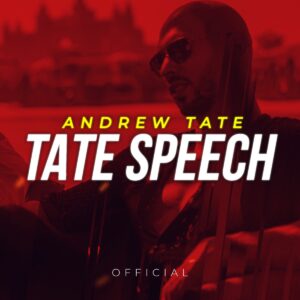 The primary purpose of this podcast is to help enhance the lives of young men. Andrew sees it as an opportunity for him to give back to the community using his wealth of knowledge gained through successful careers in professional fighting, business ventures and entrepreneurship. It's also an avenue for him to promote his online platforms: "The War Room" and "The Real World." According to Tate, joining the War Room network can significantly contribute towards one's entrepreneurial success.
Despite being banned from most mainstream platforms due to controversial remarks made during episodes, they've found solace in some others where they continue airing their views unabashedly. Their bold opinions are sometimes used out-of-context by fans worldwide but that doesn't deter them from speaking their minds.
Above all else though is their quest for listeners joining what they refer as 'the millionaire club'. While this might be seen as arrogance by some or outright comedy controversy by others – the Tate brothers insist that their main goal is to inspire and educate. Their discussions are packed with personal opinions, rich life examples, analogies and even some preaching.
Tate Speech is not your typical podcast. It's a mix of humor, controversy, motivational speeches and confident arrogance delivered in a unique manner that sets it apart from other podcasts. If you're interested in listening to the Tate Speech podcast or watching the episodes, you can find them on Apple Podcasts and Rumble respectively.
Who Is Andrew Tate?
Andrew Tate is an individual with a knack for achieving success in various fields. He was born on December 1, 1985, in Washington, D.C.; his life story is a testament to the power of hard work and daring dreams.
His claim to fame is his remarkable journey in the world of Kickboxing. He's not just a world champion; he achieved being a four-time World Kickboxing Champion., competing in different weight classes. His tenacity and fighting spirit have earned him global recognition.
Apart from being a kickboxing champion, he ventured into various business domains, including real estate, online marketing, and e-commerce. His business smarts and willingness to take calculated risks led to significant financial success.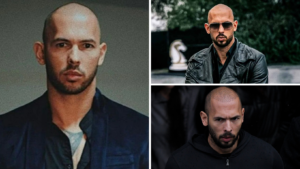 People are drawn to his honest and unconventional style. His personal journey, from kickboxing to a successful entrepreneur, is a powerful source of motivation. He shares insights on personal growth, success, and the right mindset through this podcast. He doesn't shy away from discussing not-so-typical ideas.
Andrew Tate is an appealing figure who excelled in kickboxing, business, and podcasting. His dedication, courage, and refusal to adapt have made him a remarkable individual. Whether you agree or disagree with his views, there's no denying his strong impact in the realms of sports, entrepreneurship, and thought-provoking conversations.

What Makes This Podcast One-Of-A-Kind
There's a lot to love about the Tate Speech podcast if you're someone who appreciates straight-talk and thought-provoking discussions. For starters, Andrew Tate isn't one to shy away from tough topics. He tackles subjects most people dodge due to their controversial or uncomfortable nature head-on. His candidness will draw you in and make you reconsider things from angles you've never considered before.
If there's one thing Andrew has got plenty of, it's competence. The man knows what he's talking about and delivers his message with pinpoint accuracy that resonates deeply with young men seeking inspiration. His distinct voice adds an extra layer of credibility to everything he says, making every episode a treasure trove of insights.
The variety on offer is another reason why listeners keep coming back for more. From personal growth tips and fitness advice to business strategies and global events analyses – it covers them all! But be warned – this podcast may not appeal to everyone out there! Its niche-specific content makes it particularly attractive for young masculine men who are hungry for motivation, guidance, or even just a fresh perspective on life's challenges.
So if you're tired of sugar-coated conversations that don't really say anything meaningful and you crave raw, unfiltered insights instead, then the Tate Speech podcast is just what you need.
Ways the Podcast Could Elevate Itself
While I appreciate the raw and thought-provoking content of the Tate Speech podcast, it tends to lean heavily on Andrew Tate's perspective alone. Don't get me wrong, his views are interesting but without other voices in the mix, it feels a bit one-sided at times. He could take things up a notch by actively engaging with critics or folks who hold opposing viewpoints more often than he currently does.
Some episodes might make you uncomfortable, and not everyone will agree with what Andrew says. It's not a podcast for everyone; you need to be open to hearing different ideas.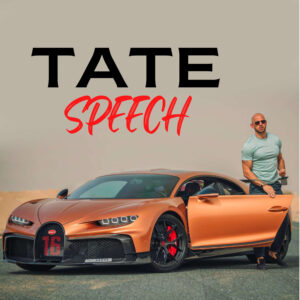 These are just a few of those episodes that really had an impact on many listeners. Now, it's up to you.
Final Verdict On Andrew Tate Podcast
In conclusion, "Tate Speech" is not your typical podcast. It's a rollercoaster of daring opinions and unfiltered insights. Be prepared for the controversies and unapologetic statements from Andrew Tate. Whether you become a supporter or a critic of Andrew Tate, one thing is certain: "Tate Speech" is a podcast that will definitely spark conversations.
If you're in search of a podcast that challenges norms and provides a fresh perspective, Give it a try, and you might discover the secrets to reaching your goals and revealing your best self. Enjoy listening!
Where can I listen to Andrew Tate podcast 
You can check out Andrew Tate's podcast on YouTube, but remember some episodes are only for those who've subscribed. Rumble is the main place to catch his podcast – you'll find all the new ones and older stuff there. Don't forget, you can also hear him on places like Apple Podcasts, Spotify and Google Podcasts. Or simply, click the listen button below.